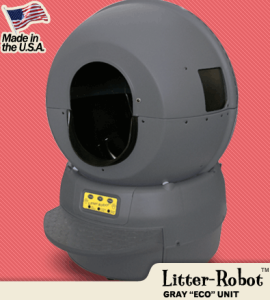 I know you are probably asking yourself, "What in the world does this have to do with cooking?"  My answer is, "Absolutely Nothing!"  But when I first saw the Litter-Robot, I had to try it!  We have two cats and the one chore I absolutely hate is scooping the cat box.  It's just disgusting.   We've had other automatic cat boxes in the past, but they never worked right.  I'll spare you the details of this nasty mishaps.
The design of this box is ingenious!  After my cat does her business, the sensor is triggered and several minutes later the entire sphere rotates.  On the inside the litter is moved over a filter (litter passes through and the clumps continue on their spinning journey).  The sphere continues rotating until two trap doors open on the bottom allowing the clumps fall into waiting garbage bag.  Very cool!  One thing that I really like is that the box uses regular garbage bags from the grocery store…no special bags required.  Another bonus is that this box works pretty much any standard clumping litter.
We have two cats and we are able to go about 6-7 days without changing the garbage bag and adding new litter.  It really depends on much your cats go, but I will take a week!  We went out of town for 5 days recently and had no problems.  There was no cat smell when we got home, no unhappy cats from a messy box, and I didn't even have to clean the box the second we got home.
We did have one freak little mishap recently with Litter-Robot.  A very moist clump somehow got stuck half on the trap door and half on the wall which did not allow the trap door to open.  Luckily, there is a manual trap door release, so I just had the sphere rotate and at the right moment, I used the manual door release and the moist clump fell into the garbage bag and all was fine!  Really, I can never see this happening again, but we did get a bit of a chuckle out of it.  What are the odds?!?!?!
I know it seems kind of pricey, but honestly it is well worth it and I would totally buy one!  I've had several compliments about it and comments that you can't even tell we have cats (and the box sits in the room right by the front door).  Take a look at them and right now, you can get free shipping!
Disclaimer: Litter-Robot sent me one to try for my honest review.