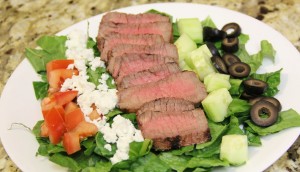 This is my all-time favorite salad!  Isn't it beautiful…I think that is partly what makes it my favorite.  It is absolutely perfect for the hot summer nights when you don't want to turn on the stove.  Fire up the grill instead and chop the veggies…you are going to LOVE this.
This is the way I like it, but you can easily substitute your favorites in this salad.  Swap the feta for blue cheese.  Hate black olives?  Add in artichokes.  Make it your own…or try it my way.
Steak and Feta Salad
3 lb flank steak (3 to 4)
1 small bottle fat free Italian dressing (~8oz) divided
1 head lettuce, shredded
2 tomatoes, cubed
1 cucumber, seeded and cubed
1 small can sliced black olives
1 red onion, diced
1 small container feta cheese
croutons or other salad toppings
Marinate steak in half of the Italian dressing for 6-8 hours in a ziptop baggie.  Keep in the fridge while marinating.   Cook steak on the grill until it's reached desired doneness.
Meanwhile, assemble the salad on 4 plates, with the lettuce on bottom.  Sprinkle each salad with ¼ container of feta and ¼ remaining dressing.