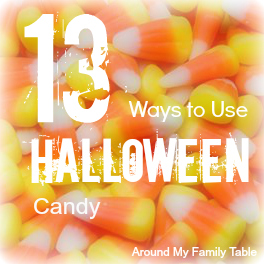 Halloween was 5 days ago and I'm so over the candy.  The kids are begging for it now and too hyper from all the sugar.   I swear the kids volume level increases with the amount of candy they consume.  The candy isn't a free-for-all at our house, but when the kids know it's here they whine and beg for it CONSTANTLY!
So, I thought of a few ways to use up all that candy that doesn't involve them just stuffing it in their face!  My daughter helped me come up with these ideas and I think they are great!
13 Ways to Use Halloween Candy
1.  Have the kids put it under their pillow and the "Candy Fairy" will leave a prize or money in exchange.  (Think toothfairy)
2. Bake a giant cookie, spread with frosting, and sprinkle with an assortment of broken candy pieces.
3. Send it to work with hubbyman!
4. Save it for Thanksgiving and Christmas craft projects (ie Gingerbread houses).
5. Send it to loved ones who are deployed (don't send chocolate…it might melt).
6. Freeze the chocolate from #5 for eating later in the year.
7.  Make Blizzards at home.
8. Make trail mix (using some healthier things too like pretzels and nuts).
9. Bake it into a cupcake or use as a mix in for cookies.
10. Use the M&M's and Skittles for potty training incentives.
11. Donate it to your church, school, nursing home, etc.
12.  Add it to an Operation Shoebox or Operation Christmas Child boxes, don't use the chocolate though (see #6 for chocolate idea).
13.  Aww…what the heck…just eat it after the kids go to bed.  You know you want to!