I know I've had a bunch of giveaways recently, but I'm feeling extra generous this holiday season.  I hope you have been enjoying them and I have a couple more to come next week too!
I love Chex cereal and Chex Party mix…really anything with Chex in it I will try.  So I took their Chex Party Mix-Change and challenge and ditched my traditional cookies for the holiday treat exchange I usually attend and came up with an addictive little treat that everyone is still talking about.  Stick around because I will be sharing the recipe tomorrow morning.  Trust me you won't want to miss this one.
Host your own party.  The concept is simple – invite some friends over for a party and ask everyone to make enough of their favorite Chex Party Mix recipe to exchange with party guests. Taste, mix, swap, and share the recipes, putting the treats in easy DIY packages for everyone to take home.  You can find lots of recipes, some take under 15 minutes to make, at  ChexPartyMix.com.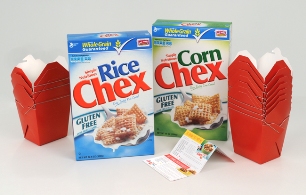 Chex and MyBlogSpark have put together this great package of goodies for you to get started with your party, including a $20 gift card to help you do your shopping for the party!!!!  SWEEEET!
Check out my other giveaways too!  $100 Visa Gift Card and a Keurig coffee machine!
*I was not financially compensated for this post. I received a sample of the product for review purposes. The opinions are completely my own based on my experience.*