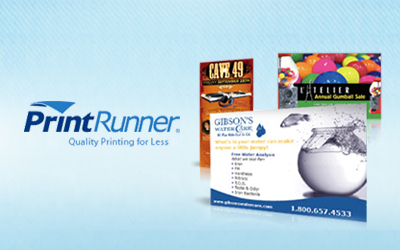 I'm super excited for this giveaway!  First, let me introduce you to PrintRunner! PrintRunner.com was established with little more than a small press and a dream. Ten years later the company became one of the foremost quality printers in Southern California. Their commitment to provide the best value and high quality full color printing at affordable price helped the company grow. PrintRunner is a full service high quality printing company located in Chatsworth, California.  PrintRunner is a convenient online printing resource. Check out their site and some print postcards.
I have had several friends use PrintRunner and I can't wait to give it a try and use my postcards.  Now, do I make personal postcards or ones for AMFT?!?!?  I can't decide.   Maybe both.
Here are the fine print details on the postcards that I'm giving away:
Postcard Size: Postcards 5×7
Quantity: 100
Colors: 4/0 Front Only Printing
Paper: 14 PT. UV Coating on Front,
Rounded Corners: Yes
Proof: None
Ready to Ship In: 4 Business Days
*Giveaway is open to US Residents only, ages 18 years old and above.
Disclaimer: Thank you to PrintRunner for providing this giveaway.  I was not compensated for this post, but will receive a set of postcards for hosting the giveaway.
As seen on CashNet Sweepstakes