Follow Me on Pinterest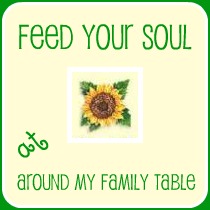 What a fabulous week last week!  I can't wait to see what y'all share this week!!!!
If you don't see the carnivals, check the Navigation Bar at the top and click Feed Your Soul Carnival!
Here are a couple reminders for you:
1. Link only food or food posts (no giveaways or other carnivals please), but link as many as you'd like!
2. Link back to AMFT to show your support or give a shout out on facebook/twitter.
3. Follow AMFT on facebook, twitter, google +, or pinterest.
4. Check out some of the other great posts in the linky.
5. Don't forget to check out some of the other great creations on AMFT and come back next week.
I think it's time I added in the most viewed post from last week!
Fresh Take Pasta Bake from Couponing & Cooking