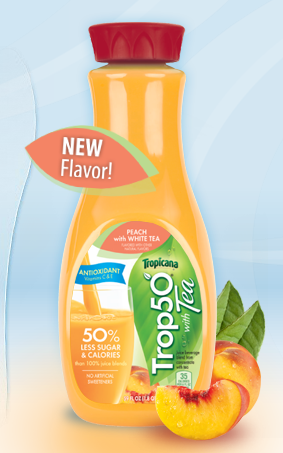 I usually prefer a plain juice or plain unsweetened tea, but I have to admit that this juice beverage intrigued me.  Juice with tea?!?!?  What could it possibly taste like?  I had to know.  However, some of the flavors sounded a little to far out there for me, so I opted to give the Peach with White Tea a try…seemed like a good start.
The new Trop50 Juice with Tea blends have 50% less sugar and calories and no artificial sweeteners (AWESOME!).  Each 8oz glass provides 100% of your daily vitamin C and is a good source of vitamin E.  It's advertised as a juice beverage with vitamins. Only 35 calories per serving….that's fantastic!
So, you want to know what we thought?  We liked it!  The kids drank it up and I felt good knowing there was no artificial sugars and was low in calories.  Hubbyman and I liked and liked knowing a glass wouldn't throw our diets out the window.  I hope to give the other two flavors a try soon!
What do you think…would you give this unique drink a try?  What makes you unique?  Leave a comment with answers to win a coupon for a free Trop50 Juice with Tea.  (2 winners)
Disclaimer: I was provided a bottle of OJ and compensated for my honest review.