I love using fresh herbs, but I never use up what I buy before they go bad.
I use Gourmet Garden off and on over the years, but last May (at Camp Blogaway) I was reintroduced to them and they are probably by far my favorite item in the fridge.  I have started using them all the time.  Here are some of my favorite recicpes to use the herbs in:
Sun Dried Tomato and Garlic Butter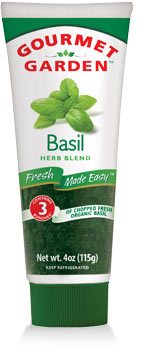 I know what you are thinking.  Herbs in a tube?  Trust me…you will never know they came from a tube.  My top reasons for loving Gourmet Garden Herbs:
last 3 months in the refrigerator
last 6 months in the freezer
1 tbls GG herbs = 1 tbls fresh herbs
no added flavors or colors
no HFCS
most without allergens
gluten and MSG free
non-GMO
herbs are organically grown
My grocery store only carries a few varieties, so I was quite surprised to learn that there are 12 varieties including garlic, ginger, cilantro, red chili, basil, and lemongrass.  I would love for you to give them a try, so I am offering one lucky reader a variety pack of their own.
My only suggestion….they need a jalapeno variety!
Disclaimer: Gourmet Gardens provided me with a variety pack to sample and is providing the giveaway.  Opinions are my own.