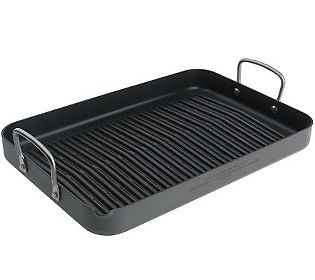 Hubbyman lives for grilling.  I think he would grill out every night if I would let him.  It's so easy and (not to make everyone jealous) we have perfect grilling weather 365 days a year.  That's one awesome benefit to living in the desert!
We've been trying out the new BBQ grill pan with DuPont Teflon ScratchGuard for about a month now and really like it.  It's big enough that we can cook our whole meal with this pan on the grill.  We can cook our meat and veggies together.  What's really cool about the pan is the fat runoff grates.  All the grease drains away from the cooking meat.  And because of the hard anodized aluminum, the meat cooks evenly while keeping away flare ups and allowing the flavors of the grill to infuse the food.    It measures 18″L x 12″W x 2″H and is safe up to 500F.
The pan cleans up super easy too!  It is non-stick so messes wipe up nicely, but if you don't want to hand wash…throw it in the dishwasher (that's a huge bonus for me)!  Of course because it's coated with scratchguard you can use your favorite grilling utensils…even metal!
Find it at QVC or a similar model at your local IKEA!  OR win one here…cuz I love to share great finds with y'all.
a Rafflecopter giveaway

Disclaimer: DuPont Teflon provided a pan for my review.  All opinions are my own.