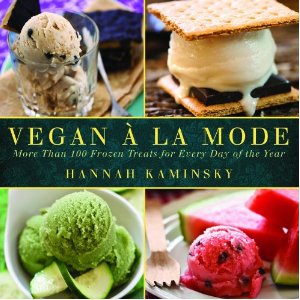 Even though we're not vegan in my house, we do try to limit our dairy.  First I have to admit that the pictures on the cover totally drew me in…how could it not?  The photos are beautiful.
Vegan a la Mode is the brain child of vegan blogger and college student Hannah Kaminsky. From ice cream to sorbet to toppings to sprinkles…this cookbook is packed with more than a 100 recipes has everything you need for some tasty summer treats.   What I really enjoyed is that the recipes are not filled with white sugar, but many use more natural versions like agave nectar.  Many of the ingredients called for in the recipes are easily found at the regular grocery store.
I had the chance to ask Hannah a few questions about her new book!  I just love getting to know the author better, don't you?!?
AMFT: What is your favorite recipe in the book?
HK: That's definitely a tough one! It's hard to pick favorites when there are so many different occasions that call for specific flavors. For my all-purpose top pick though, I'd have to go with the Toasted Marshmallow Ice Cream. I have a weakness for anything marshmallow related, and it's dangerously easy to whip up on the fly.
AMFT: What inspired you to write Vegan a la Mode?
HK: Ice cream is one sweet treat that I will absolutely never tire of. It all started when I wrote my ebook, A la Mode, and discovered shortly after the release that I still had tons of ideas for frozen desserts. At first, I thought I would just write a sequel, but as the recipes keep churning out effortlessly, I realized there was so much more potential for them, and expanded the concept to a full, printed book.
AMFT: Who can benefit from the recipes in the new book?
HK: Anyone who enjoys ice cream should be able to benefit! Commercial ice creams are plagued with all sorts of unsavory ingredients, so by making your own, you get to pick and choose the highest quality additions, which add up to create even more intense, authentic flavors. Even if you're not vegan and don't bat an eyelash at dairy, the recipes will still satisfy that craving for something cold, creamy, and sweet.
AMFT: What is your least favorite food and why?
HK: Noodle kugel. A sweet, overcooked lump of pasta goo? The whole thing just disturbs me.
About the Author:
Growing up as a vegan with a voracious sweet tooth, Hannah Kaminsky had to learn to bake for herself at a young age. Endlessly experimenting with different recipes and creative combinations, there is always some new dessert or treat to taste in her busy kitchen. Developing her skills primarily through trials for her blog, www.bittersweetblog.com, food photography quickly became a passion as well, and is now the focus of her college degree.
Disclaimer: I received the product above for review. Opinions are my own.