For some reason, every back to school season, I feel the need to find new inspiration for lunches, snacks, and dinners.  I revamp our meal plans, come up with great new snacks for my daughter, and read tons of cookbooks. Luckily for me, there was no shortage of great new cookbooks this August.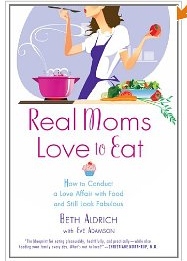 Real Moms Love to Eat: How to Conduct a Love Affair with Food, Lose Weight, and Feel Fabulous by Beth Aldrich
With a title like that…I just had to read it!  I love the humor in Beth's book and it kept me entertained while learning more about eating healthy.  Using an easy, 10-part plan of making over your relationship with food, Beth teaches us how to have a healthy love affair with food!
There are 21 days worth of delicious meal suggestions and a plan for how to implement these changes!  I really enjoyed this book because it wasn't the typical here's my plan, here's my recipes do it, but you can see Beth's personality and humor come through and makes you want to read the book.
Get involved with your food and eat the ones that will "love you back"!
MSRP: $15.oo
What Are You Doing for Lunch? A Friendly Guide to Brown Bagging as a Better Way to Lunch  by Mona Meighan, Ed.D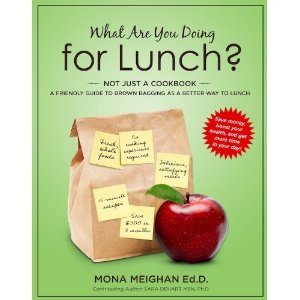 I am loving this book!  Mona shares some fun and easy ways to save money while making  healthier lunches and improving your health.  There are over 70 tasty recipes that take 20 minutes or less to prepare (that's my kind of lunch).  There are cost-savings projections of how much money you can save in a month and even a year.  To help keep your nutrition goals on target there are nutrition facts for calories, fat, sugar, and sodium.  Of course, there is a great sample menu of lunches.
I read this book on my Kindle (my new favorite gadget)!  Besides the great recipes, I really liked the 8 Steps to Planning  a Week of Lunches.    I'm a list maker, so this was really good and helpful for me!  There is also a quiz to help you identify your Personal Lunch Style.
MSRP: $14.95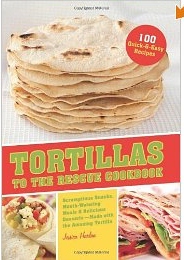 Tortillas to the Rescue by Jessica Harlan
It never fails, I always have several packages of tortillas in the fridge.  I love being creative, but we usually end up with bean burritos.  This no-frills book is packed full of over 100 delicious recipes for every meal!  There are even recipes for making your own tortillas.  I love making my own, but it's nice to buy them premade at the store for busy days and quick suppers.
Some of the recipes that sounded interesting were the Avocado & Leek Omelet Wrap, Grilled Salmon Tostadas, and Ice Cream Tacos.  I will be making that last one later this week…the kids are really excited.
Tortillas have a long shelf life and can often be frozen with good results.  So why not break out of the bean burrito and taco bubble and find some new creative ways to use up those tortillas.
MSRP: $12.95
The Complete Idiot's Guide to Quinoa Cookbook by Susan Irby
Quinoa is a superfood and a staple for vegetarians, vegans, and people on gluten-free diets.  I love to add quinoa to mac & cheese and salads, but I don't cook with other than that.   Quinoa can be a bit tricky to work with, but this book shares information on how to cook it properly, add it to other dishes, and techniques to obtain the best flavor from it.
There are over 250 recipes from quinoa pancakes to quinoa carbonara!  There are cooking and baking tips as well the history and health benefits for this ancient seed.  Anyone wanting to add quinoa to their diet, should check out this book.  It is one of the best all-round books on quinoa that I've seen.
MSRP: $18.95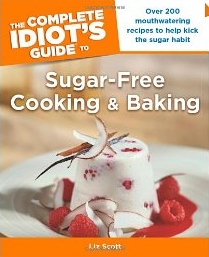 The Complete Idiot's Guide to Sugar-Free Cooking & Baking by Liz Scott
My first thought when I picked up this book was that it was going to be filled with artificial sweeteners (ya know the ones…the pink one, the blue one, the yellow one, etc), but I was pleasantly surprised when the recipes used honey, agave, stevia, molasses, and maple syrup.
Did you know that the average American eats 1/3 lb of sugar every day.  That is shocking! Today's processed foods are filled with refined sugars which can cause a whole host of health problems.  This book has over 150 recipes for wonderful meals and desserts without refined sugars.  Of course there are plenty 0f kid-friendly snacks (I totally need these for my kids)!
Liz explains some foolproof ways to substitute the sugar in your own recipes with more natural sweeteners.  Kick the sugar habit and improve your health with these tasty recipes!
MSRP: $18.95
 Love Cookbooks as much as I do?  Check out all my reveiws and favorite finds on my
Disclaimer: I may have received one or more of the above books for review purposes. I was not compensated for my review; all opinions are my own.