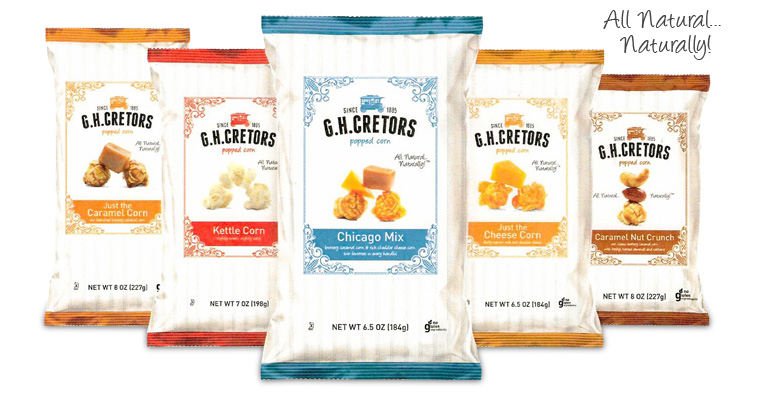 Did you know October is National Popped Corn Month? Yeah, I didn't either. But once I heard this, I knew I had to do something for y'all…afterall, I love popcorn. So to jump start a month of guest posts from my favorite bloggers, I have this wonderful review/giveaway for you. I'm taking the month off to recharge my bloggy batteries (I've been writing 4-5 times a week for 2 1/2 years without a break). I know y'all will love the fabulous recipes I have in store for you (check out the Popcorn Month tab in the Navigation bar).
I honestly had never heard of GH Cretors until a few months ago when they emailed me about a sale they were having. I thought it would be a great chance to give them a try and share with y'all. They agreed and said I could give a variety pack away too! What really peaked my interest was the fact that they are All Natural…no GMO's, no dyes, no gluten, and kosher! I had to give them a try to see if they were better than my other favorite…ya know the one that travels to all the Costco's!
You know what?!?! It is so much better! There are no artificial colors or flavors. They use real cheese! They use real ingredients…what a novel idea! "At GH Cretors we strive to provide you with the "cleanest" most natural product we can make. Therefore, we have chosen to only use ingredients that have not been genetically modified. They are as natural as they come!" I just love it when you can actually taste the real flavors of food.
A few weeks after we finished off our variety pack we were at Costco and that other road show popcorn was there. We went and sampled and the kids were screaming for it and we were about to get some when there it was. Almost like a light from above shown down on it…several large pallets of GH Cretors Chicago Mix! Oh yeah…we pushed and shoved walked over to the pallet and grabbed several bags. No joke…this really happened!
I'm giving away a variety pack to one of you. If you can't wait try Costco, Amazon, or check out their store locator.
There are new ways to enter almost every day this month, so I hope you stop by often…trust me…this popcorn is worth it!