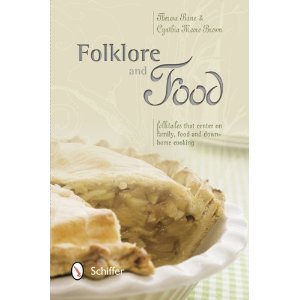 Folklore and Food: Folktales that Center on Family, Food and Down-Home Cooking by Theresa Bane and Cynthia Moore Brown
This book shares 17 folktales that center on family, food, and even include recipes.  What a unique and fun book.  This is a great book to read while cozying up to a fire with a big blanket on a cold winter's night…with a hot cocoa too, of course.
The stories are told by renowned regional folklorist, Cynthia Moore Brown.  Each story includes a wonderful home-style recipe and drawings by award-winning artist T. Glenn Bane.  As for the lore…avoid a brush with death, discover the dark secret a little bunny is hiding, root for Jack and his animal friends as they come face to face with Wild Hair Willy,  and rediscover a mountain classic. So bake a batch of biscuits or brew some Southern Brunswick Stew as you curl up to some mighty exciting stories heard for generations!
This book was fun to read and then relive the stories while eating some wonderful food.  The recipes are great and pretty easy to follow.
MSRP:  $19.99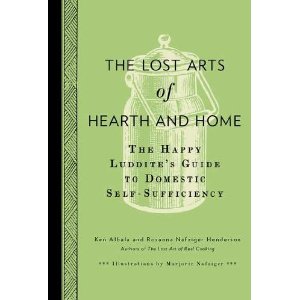 The Lost Arts of Hearth and Home: The Happy Luddite's Guide to Domestic Self-Sufficiency by Ken Albala and Rosanna Nafziger Henderson
This is not your typical cookbook.  It brings the 1890′s back to life with recipes for everything from Kombucha to  Butterscotch to Birch Beer to Gum to Licorice to Apple Cider Donuts and much much more.  The authors are not homesteaders. They don't keep animals, plant crops, weave their own clothes or live in a sod house on the prairie. They are both California city dwellers with day jobs; yet their tastes are decidedly old-fashioned, in favor of saving those precious things most people never think of doing themselves anymore.
If you are interested in eating more naturally, cooking from scratch, or even being more self reliant then this is a must have book!  There are no fancy pictures, but lots of detailed instructions to teach you everything you need to know.
MSRP: $23.00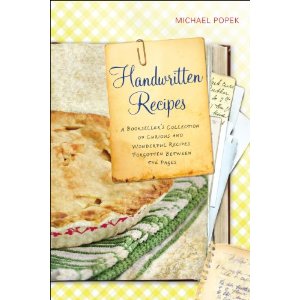 Handwritten Recipes: A Bookseller's Collection of Curious and Wonderful Recipes Forgotten Between the Pages by Michael Popek (releases Oct 2)
I love Love LOVE this book!  I really enjoy reading really old cookbooks and hand written recipes.  I love looking through my Granny's, hubbyman's Grandmother's, and other family member's recipe piles.  It's like a little peak into the past.  Anyone who likes old recipes, looking at old books, or collects documents from the past will enjoy this book.  Of course, anyone who likes reading any cookbook will enjoy it as well.
Author Michael Popek owns a used bookstore and has kept track of all the loose recipes he found in the books over the years.  He put them together in this book for all of us to enjoy.  There is a photo of the actual recipe, info of where he found it and a typed (easier for us to read) version of the recipe.
Handwritten Recipes is being released in perfect time to give for holiday gifts.  It really would make a great gift for just about anyone on your list!
MSRP: $20.00
Taste of Home: Best Loved Recipes
This is probably the last cookbook you will need for awhile.  It has 1,485 of the best recipes from Taste of Home magazine over the last 20 years.  Each recipe has been evaluated and selected by the Taste of Home test kitchen as the best of the best and can be recreated in your kitchen with readily accessible ingredients.  And just like the magazine each recipe has a story from the person that submitted the recipe.
Check out my full review and a recipe for Black & Blue Pizza from the book.
MSRP: $34.99
  Love Cookbooks as much as I do?  Check out all my reviews and favorite finds on my
Disclaimer: I may have received one or more of the above books for review purposes. I was not compensated for my review; all opinions are my own.