So, for pretty much as long as I can remember my Mother-in-Law, bless her heart, has hosted every single holiday meal.  It's always potluck style, but still…all that preparation and cleaning and being hostess is a lot of work.  I think in 15 years of marriage plus 6 years of dating, I've hosted 2 meals.  So this year, when she called and asked me to host because she didn't have the time to pull it off this year…of course I said YES!
Secretly, I was a little nervous to host about 20 people for supper on Thanksgiving.  My house is small, I don't have enough seating, and I have two little kids running around.  EEK!
So, we decided to keep it potluck style since everyone already has their standard dishes they bring.  But we still have a TON to do before the big day and I decided this year, I would take a short cut with dessert so that I would have more time to spend getting things ready and spending time with the kids.  I want to actually enjoy the holidays and not stress about making everything from scratch (even though that's what I prefer to do).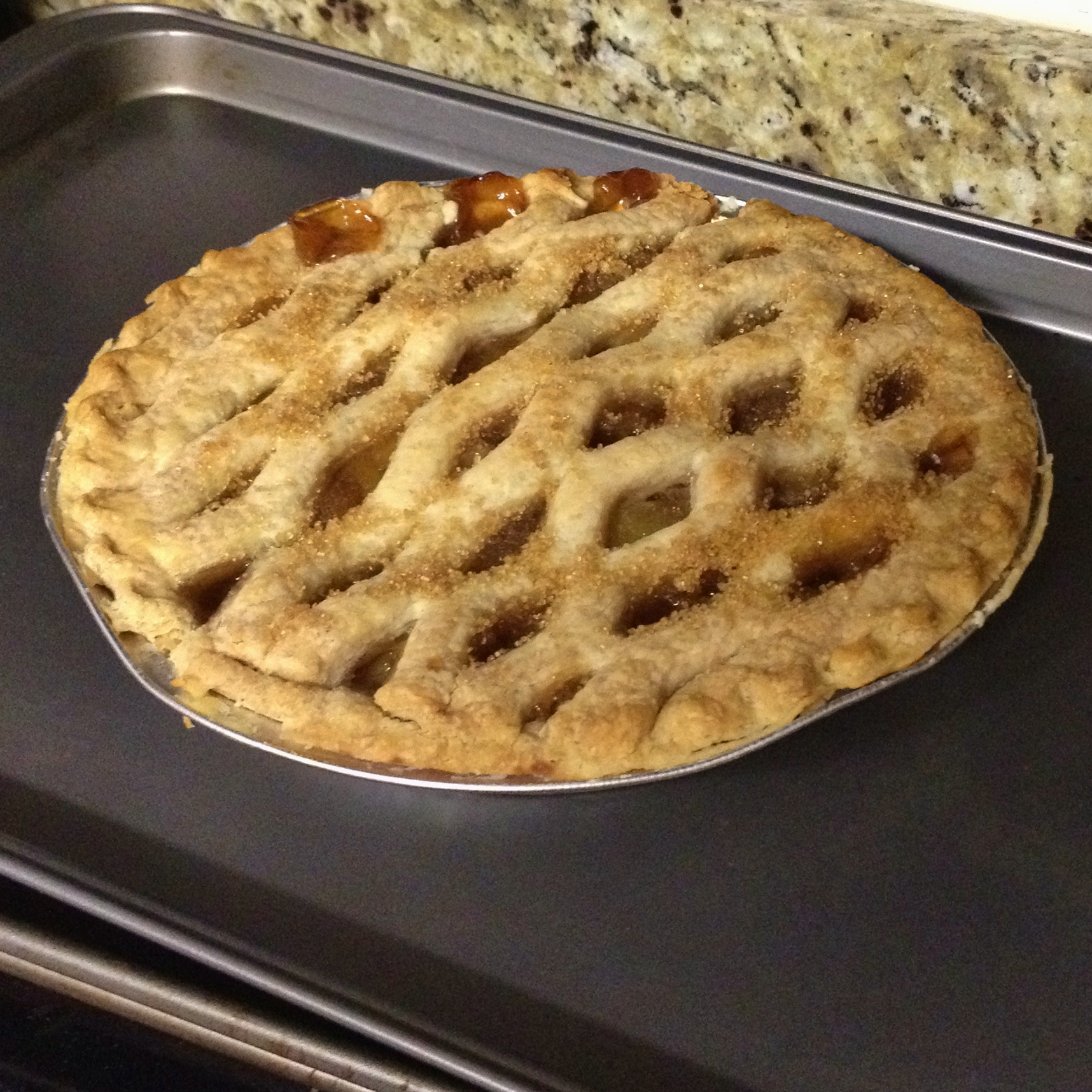 Really, I do.  Nothing beats homemade…but this year I decided to give Marie Calendars frozen apple pie a try (we love'd their restaurant and pies, but they are all closed here now).  There were a couple to pick from…Dutch Apple Pie, Lattice Apple Pie, Traditional Apple Pie, and an Apple Crumb Cobbler.  The kids picked out the Lattice Apple Pie.  They thought it looked fancy!
Besides picking up some tasty pies for dessert, I decided to rent to a bouncy house, tables, and chairs.  Heck…the company will set it all up and take it all down.  That solves my seating problems and an easy activity for all the little ones.  (It was a great price too, I just couldn't pass it up.)
We are frying up a turkey again this year and that's about all I've committed besides the dessert.  Let's get back to the pies, shall we.  We cooked one up last weekend and loved it!  Full of perfectly cooked fuji apples, topped with a flaky buttery crust, and sugar sprinkles on top!  Oh yeah…I can't wait to cook up another one for Thursday!  Since I've figured how to streamline this massive meal, I'm really excited to have my house full of family.  It will be a piece of cake pie.
I have a coupon to share with you, if you want to take advantage of the Marie Calendar pies and slow down and just enjoy the holidays!
Disclaimer: I received a product sample and was compensated for my review.  All opinions are my own.  {There was a giveaway associated with the post; however, it has ended. Check the Winner's Page for winner info.}