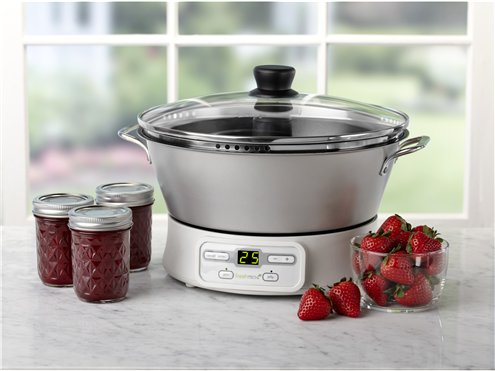 I love canning!  I make jams, butters, canned fruit, veggies, pickles, etc.  My 7yo daughter loves to help out, but one area she isn't allowed to help with is the cooking the fruit part of jam.  It's just not safe for her to be standing over the stove stirring all that hot sugar and fruit.  So, I was pleasantly surprised when I got to try out the Ball Automatic Jam-Maker that she is able to help with cooking part now since it eliminates the need to stand over the hot stove and constant stirring.
It was so easy to use too!  There are two settings: one for jam and one for jellies.  It takes about 30- 45 minutes for it to make 4 cups of jam/jelly.  Not too bad and I didn't have to do any work.  It did all the stirring and temperature control for me!  SCORE!!!  It freed up time for me to work on other projects in the kitchen and to start the second batch.  🙂  I probably won't give up the traditional method for good, but I love having this easy option for when I'm in a time crunch.
Here's a couple jam recipes:
Strawberry (or other Fruit) Jam–AMFT
Loquat Jam-Betsy Life
Mango Apricot Jam-Creative Kitchen Adventures
Blueberry Jam-Dine & Dish
Join the newsletter
Get Delicious & Seasonal Recipes in your INBOX every week.