Gluten and Dairy Free Lava Cake
This gluten & dairy free decadent Lava Cake is the perfect dessert for Valentine's Day.
Ingredients
4 oz. dairy free dark chocolate
2 tbsp. honey
1/2 tsp organic vanilla extract
2 eggs
1 tbsp. almond flour
3 tbsp. coconut oil
1 tbsp. sugar-free cocoa powder
dash of sea salt
Directions
Preheat oven to 375 degrees. Lightly grease four small ramekins with dairy-free butter or coconut oil spray and give a light dusting with cocoa powder. Melt dairy-free chocolate with coconut oil in a small sauce pan and set aside.
In a medium sized bowl mix eggs, honey, vanilla and sea salt. Add almond flour and cocoa powder and fold ingredients together until smooth. Divide the batter among the ramekins and place on a baking sheet. Bake for 10-12 minutes and serve warm.
Loading nutrition data...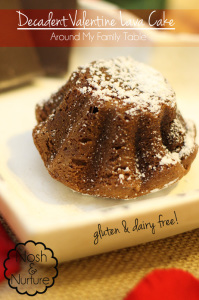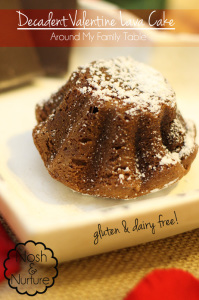 Did you make this recipe?
Leave review!

Don't Miss A Recipe!
And get my Free Slow Cooker Resource Guide! It's full of recipes with 5 or fewer ingredients plus plenty of slow cooker tips!

Plus, you'll get access to my free EXCLUSIVE downloads & printables for newsletter subscribers.