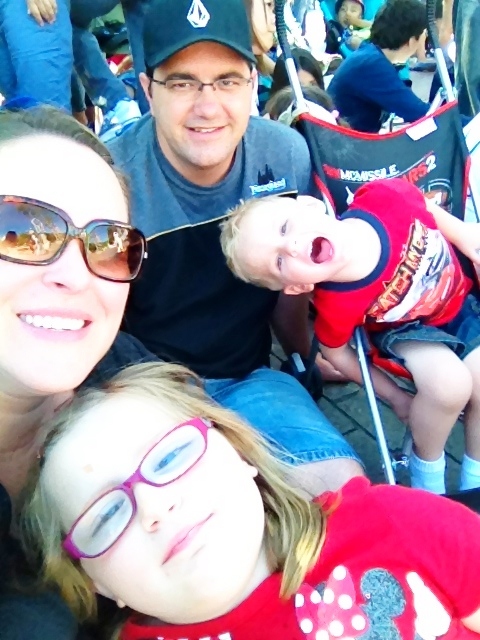 I'm always in the kitchen!  Always!  That's where the chocolate and Coke are hidden.  I do come out occasionally to spend time with my 2 rambunctious kids and Hubbyman!
I have been cooking as long as I can remember.  My mom taught me how to cook when I was younger and when I finally left home, I was able to prepare meals instead of boxed dinners or take out.  I think this is what won my hubbyman's heart.  Most of the recipes on AMFT are from scratch and fit for the whole family….even my picky kids have to give their approval before it gets posted for y'all!
Even though I cook mostly from scratch, I do take the occasional short cut when in a time crunch (aka Ju Jitsu nights, Girl Scout nights, and soccer days).  I grind my own grains for breads, I raise chickens for fresh eggs, I have a bunch of fruit trees, and I plan on starting a garden this fall.  I try my best to feed my family healthy foods.  I also love to decorate cakes.
WAIT….even though I love grinding my grains and raising hens for eggs…you need to know that I am allergic to wheat, eggs, and extremely allergic to dairy.  See what happened when I turned 37, my warranty is up and I'm falling apart.  However, I'm looking forward to 2013 and finally getting healthy since 2012 was full of interesting health issues for me.
Little known facts about me…
I'm a Native Texan, but call Arizona my home now.
I'm a lover of all things chocolate.
You will always find me with a Coke or a Dutch Bros Coffee.
I married my high school sweetheart almost 15 years ago…he is the love of my life.
I'm a stay-at -home mom.
My daughter has a food-dye allergy.
I refuse to touch dirty napkins or tissues.
Before kids, I worked for the Arizona Supreme Court reviewing cases of kids in foster care for JV judges.
I store my sun-glasses on top of my head and then forget where I put them (way too often).
I hate artichokes, sour cream, and flan.
I have 7 slow cookers and 3 pressure cookers that I love using…okay obsessed with using is better.
Love living in AZ where we can grill out 365 days a year (if I'm not using my slow cooker).
I could eat Mexican food all day, every day for the rest of my life.
My last meal would be Chicken Fried Steak, mashed potatoes with cream gravy, and fried okra.   With a large Coke.  Well..I think this meal might kill me now.
I strive to be a gentle Christian mother who focuses on attachment parenting.
I am a Girl Scout Leader.
I'm a former La Leche League Leader.
I co-own East Valley Mom Guide and Blended Conference.  I also write on occasion for Eating It Real.
If you like what you see here, please follow me or
send me an email (aroundmyfamilytable@gmail.com) Happy Cooking!
~Wendy~
Recipe Development | Disclosure | PR Friendly | Media | Freelance Writing
Join the newsletter
Get Delicious & Seasonal Recipes in your INBOX every week.