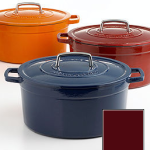 Do you remember last winter when my favorite soup pot's lid was broken by my son.  It was such a sad, sad day.  I loved that pot; it made the best soup!   And I missed it dearly during soup season last winter.  Why is it that we become so attached to things, like a soup pot?
Even though it's still 110 outside, soup season is coming and my family members are soup-oholics!  Yes, I could make soup every day and it would make hubbyman and kids so excited.  For me a great soup pot is one that is
well seasoned,
enameled cast iron,
heats evenly,
stylish,
easy clean-up,
oven safe, and
big enough for a large batch of soup or a big pot roast.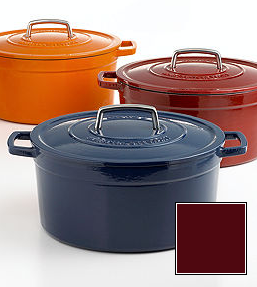 Luckily, I found that in my new Martha Stewart Enameled Cast Iron Casserole Pot.  It has a beautiful modern design with all the features of a classic casserole pot such as condensation rings, oven safe to 500F, works on any type of stove top (gas, electric, induction), and is pre-seasoned with easy clean-up!  It comes in 3 sizes, but I have the biggest..the 8qt!  It is perfect for my family of 4 with plenty of room for larger meals or double batches of soup (perfect for freezing).
I am in love with my new pot.  It is awesome and I am so excited for all the soups I will be making this winter.  I have to admit…I might even love this pot more than my old one.   It's probably twice the size of my last one, which is good since my family has grown since I bought my last one.  I think it's time I let go and retire the old pot, the one without the lid, to the kitchen graveyard.
Disclaimer: GigaSavvy provided me with a pot for review purposes.  I was not compensated for my review; all opinions are my own.