This post may contain affiliate links. Please read my disclosure.
End your game day party with these super easy and festive cupcakes. I've made them for the Superbowl the last few years and they are always a big hit. Really you can make them any flavor combo that you like. It's the topper that gets the most attention.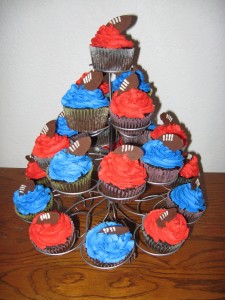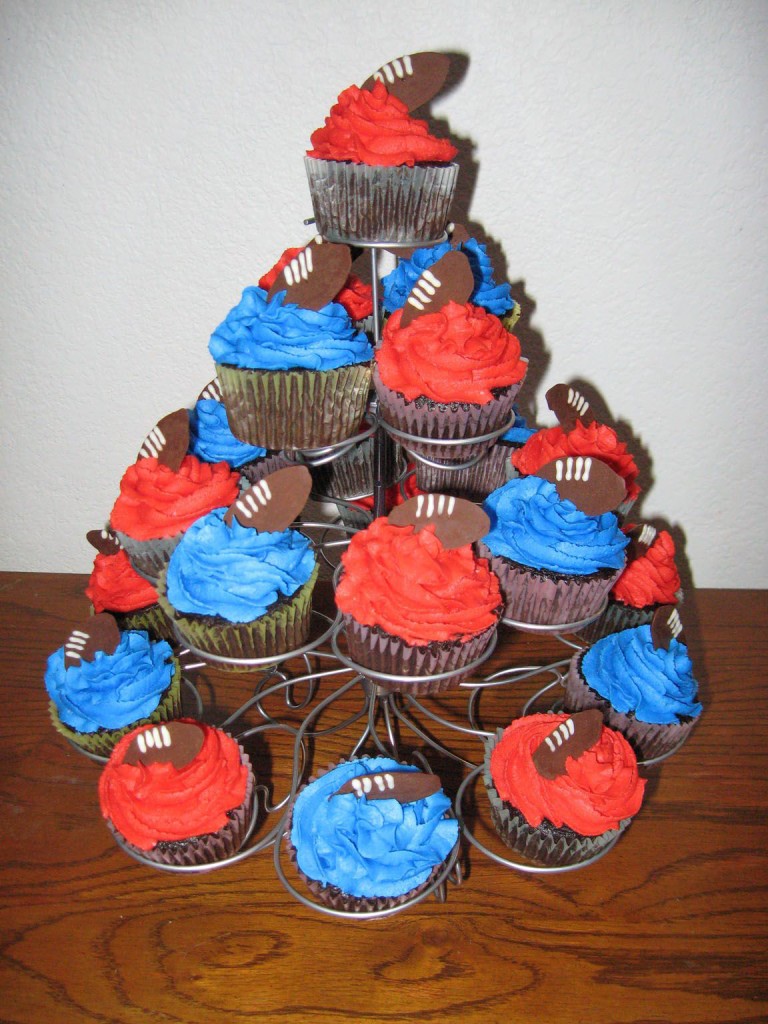 Football Cupcakes
12 oz bag chocolate chips
6 oz white chocolate chips
shortening
2 disposable piping bags (or zip top baggies)
wax paper
shortening
baked and frosted cupcakes
Find a football template online, from a coloring book, or freehand draw on paper. You will want them to be about 2 inches wide and you will need several more then the amount of cupcakes you have to allow for breakage. (Ex 24 cupcakes, I would make about 30 footballs). Tape the football paper template to your counter or baking sheet and then cover with a piece of wax paper. Tape it down to secure it as well.
Melt chocolate chips in the microwave or in a double boiler (add a little shortening to thin to desired consistency). It needs to be completely melted and thinned out so that it can flow easily. Place melted chocolate in a piping bag (or zip top baggie) and cut a tiny opening. You can always make it bigger, so start small. First trace the outline of a football and then flood the inside with chocolate. Once they are all done, all the chocolate to set up.
Repeat the melting instructions with the white chocolate and place in a piping bag. Once the chocolate has set, use the white chocolate to pipe several lines on the football. Allow them to dry completely. The freezer or fridge can speed up the process. Use an offset frosting spatula or the thinnest knife to gently release the footballs from the wax paper. Place on top of decorated cupcakes.
They don't need to be perfect. I free-handed mine and I love the uniqueness of them.