Celebrate St. Patrick's Day with the kids by doing this adorable Leprechaun Hat Snack Activity with them.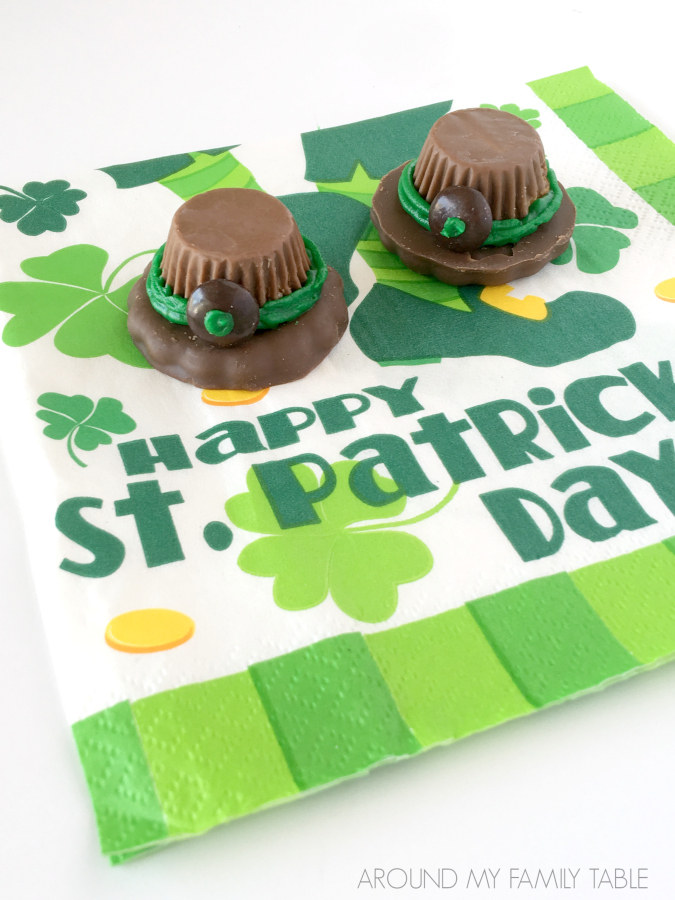 Teachers and Homeschoolers make sure to pop over to Teachers Pay Teachers to grab the complete download with 30 pages of activities and teaching resources to go along with this snacktivity. Use it for Foodie Friday in the classroom and to add a little St. Patrick's Day fun.
All the ingredients for these easy St. Patrick's Day Hats are found at your local grocery store.  Or I've linked to them on Amazon below for quick & easy shopping.
mini Reece's Peanut Butter Cups
white frosting (tint green or keep it white)
Teachers, Homeschoolers, and Moms…if you'd like to find out when I have new learning products available make sure to sign up for this special teaching resources newsletter.
Leprechaun Hat Snack Activity
1 package chocolate Grasshopper cookies
1 package mini Reece's Peanut Butter Cups
1 tub white frosting (tint green or keep it white)
4 tubes green frosting
4 #4 tips and couplers
1-3 packages M&M's (depending on size)
Paper plates or napkins
1.Place cookie on napkin and spread a little frosting on the cookie.
2.Unwrap peanut butter cup and place on the frosting.
3.Using a tube of green frosting fitted with tip and coupler pipe along the edges where the cookie and peanut butter cup meet to form the hat band. Add an M&M to the band of green frosting.
7.6.2
431
https://www.aroundmyfamilytable.com/leprechaun-hat-snack-activity/
Join the newsletter
Get Delicious & Seasonal Recipes in your INBOX every week.