This post may contain affiliate links. Please read my disclosure.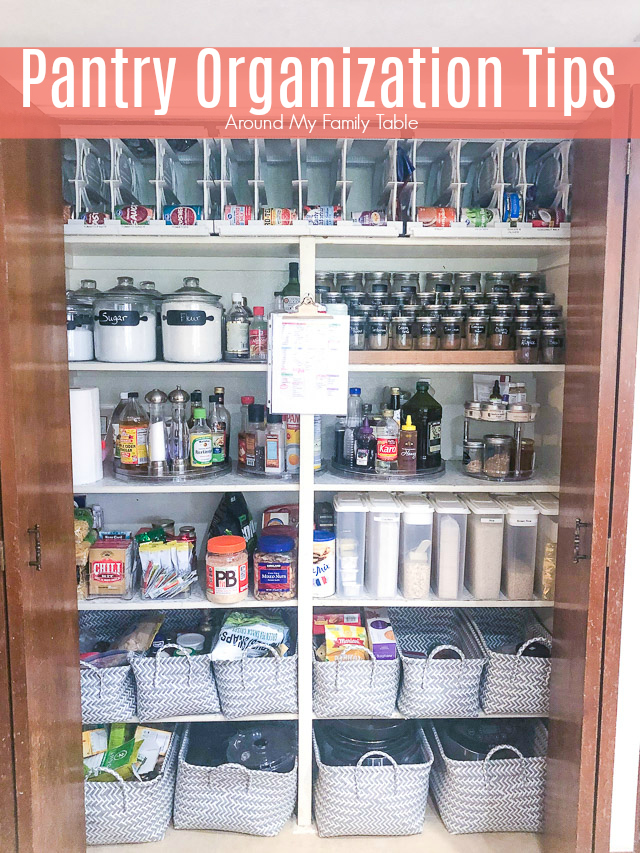 Pantry Organization is the key to creating quick meals and having a clean kitchen. However, small pantries and kitchens are hard to keep organized so that they are functional. These are my favorite pantry organization tips.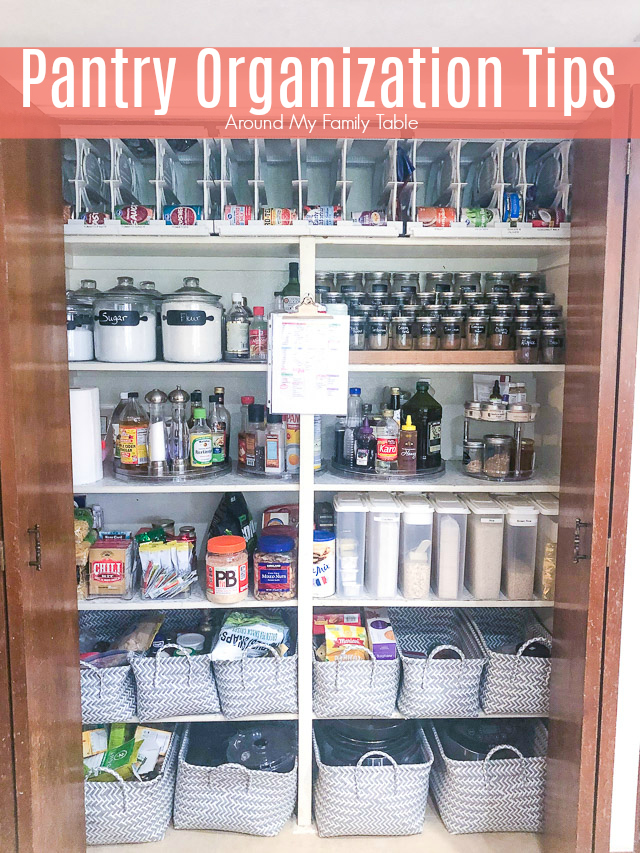 Pantry Organization Tips for a Small Kitchen
Watch my short video of my pantry to get some tips for your small pantry!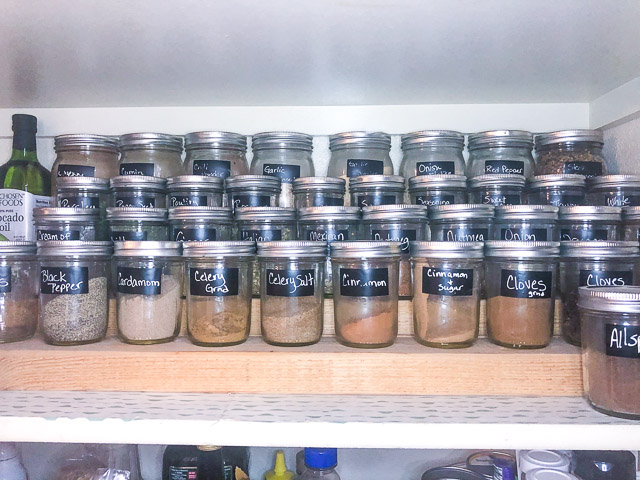 Spice Mason Jars
I use two sizes of mason jars for my spices. I love the look and the ease of finding the right spice or herb quickly when I'm preparing dinner. They are all uniform and labeled which means they line up perfectly. Of course keeping them in alphabetical order really makes them easy to use. I have small jars for herbs and spices I use less frequently and large jars for my most used items (the ones I buy in large quantities because I go through them so fast).
These are the ones I used: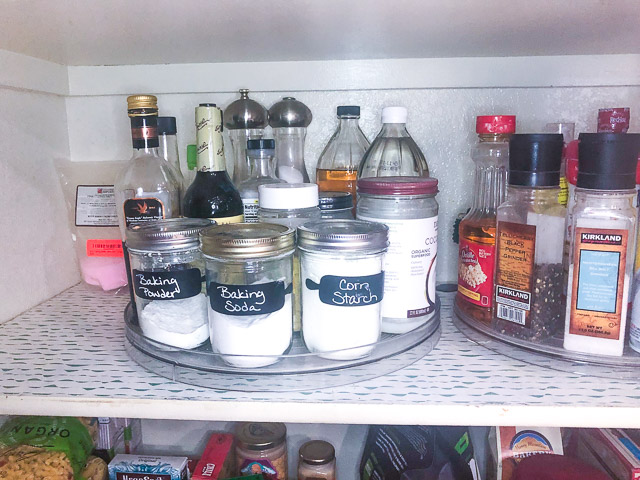 Lazy Susans for Quick Access
The best way to store round jars or containers is on lazy susans. I've become a bit obsessed with lazy susans. What started out as one in my pantry has now become 5. They are somewhat organized by type of product. I don't think I could ever have a pantry without lazy susans again.
These are the ones I used: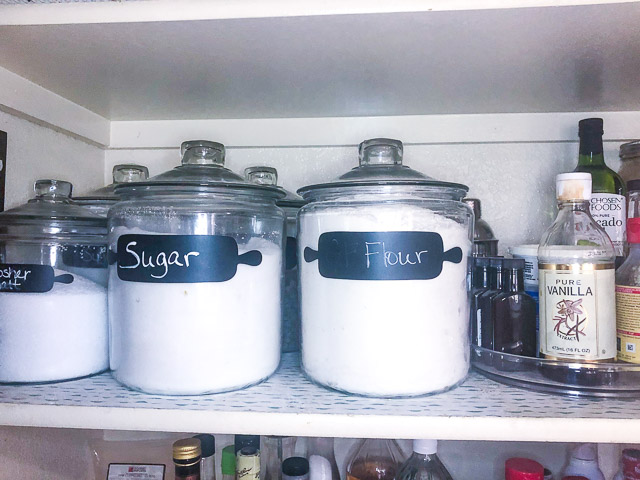 Dry Goods Storage
I use large clear glass jars to store bulk items like flour, sugar, salt, and chocolate chips. You can find them at both Walmart and Target.
I use tall airtight bins to store things like granola, rice, oats, crackers, and powdered milk. They line up nicely and with the use of a label maker, it's easy to know what's inside.
Random pantry items are stored in bins I picked up at Target. I love them so much. Each bin has a specific purpose from baking items, to pizza making supplies, to bulk snack items. I go through the bins about once a month to keep them tidy.
These are similar to what I use: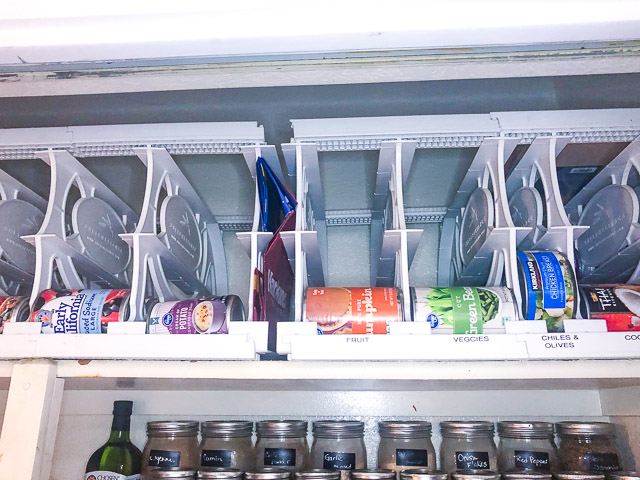 Canned Food Organization
About 10 years ago, I bought a ton of these can organizers from Costco during a special event. Luckily, they are pretty available on Amazon these days since the company has grown. The best part is that I'm able to customize the size of the can holder sections to fit different sized cans. I've used many configurations over the years, but this is my favorite right now.
The cans roll to the front, keeping the oldest cans in the front and new cans get added to the top and roll down the back. I use my label maker so it's easy to know what goes in each slot.
These are the ones I use: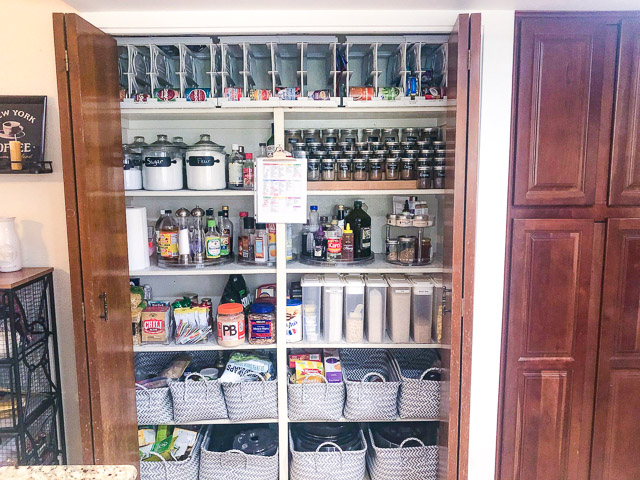 Menu Planning and Shopping
Keep your grocery list and menu plan in the pantry to quickly add items to your list. I'm currently trying a master shopping list and menu, but my go to is this printable set of weekly and monthly menu plans.
Just a few simple pantry organization ideas will keep meal time streamlined. Kids will be able to find what they are looking for easily and when new groceries come into the house, everyone can help put things away in the right spots.
Cheap Pantry Organization
Pantry organization doesn't have to break the budget. Look around the house and find other storage bins and boxes to use. I started with shoe boxes…like not even decorated shoe boxes, just plain ol' shoe boxes. I used to save glass jelly jars and use those for my spices. Get creative and figure out actually will fit in the space you have.
My pantry is long, skinny shelves, and are very high. It took me years to figure out what would work. Then as I refined my style, I bought products on sale to fit my space.
I hope these tips helped. What's your favorite pantry organization tips?
Leave a comment below.