This post may contain affiliate links. Please read my disclosure.
Need a brunch recipe? This Slow Cooker Blueberry French Toast is so easy to throw together and cooks up quickly in only about 3 hours, so it's perfect for brunch.
I love delicious & easy breakfast casseroles. To get things started, I'm sharing the newest recipe to find a permanent home in my recipe collection. I will say this, while it is really good and perfect for breakfast…it only needs about 3-4 hours to cook, so unless you like getting up at 4AM to start breakfast then I would say this is perfect for brunch.
Even though this french toast is super easy, it does require just a tad advance planning, like leaving the bread out over night to get a little crusty. I also set up my slow cooker the night before so it's ready to go when I'm still sleepy in the morning. I've been a fan of Reynolds® Slow Cooker liners for years, so it's a no-brainer that I'm lining my crock to keep the french toast from sticking and making a huge baked on mess. It totally makes for easy clean up after we eat, no soaking or scrubbing needed.
Check out a few of my other delicious breakfast recipes that the whole family will love!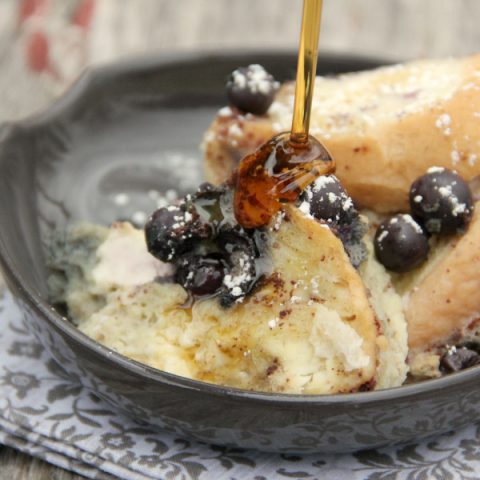 Slow Cooker Blueberry French Toast
Yield: 8

Prep Time: 1 hour

Cook Time: 4 hours

Total Time: 5 hours

Need a brunch recipe? This Slow Cooker Blueberry French Toast is so easy to throw together and cooks up quickly in only about 3 hours, so it's perfect for brunch.
Ingredients
1 cup softened cream cheese
1 loaf of french bread, sliced into 1 inch thick pieces (I used gluten free dinner rolls)
1 1/2 cup fresh or frozen blueberries
8 eggs, beaten
2 - 5 ounce cans of evaporated milk*
2/3 cup of heavy cream*
1 cup sugar
2 tsp vanilla
3/4 tsp cinnamon
pinch salt
Instructions
Place a Reynolds® Slow Cooker Liner in crock of slow cooker and set aside.
Slice bread into 1-inch thick slices. After slicing bread let it sit out for 6-8 hours to dry out. (Do not skip this step, it is very important in having a non-soggy final dish).
Spread cream cheese on one side of each slice of bread. Place the bread, cream cheese side down, into the crock. (Stand them up and lean them against each other and allow them to overlap a little) Sprinkle the blueberries evenly over the bread, allowing some to fall between the slices.
Combine the remaining ingredients in a medium mixing bowl. Pour mixture over the bread and berries in the slow cooker. Gently press the bread down into the egg mixture. Let the mixture sit for 10 minutes and then press the bread down again. Repeat until the liquid is mostly absorbed, about 30 minutes.
Cook on low for 3 - 4 hours. The casserole will be slightly browned on the edges when done. If there appears to be any excess liquid, remove the lid and cook for an additional 30-60 minutes. Serve with powdered sugar or maple syrup.
Notes
Don't skimp on the evaporated milk and heavy cream. If you sub regular milk, there is a chance that it could curdle or clump during cooking. I was able to sub almond milk for the heavy cream & evap milk and it turned out great.
Originally posted 1.10.11 Updated 2016
Join the Club!
Get delicious recipes delivered straight to your inbox each week! Plus learn how to take back suppertime in your home.

And get started with my NEW Take Back Suppertime 5-Day Jump Start Guide.