This post may contain affiliate links. Please read my disclosure.
Avocado hummus is a healthy snack or appetizer, made with a combination of hummus and fresh avocado. This Southwest Avocado Hummus is packed with fire roasted corn, black beans, tomatoes and cilantro. It can be eaten as a dip with chips or raw veggies, as a sandwich spread, or even as a topping on your favorite Mexican meals.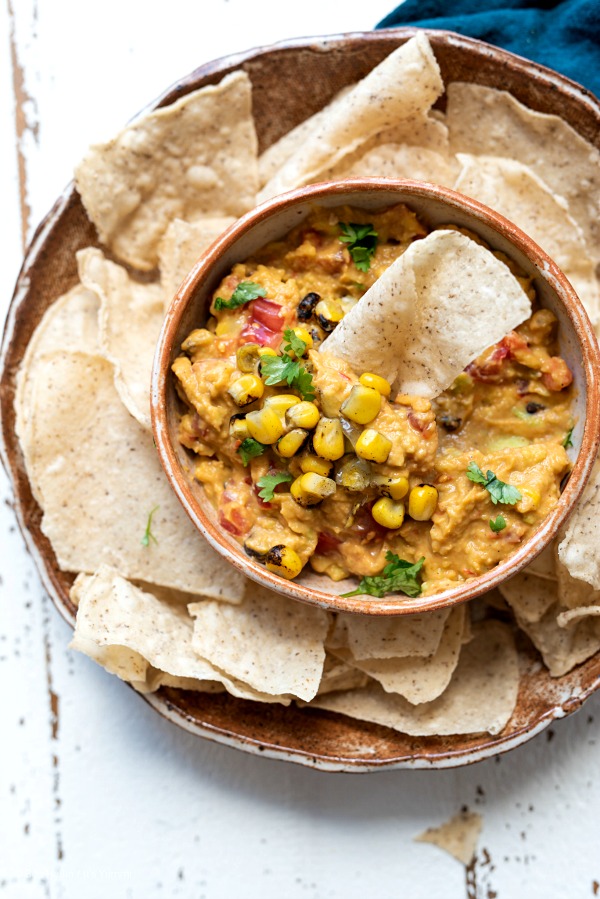 How do you make avocado hummus?
There are two ways you can make this spicy avocado hummus recipe; completely from scratch, or using prepared, store-bought hummus.
I like to cook from scratch when I have time, but let's face it; there are days when we are constantly on the go.
Besides, there is nothing wrong with using convenience products to make life easier! We can call this a semi-homemade avocado hummus recipe.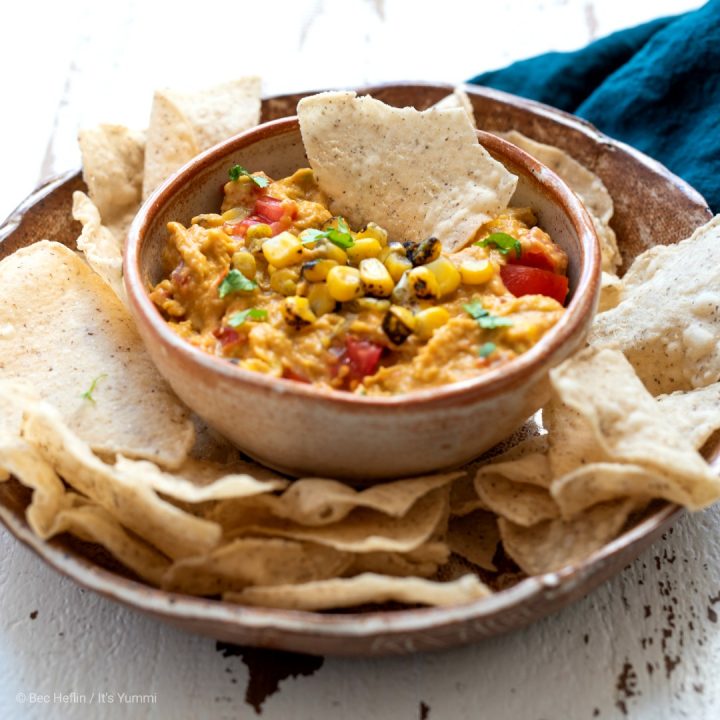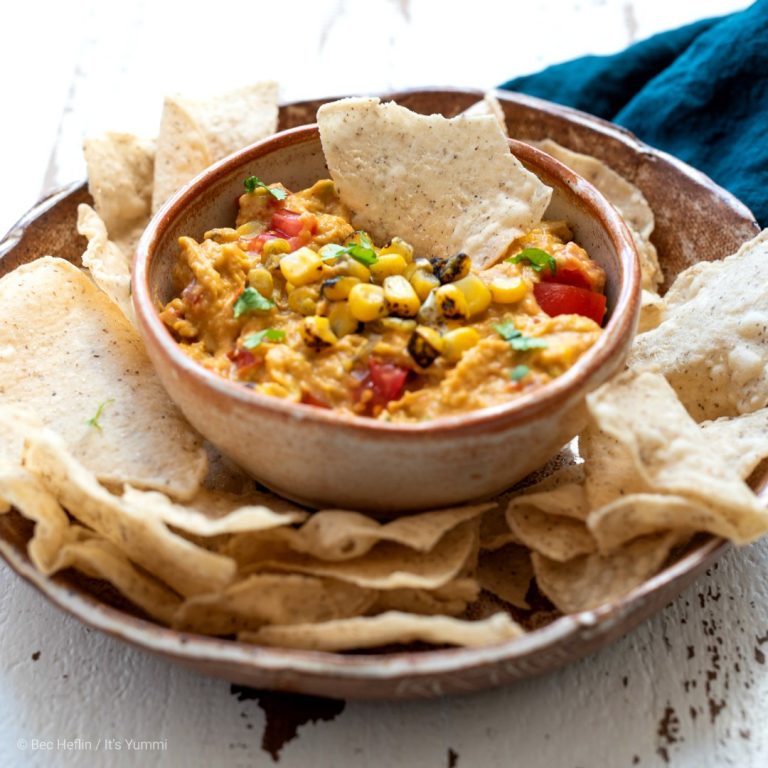 To make the recipe, you will need these ingredients:
1 cup regular hummus, or red jalapeno hummus (I use Hope Foods red jalapeno hummus)
If you're using homemade hummus or store bought regular hummus, you will need to add 1 red jalapeno, seeded and finely minced
1-2 avocados, mashed (about 1/2 cup mashed avocado)
1/2 lime, juiced
1/8 tsp salt, or more/less to your preference
2 plum tomatoes, diced
1/4 cup fire roasted corn (I find it in the freezer section of the grocery store, and Trader Joe's sells it, too)
1/4 cup cooked black beans
1 tbsp chopped cilantro for garnish (optional)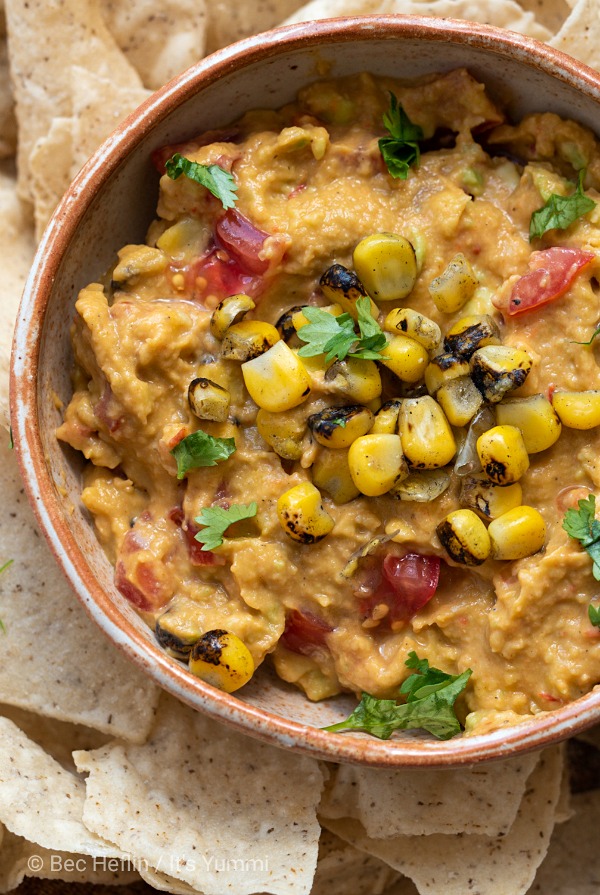 Can you freeze avocado hummus?
This is really best when eaten fresh. Yes, it can be frozen, but if you freeze it, be aware that it will lose some of its creamy texture.
Place the hummus in a freezer safe container that has an airtight lid. Because avocado hummus expands when frozen, do not fill the container up to the top. To protect it from freezer burn, add a layer of avocado oil over the top of the hummus. This forms a barrier to keep the cold air away from the surface.
Serving Suggestions
This is a spicy avocado hummus, making it the perfect topping for burritos, taco salad, enchiladas, or even breakfast nachos. It is also a great football party appetizer, so be sure to pin the recipe so you have it handy for Superbowl Sunday!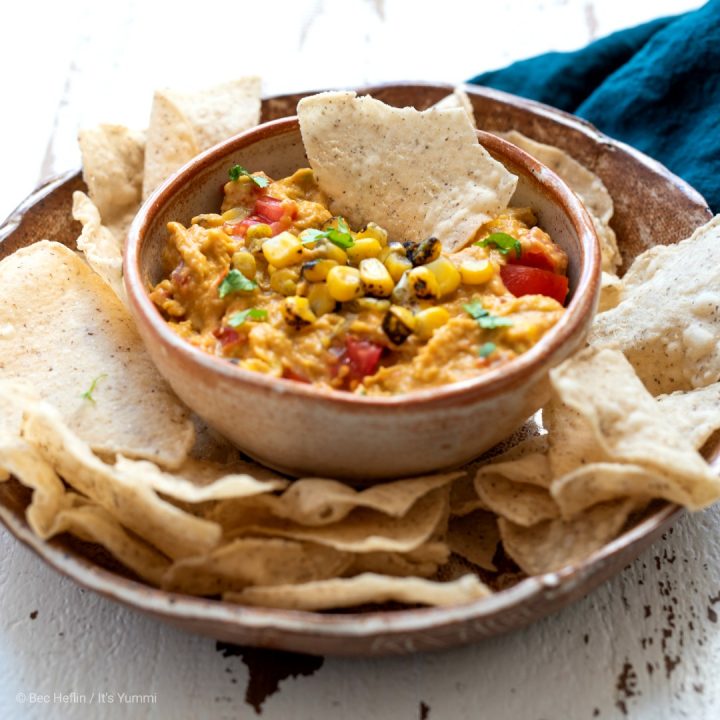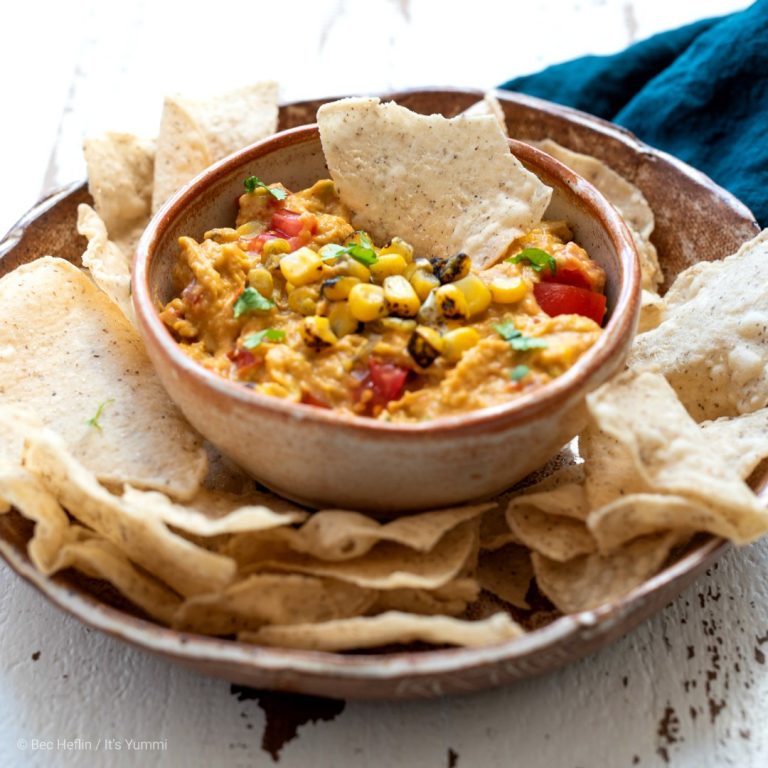 Avocado Hummus with Fire Roasted Corn and Black Beans
Yield:
8 servings (1/4 cup each)
This avocado hummus recipe uses fresh avocado, fire roasted corn and black beans.This recipe makes a healthy snack or a great topping for any Mexican meal.
Ingredients
8 oz red jalapeno hummus, or regular hummus plus one finely minced red jalapeno
1-2 avocados, mashed (about 1/2 cup)
1/2 lime, juiced
1/4 tsp salt, or to taste
2 plum tomatoes, diced
1/4 cup fire roasted corn
1/4 cup cooked black beans (if using canned black beans, drain and rinse them)
1 tbsp chopped cilantro for garnish (optional)
Instructions
To a large mixing bowl, add hummus, red jalapeno (if using), mashed avocado, lime juice and salt. Stir until well combined.

Add tomatoes, corn and black beans to the bowl and fold in gently. Taste for flavor and add more salt if desired.

Transfer avocado hummus dip to a serving bowl and garnish with cilantro if desired.

Serve and enjoy!