This post may contain affiliate links. Please read my disclosure.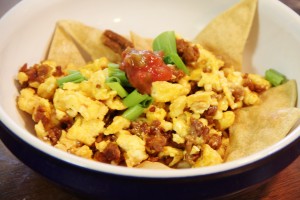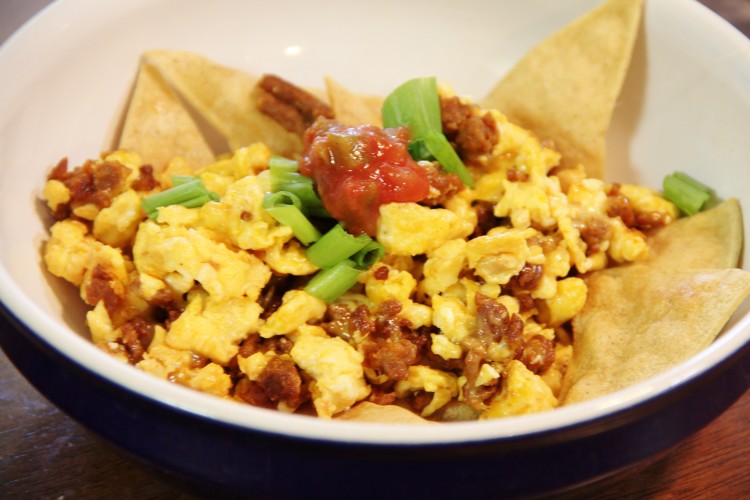 We usually splurge for breakfast on the weekends. Weekdays are hectic getting hubbyman off to work and one kid off to school, so we usually have something easy like a bagel or toast or cereal. But the weekends are filled with great breakfasts like pancakes, waffles, french toast, egg burritos, and more.
Hubbyman and I were trying to duplicate a breakfast he had on our recent vacation, but it didn't work out. We ended up with this really tasty version of breakfast nachos. The kids thought it was really cool that we let them have chips at breakfast…it went over really well.
Breakfast Nachos
8 eggs
8 corn tortillas
1/4 lb breakfast sausage or chorizo
4 oz shredded cheddar cheese
garnish: sour cream, salsa, additional cheese
Preheat oven to 400 degrees F. Cut each corn tortilla into 8 wedges and arrange on baking sheet in a single layer. Cook for 5-10 minutes until crispy.
Meanwhile, cook sausage over medium heat, breaking it apart into crumbles. When thoroughly cooked, remove to a papertowel-lined plate and remove any excess grease from the pan. Break eggs into a medium bowl and beat until well combined. Pour into hot pan and cook over medium heat stirring continually until eggs are almost set. When eggs are almost done add in cheese and sausage. Stir well to combine.
Layer chips, egg mixture, and garnishes as desired. Enjoy.
Serves 4.