I had a few friends over last Friday night for a girls night in.  We sampled wine and ate way to much.  Of course we had lots of mommy talk and just plain ol' good girl time without our kids.  I love my kids and family, but sometimes a girls night is exactly what I need to recharge my batteries.
When flipflop wines contacted me to sample some of their wines I was really excited and immediately decided on the girls night in.  Everybody brought a dish to share and a pair of shoes to donate to soles4souls.  I did this because I read that for every bottle of flipflop wines purchased, soles4souls will donate a pair of shoes to someone in need.  I figured we could do something good for the community while having our fun girls night.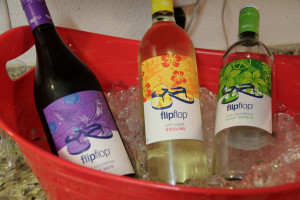 Everyone loved the guide on the back of each wine bottle that told us exactly what to expect when we were drinking it.  Everyone really enjoyed the wines that we sampled, in fact, there was hardly any left by the end of the evening.  The flipflop collection includes Chardonnay, Riesling, Pinot Grigio, Moscato, Cabernet Sauvignon, Merlot and Pinot Noir (we sampled the Pinot Grigio, Pinot Noir, and Riesling).  They are outstanding wines and a great value with an SRP around $7.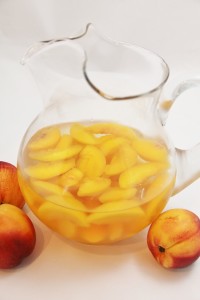 Peach Sangria
1 750 ml bottle white wine (I used flipflop wines  Pinot Grigio)
1/2 c-3/4c Peach Schnapps
1/3 c sugar
1 (16oz) bag frozen peach slices (or about 2lbs fresh peaches, peeled and sliced)
Chill wine overnight.  Combine sugar ad schnapps in a medium bowl and stir well to blend.  Add peaches and allow to sit for about 15 minutes.  Put schnapps/peach mixture in serving pitcher.  Pour wine over the top and gently stir to combine.  Place in the fridge  for about 6 hours to allow the flavors to combine.
I almost forgot to mention…AMFT is featured over at Great Expectations today with a yummy salad recipe. Come over and say hi!