This post may contain affiliate links. Please read my disclosure.
This sweet and tart LIME COCONUT PUPPY CHOW is addictive and reminiscent of those crunchy lime cooler cookies.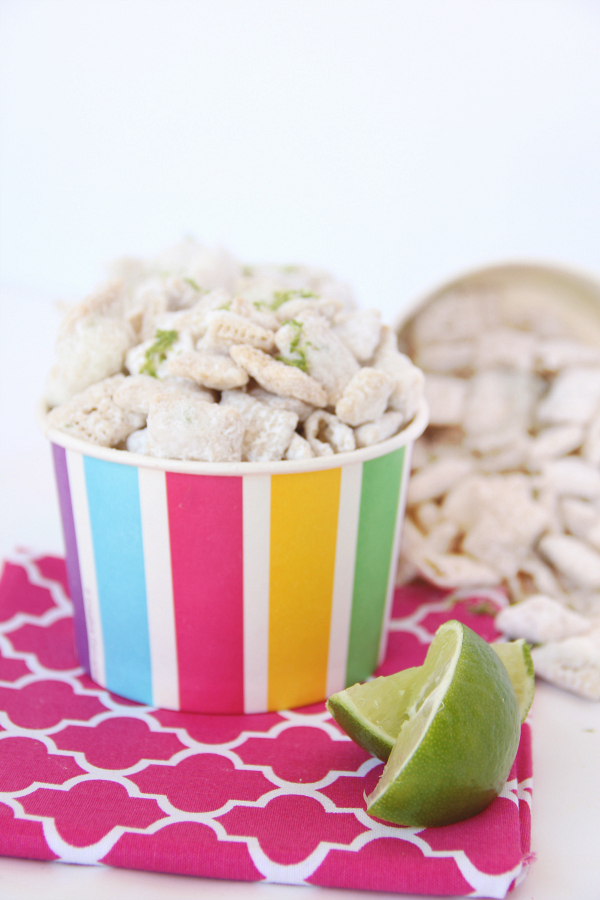 You know those cookies right? The tart crispy lime cookies that were covered in powdered sugar…this tastes almost just like it, but with a hint of coconut. I remember eating those cookies by the box when I was little and now you have to pull me away from the bag of this puppy chow because it's just as addicting.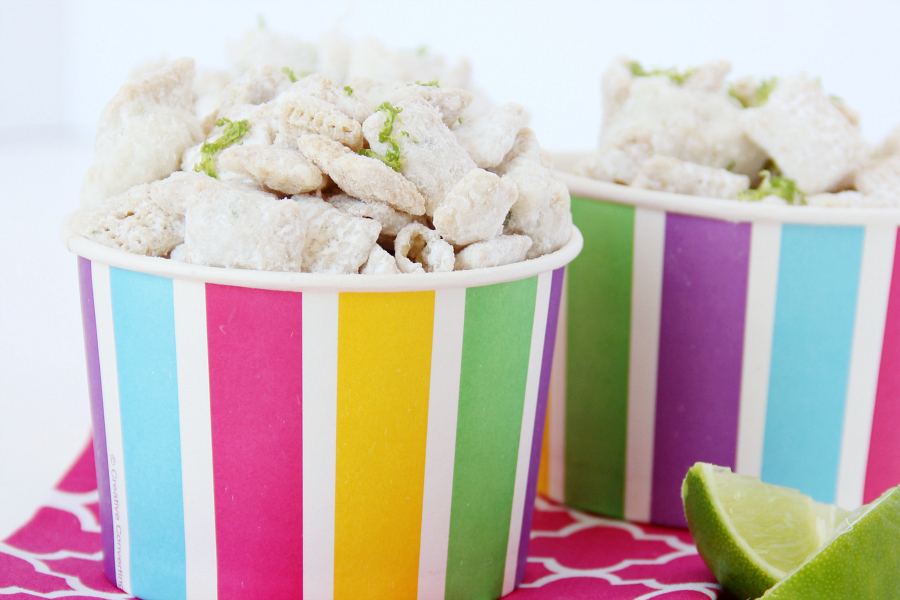 To be honest, I think I've had 2 bowls just in the time it has taken me to write this post. That's just wrong…so wrong! I might have to send the rest of the bag to work with Hubbyman so that I stop eating it.
Puppy Chow recipes are also known as Muddy Buddies in some parts of the country. I've heard them both ways here in AZ, but no matter what you call it they are delish. I love these Nutella Buddies, but this Peppermint Chex Mix is addictive too.
I love that this is puppy chow isn't just sweet but has a hint of tang from the lime. Please promise me that you won't leave out the lime zest…it gives so much flavor and adds just a touch of random color to the mix. Just zest the lime before you juice and you're good to go!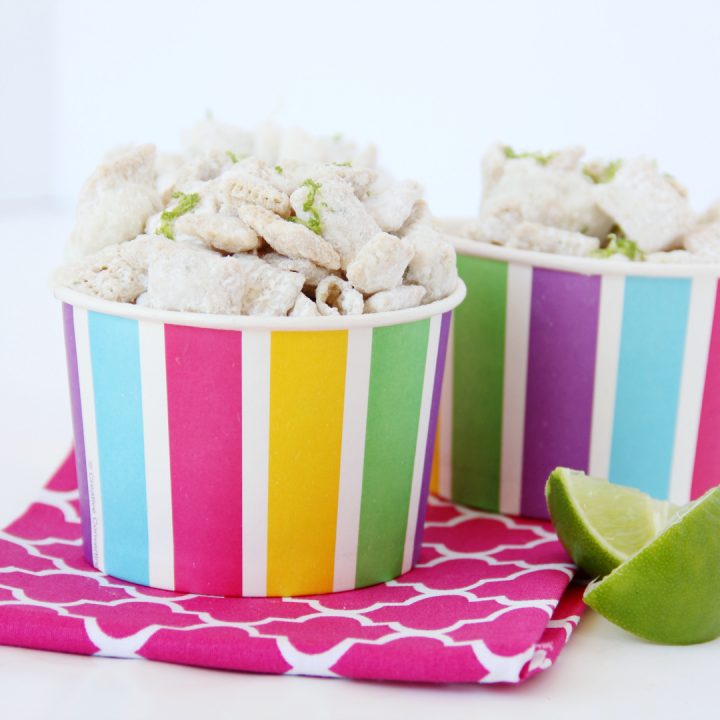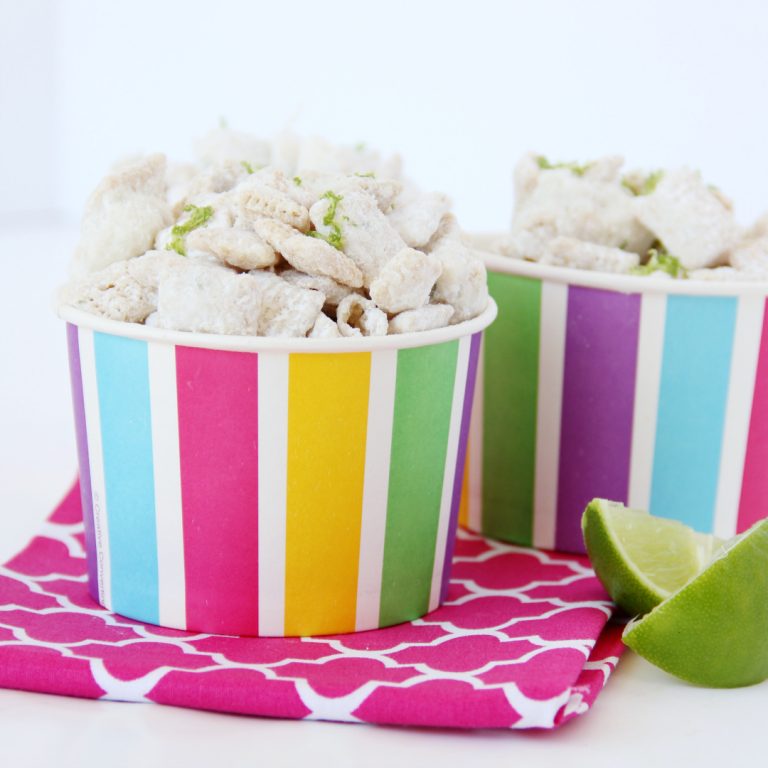 Lime Coconut Puppy Chow
Ingredients
9 cups Rice Chex
1 cup sweetened coconut flakes
2 cups white chocolate chips - I use dairy-free/vegan chips
1/4 cup shortening
2 tbsp lime juice (about 1 lime)
zest from one lime
2 cups powdered sugar
Instructions
Place the cereal and coconut in a large mixing bowl. In a 2-cup glass, microwave safe bowl combine the chocolate chips and shortening. Microwave for one minute and whisk. Continue in 30 second bursts until completely smooth. Add in lime juice and zest and stir until combined.
When the mixture is smooth, pour over the cereal and stir quickly to combine. Once the cereal is evenly coated, transfer to a gallon-sized ziptop bag. Add powdered sugar, close bag, and shake to coat the cereal mixture evenly.
Store in an airtight container.
Nutrition Information:
Yield:

9
Serving Size:

1 cup
Amount Per Serving:
Calories:

284
Carbohydrates:

75g
The Secret Life of Pets is such a cute movie and my kids are already asking for a themed party. I think these 8 Secret Life of Pets party ideas are just what we'll need! Pop over and check out all the fun ideas…some are for human party goers and some are for the four-legged party goers.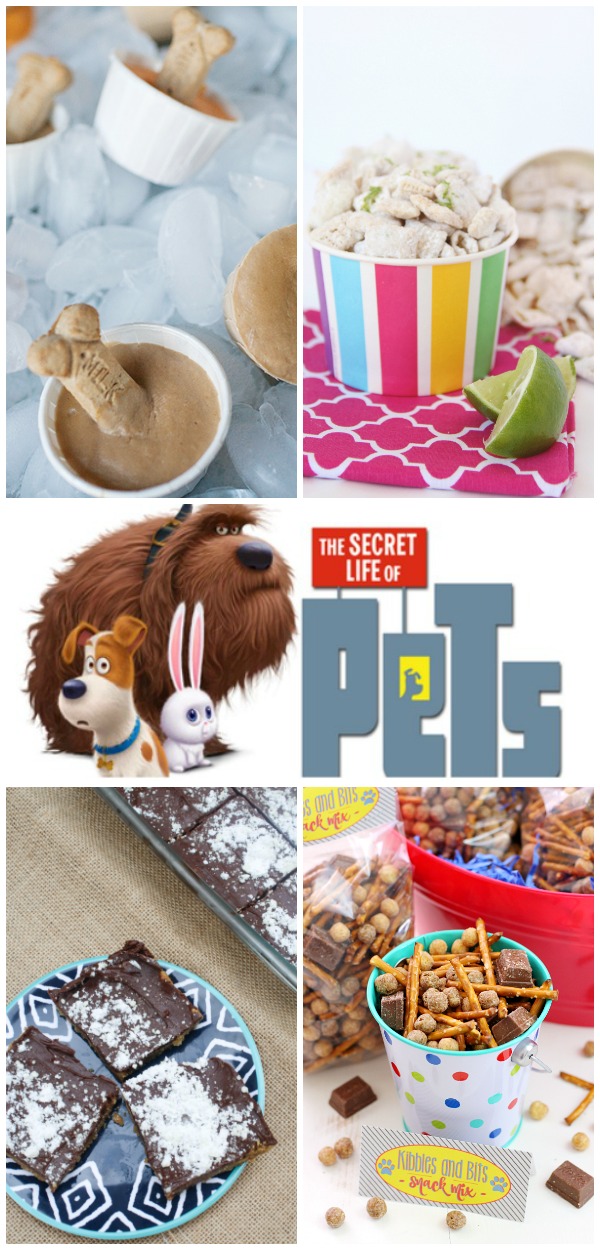 Lime Coconut Puppy Chow from Around My Family Table
Kibbles & Bits Snack Mix from Love Bakes Good Cakes
Catnip Tea (for cats) from Celebrating Family
Puppy Chow Cookie Bars from A Savory Feast
Sweet Potato & Banana Pupsicles from A Joyfully Mad Kitchen
Puppy Party Snacks from For The Love of Food
Bacon Fluffernutter Puppy Chow from Bread Booze Bacon