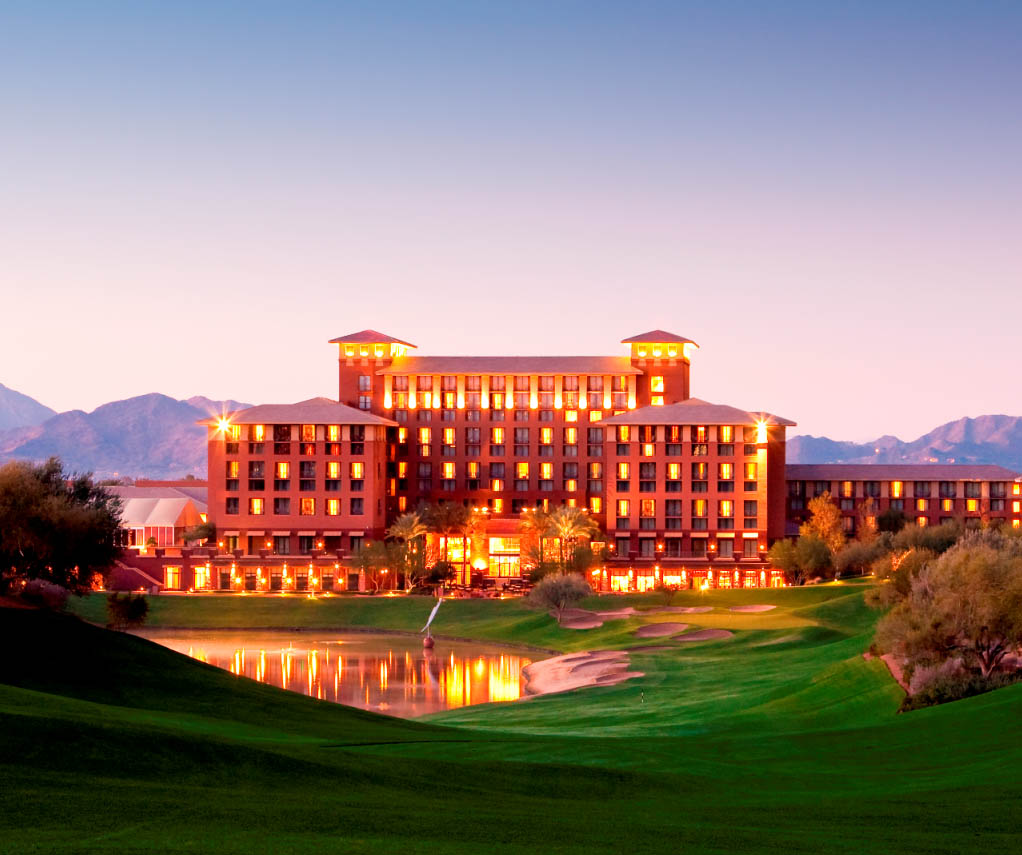 I love staycations…ya know, where you stay close to home for a vacation.  My family recently spent Mother's Day weekend at the Westin Kierland Resort & Spa in Scottsdale, AZ.   There are so many wonderful things to say about Westin Kierland that I broke this post up into two different reviews.  For all the fun activities and family time we had, please check out my post on East Valley Mom Guide.  We are in the middle of a week long series of staycation posts for the Phoenix area on EVMG.
But here on AMFT, I have all the mouth watering food pictures and details.  If that doesn't make you want to jump in your car or grab a flight, then I don't know what will.  LOL!   I think we were totally spoiled rotten by all the good food…there is no way I can compete here at home.
When we first arrived, we were greeted with this beautiful basket of fresh fruit, cheeses, and crackers along with some awesome cookies for the kids.  It was perfect because it was snack time and the kids were getting restless as I settled the family into our casita.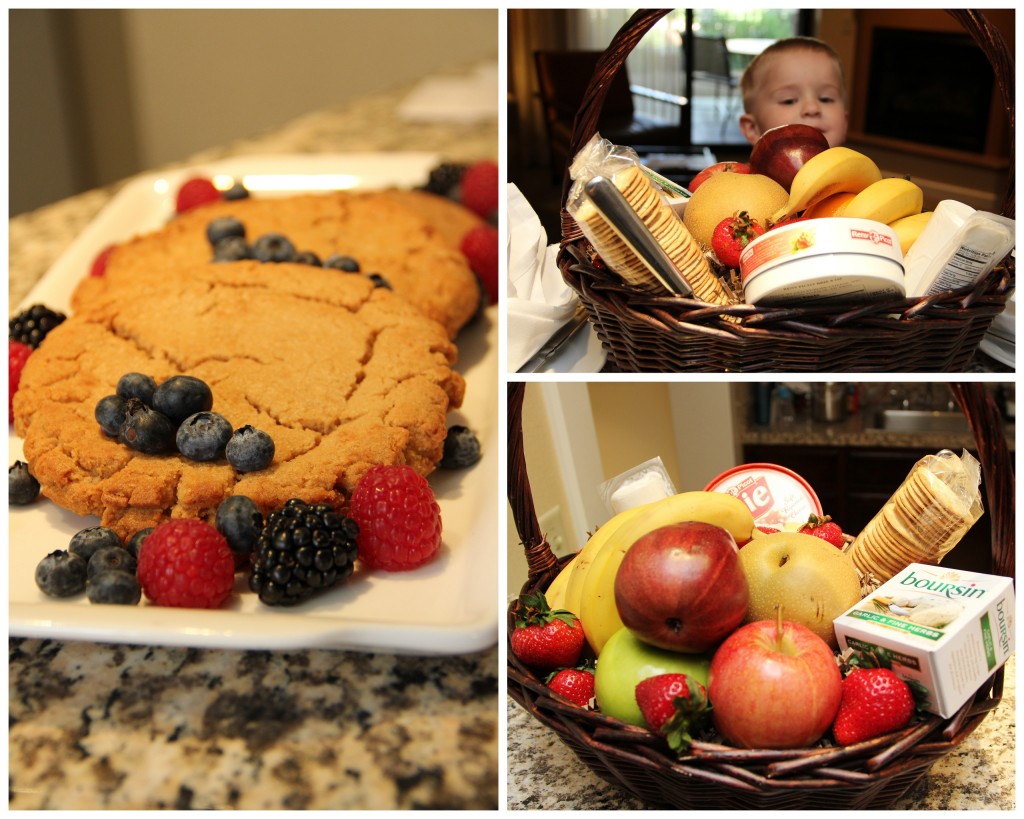 I think that basket was bigger than my son!
Supper the first night was at Waltz & Weiser Whiskey Bar & Cantina out in Dreamweaver's Canyon.  The sunset view was amazing!  Despite the name "Bar & Cantina" it was totally kid friendly outside.  While we ate, we were lucky enough to taken in the nightly serenade of Scottish Bagpipes at sunset.  The kids were super impressed.  Clockwise from top right: Bagpipes, Green Chili Pork Carnita Tacos, Rio Grande Beef Nachos, and Green Chili con Queso.
The meat in these dishes melted in our mouths…I think the beef on the nachos was my favorite it had tons of flavor and cooked to perfection.  The tacos, while absolutely amazing, were very small.  That made us savor every.single.bite.  And I was totally happy with those bites.  The Chili on Queso was probably everyone's favorite!  In fact, it got the attention of a few of the neighboring tables….we had a mini-throw down with the table next to use for our dip.  Okay, really the waiter almost delivered our plate to their table, but we quickly fixed that and then the other table ordered their own.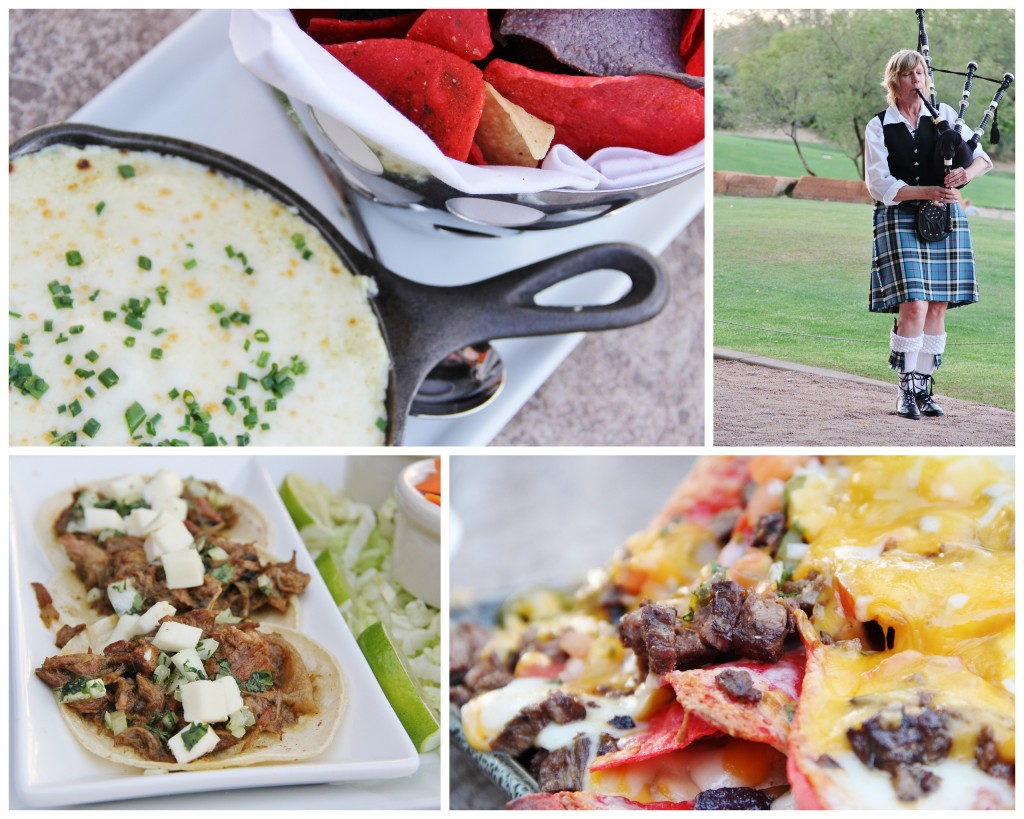 One of the highlights was the nightly Hershey's Sweet Shoppe Dessert Bar pop-up.  In the lobby the most decant and beautiful desserts are brought out for everyone to enjoy.  I took a picture of a few of these tasty treats.  Not only are they beautiful, they tasted wonderful as well.  We let the kids pick out whatever they wanted….they thought they were in heaven.  We never do that!   And that Banana Cake in the top left corner was A.M.A.Z.I.N.G!  It was so moist and filled with wonderful banana goodness.  I almost went back to pick up a 2nd piece to bring home.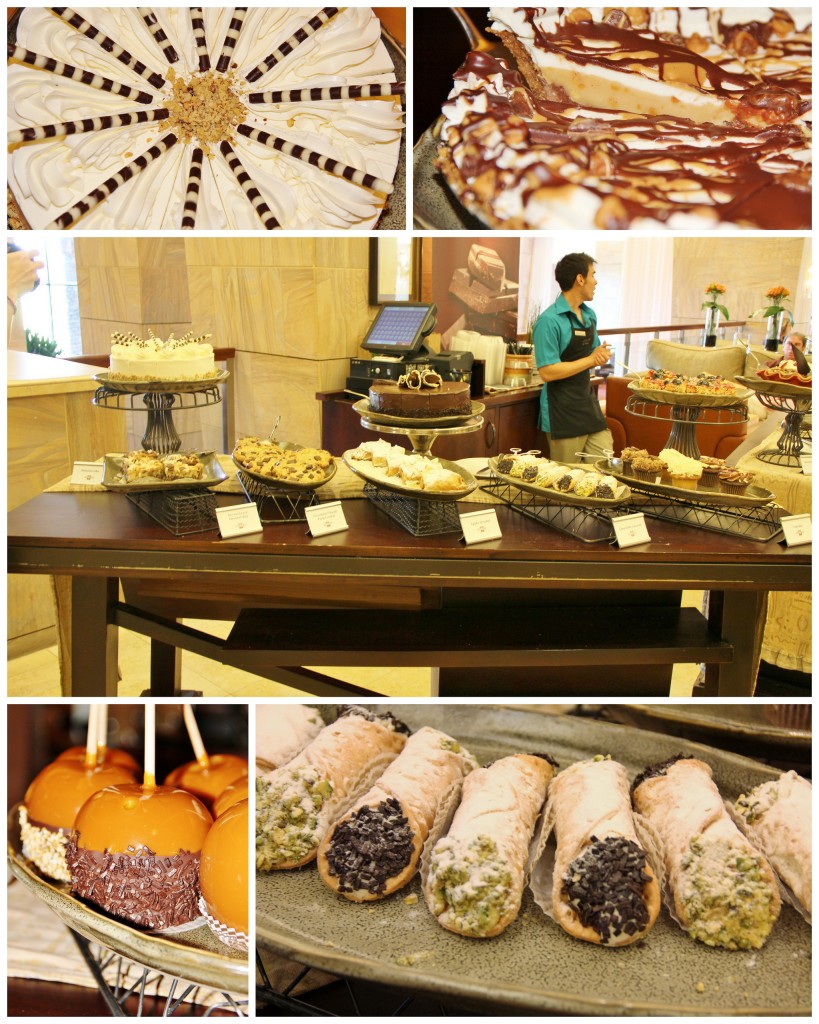 The second night, Hubbyman and I enjoyed a romatic dinner all alone while Kaylynn was at the Digital Kids Club.  Gavin was too young, so Janice at Celebrating Family and her hubbyman watched Gavin during our supper.  Check out her review for lots of family fun activities at the Westin!  Thanks Janice!
deseo's inventive concept and menu development are inspired by the James Beard Award-winning Chef Douglas Rodriguez, widely-regarded as the inventor of Nuevo Latino Cuisine.  There is an artist in the lobby of the restaurant painting.  How cool is that?!?!  You can even buy the paintings.   deseo is a very modern and clean looking…the perfect spot for a date night too!  The food….hmmm….what can I say about the food?  I don't think words can describe how amazing the dishes were.  But our favorites were our appetizer and my dessert (hubbyman's dessert was good too, but mine was unbelievable).
Clockwise from Top Left: Shrimp Chicharron (a little sweet and a little spicy, cooked perfectly…I might have asked to marry this dish about half way through), chocolate cigar, us at supper,  cinnamon tapioca (the cinnamon stick is smoking when it's brought to the table….it really set the mood for dessert) and finally the beef tenderloin "churrasco style" !  We both were so happy with supper and wished we could eat like this every night!
Our last meal was breakfast on Mother's Day at Brittlebush Bar & Grill.  My only complaint for this staycation was the lack of signs to show the way to this restaurant.  We wandered for a while before finding it in the Golf Clubhouse.  So glad we found it!  We had great service and an excellent breakfast.  Kaylynn had the yogurt and granola, Gavin picked the multigrain waffles, I had the Scottish Scones, and hubbyman ordered the Short Rib Hash.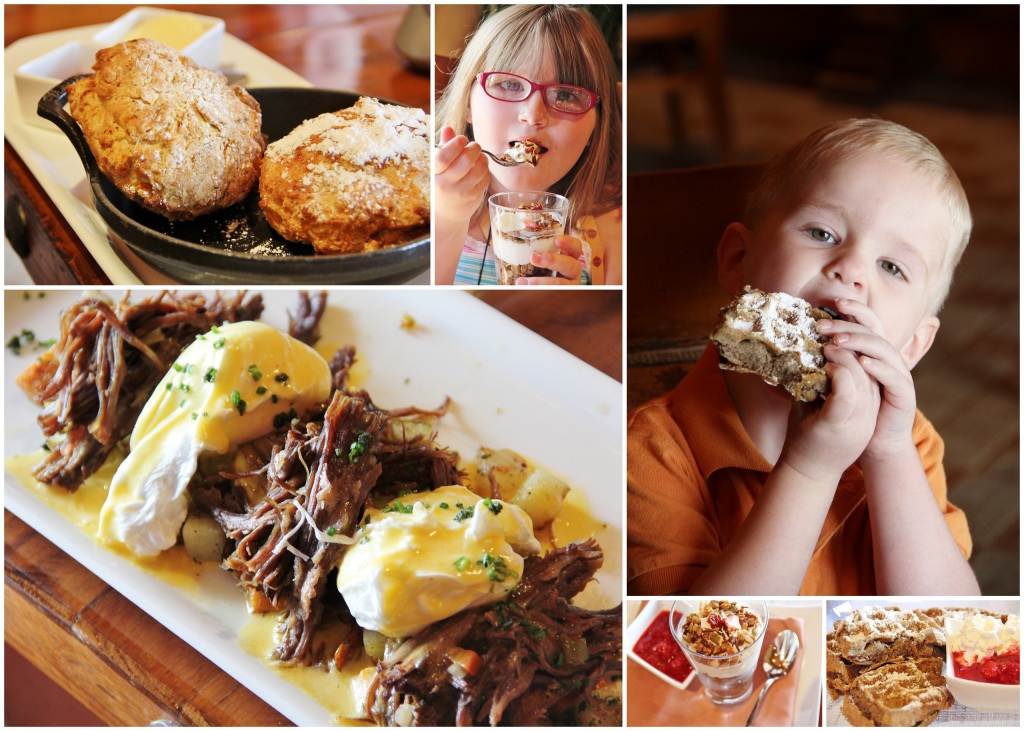 My scones were perfect!  They were so good that I had to try to create them at home the following week.  What to see my Bacon & Cheddar Scone creation?  They were almost as tasty then the ones I had here.  Here's a little teaser: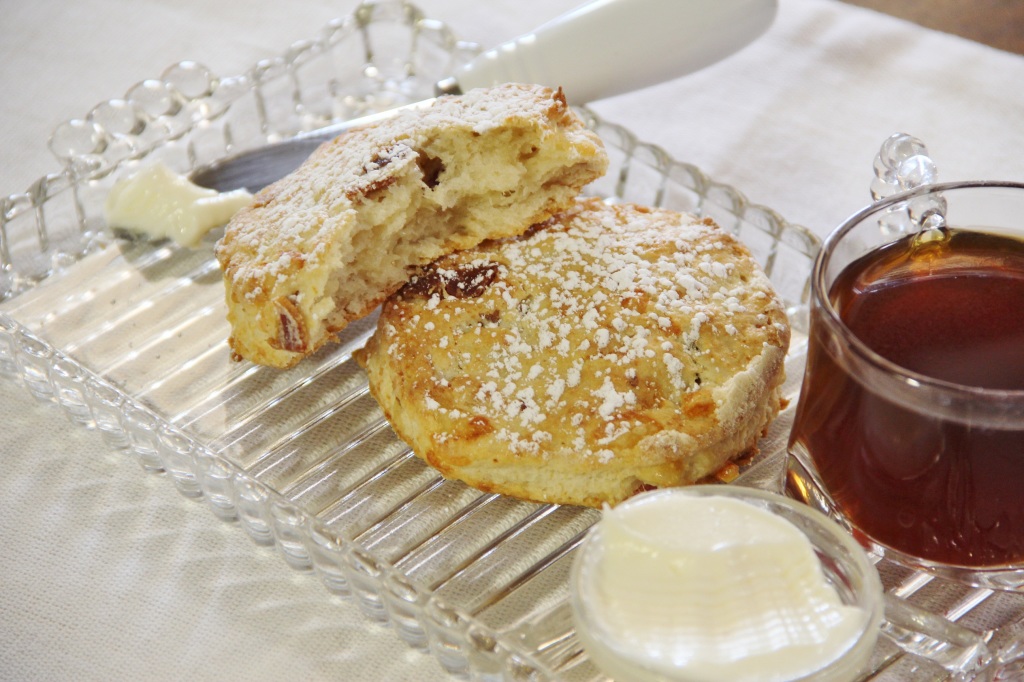 Okay, Okay…here are some beautiful photos of the property!  I hope if you are ever in Arizona that you will stop by…it truly is beautiful and the perfect place to relax and eat well!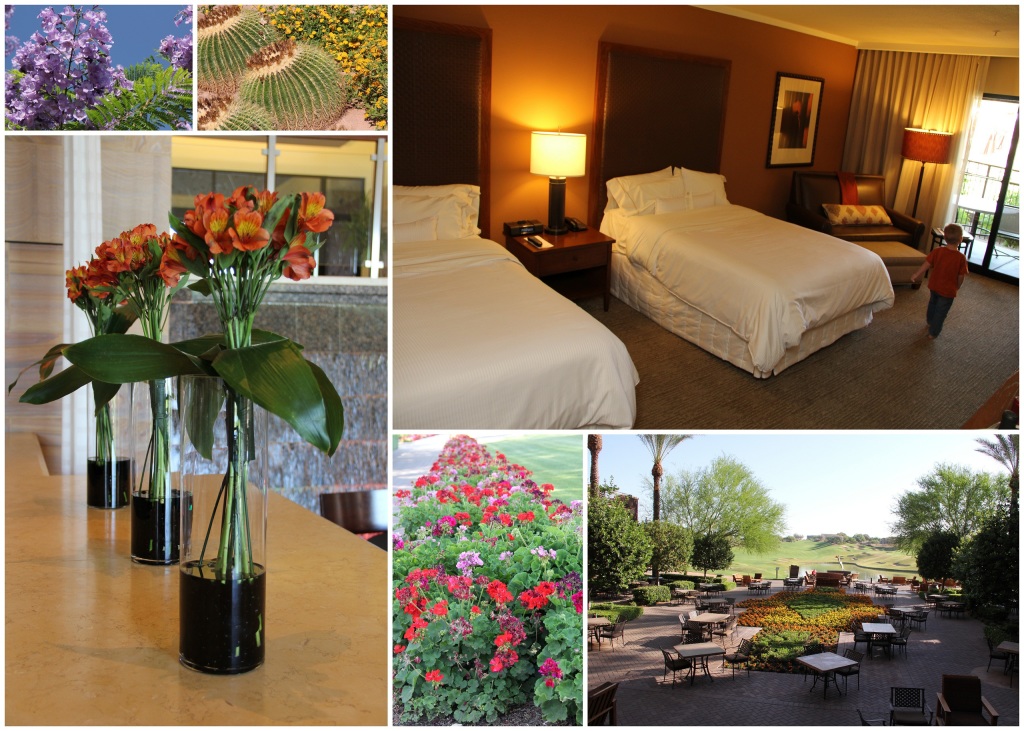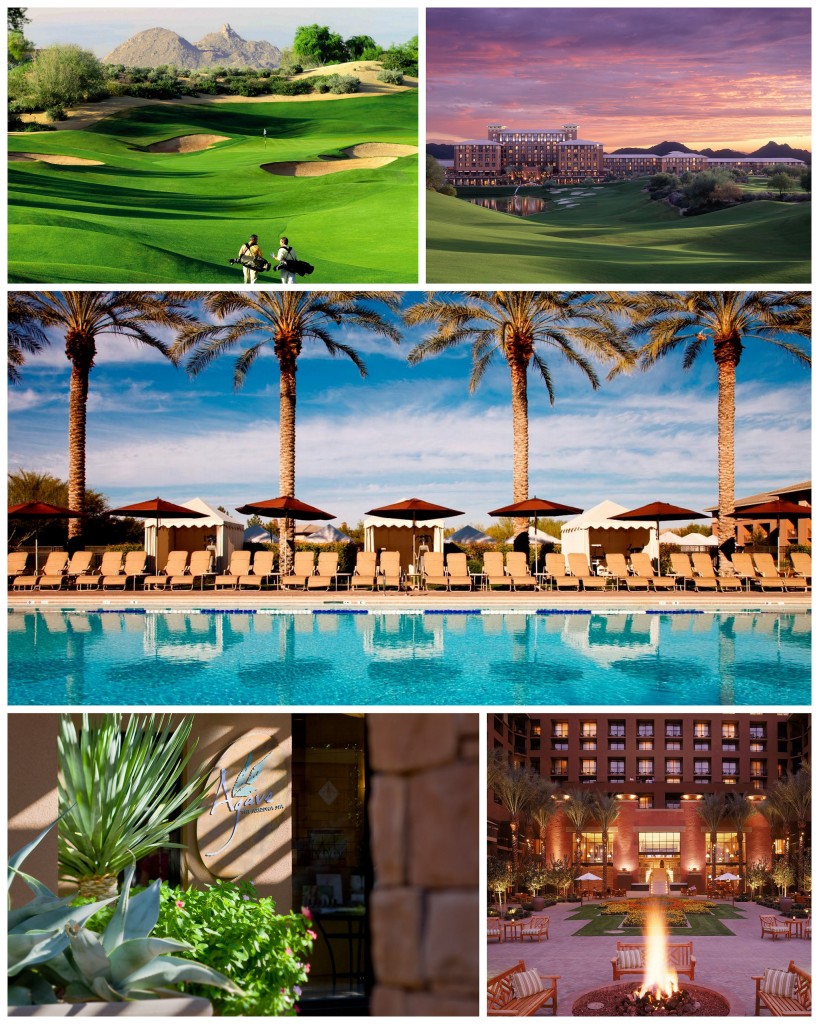 Disclaimer:  I was provided a staycation for my family for review.  I was not required to write a positive review…all opinions are my own. Most of the pictures are my own, but Westin Kierland did provide me with a few.