Follow Me on Pinterest
Hi! My name is Tiffany, and I'm so excited to be joining AMFT as a contributor this year! I blog at
Offbeat + Inspired
  with my good friend Sarah, and we've enjoyed sharing our recipes, home projects and other goings-on with the world for almost a year now. I'm a 27-year-old Jersey native living in Kentucky with my husband and working in graphics design. I picked up a camera for the first time about five years ago and fell hard for that nifty little thing. I love to document life through pictures, sometimes to the dismay of my husband, but he's a trooper. In the kitchen, I enjoy tackling tried and true recipes from childhood as well as venturing into the great unknown with creative takes on popular recipes or with inventions of my own. I'm inspired by anything and everything — as a die-hard Food Network fan, a patron of local eateries with unique menus and lots of character, and a believer that all things sweet and savory were created equal and have earned a spot on my dining room table.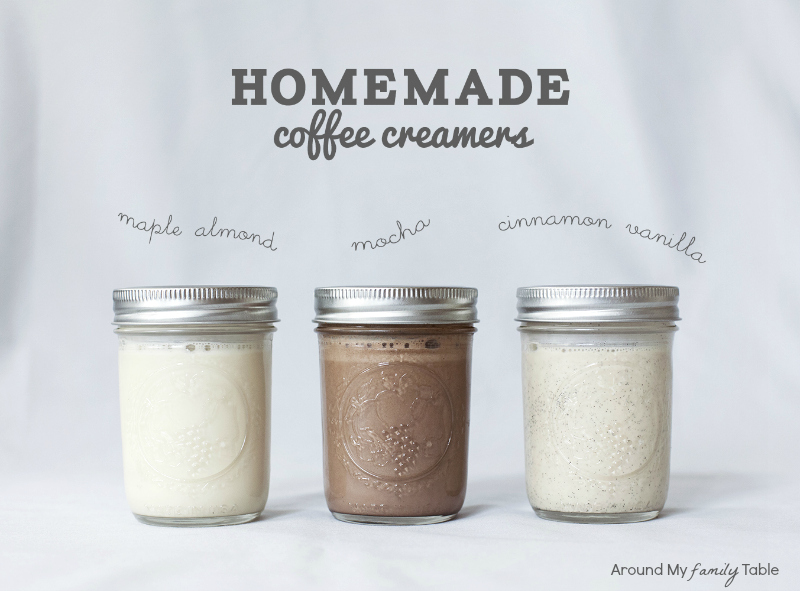 The recipe I'm sharing today is for homemade coffee creamer. I love my coffee light and (somewhat) sweet. True coffee fanatics are cringing right now, but I can't help it! I used to use flavored store-bought creamers but switched over to half & half and sugar because I wasn't enough of a flavored creamer fan to keep buying it as a single-use ingredient. I really did enjoy the flavor variety though, so one day I hit the pantry to see if it was possible to concoct a homemade creamer recipe with ingredients I had on hand.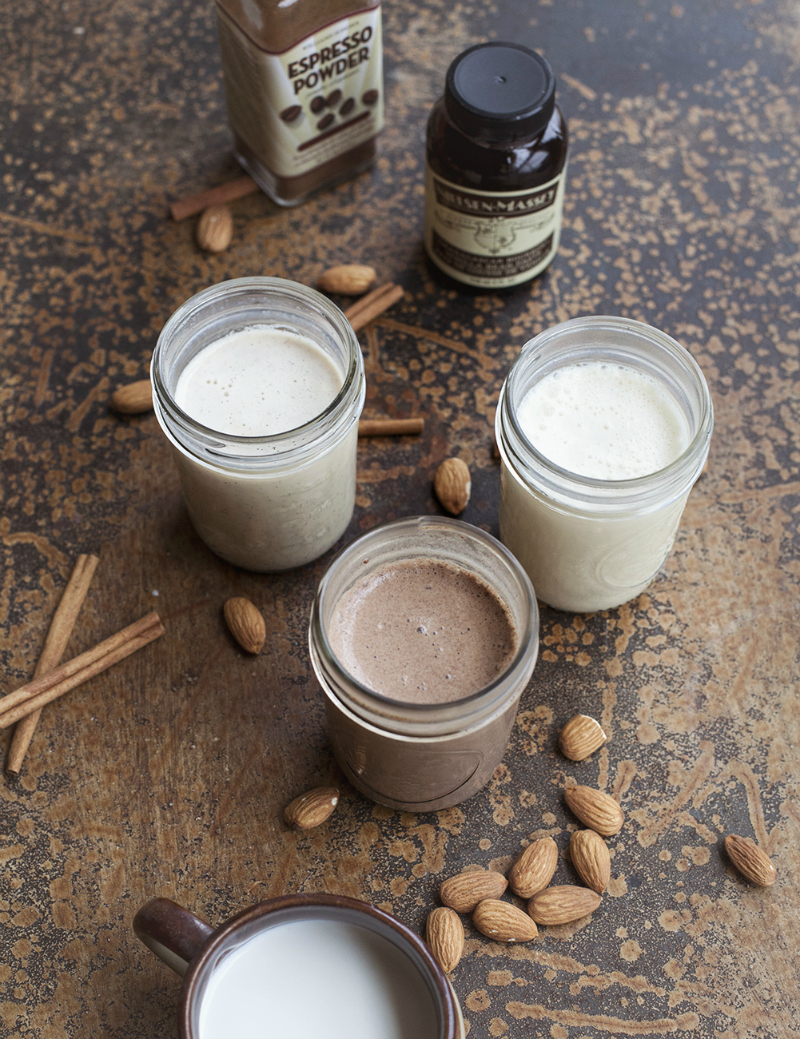 My baking obsession keeps the cupboards loaded with extracts, spices and cocoa powder, and my coffee and tea obsession guarantees a steady influx of half and half. I also keep sweetened condensed milk on hand for fancy dessert moods and candy-making adventures. These seemed like the perfect subjects for my creamer experiment, so I got to work.
I pulled out
four 8 oz. canning jars
and added equal parts sweetened condensed milk and half and half to each. I used up the whole can of milk and left about an inch of room at the top of each jar for flavorings and shaking space.
The flavors I created were:
Maple Almond – 1 tbsp maple syrup and 1 tsp pure almond extract
Cinnamon Vanilla – 1 tsp cinnamon extract and 1 tsp vanilla bean paste (or vanilla extract)
Mocha – 2 tbsp cocoa powder and 1 tsp espresso powder
Coffee – 1/2 tbsp espresso powder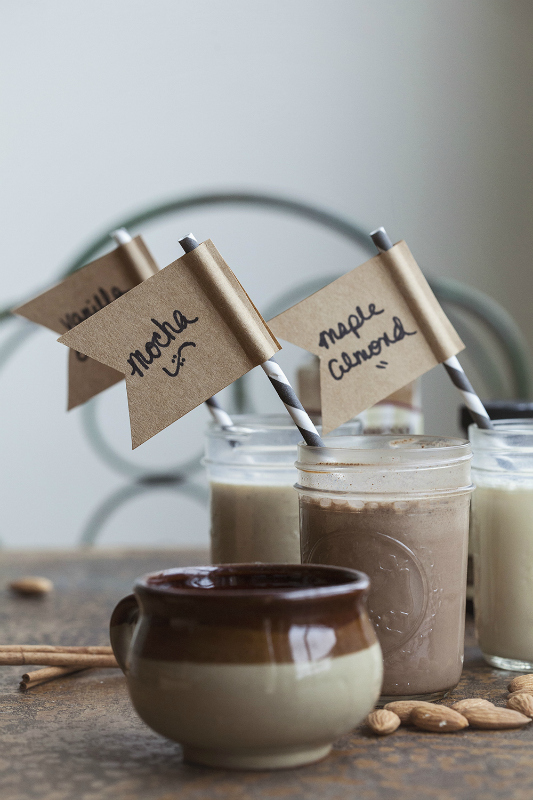 Once the flavors were added, I screwed on the lids and shook them well before refrigerating. I labeled each jar lid with a sharpie and that was it! I chilled them for an hour, brewed some coffee and tested them out on my family. It was unanimous… we'll be using homemade creamer from now on.If you're working with powders like cocoa and espresso, shaking won't be enough to get everything fully incorporated, so you'll want to use a blender or food processor, mix, and then pour the creamer into your jar. If you prefer a rich creamer, you can substitute heavy cream for half and half.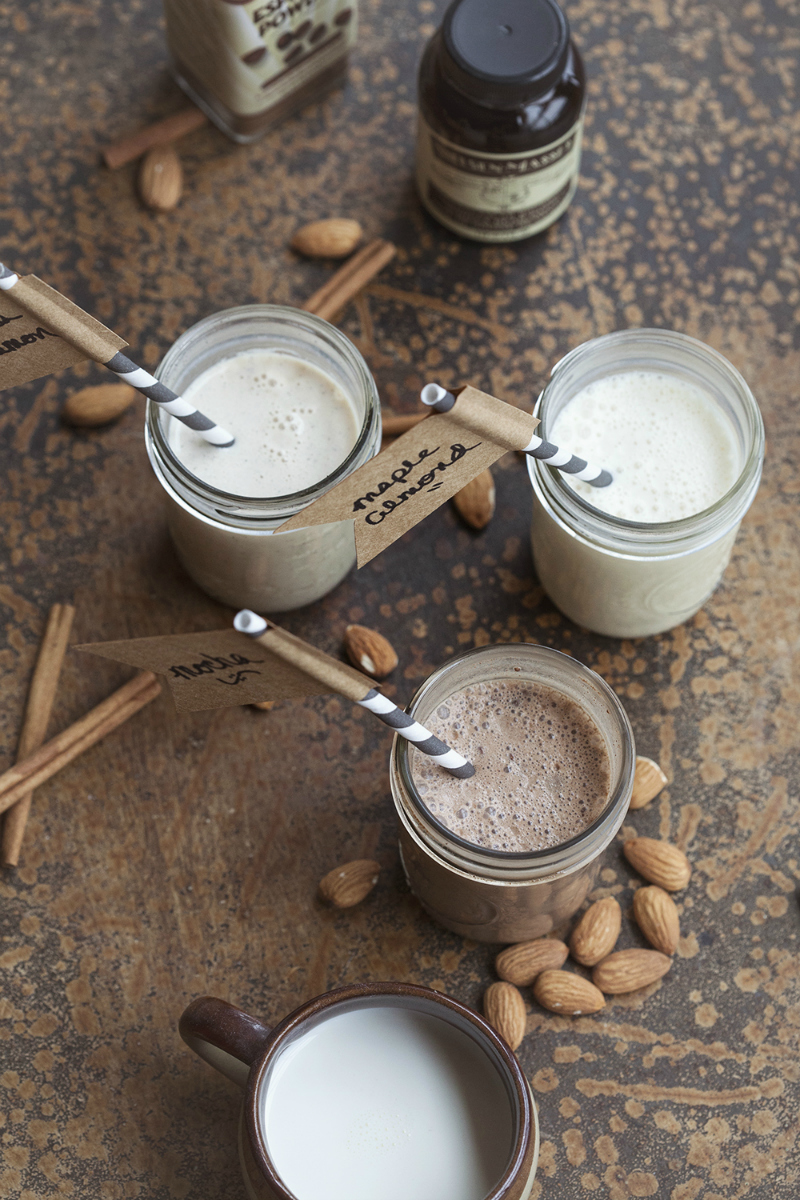 Some other flavors I'll be trying are:
Mint Chocolate Chip
Ginger Almond Spice
Chocolate Raspberry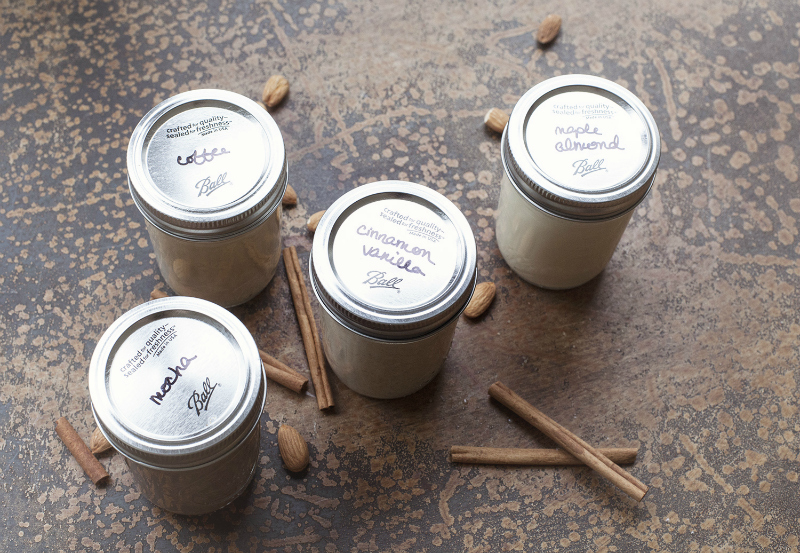 I hope you guys give this recipe a try and enjoy creating your own homemade creamers!
What flavors would you create and what ingredients would you use to create them?
Homemade Coffee Creamers
Ingredients
4- 8oz canning jars
Sweetened Condensed Milk
Half and Half
see below for flavor combos
Instructions
Add equal parts sweetened condensed milk and half and half to each jar. (I used up the whole can of milk and left about an inch of room at the top of each jar for flavorings and shaking space.)
Flavors
Maple Almond - 1 tbsp maple syrup and 1 tsp pure almond extract
Cinnamon Vanilla - 1 tsp cinnamon extract and 1 tsp vanilla bean paste (or vanilla extract)
Mocha - 2 tbsp cocoa powder and 1 tsp espresso powder
Coffee - ½ tbsp espresso powder
Once the flavors are added, screw on the lids and shake them well before refrigerating. Label each jar lid with a sharpie!
Chill them for at least one hour, brew some coffee, and enjoy.
Note: If you're working with powders like cocoa and espresso, shaking won't be enough to get everything fully incorporated, so you'll want to use a blender or food processor, mix, and then pour the creamer into your jar. If you prefer a rich creamer, you can substitute heavy cream for half and half.
© Around My Family Table
Notes
!Other Flavor Combos to Try:
Some other flavors I'll be trying are:

Mint Chocolate Chip
Ginger Almond Spice
Chocolate Raspberry