This post may contain affiliate links. Please read my disclosure.
School starts next week…my baby is heading to pre-K a couple days a week and my oldest is going into 4th grade. Where has time gone? I'm kind of picky when it comes to the kids school lunches. I think they need to be healthy for learning…no junk, no sweets…there is a time and place for that (ahem…afterschool), but during the school day I want them at their best. Except, after a couple months I get bored and run out of ideas, so I'm starting this year off with a bang and these 25 Healthy & Delicious Bento Lunches are just what I need to get me inspired.
In all honesty, I won't make something like this every day. Probably once a week or so…that's all I can handle in my busy life!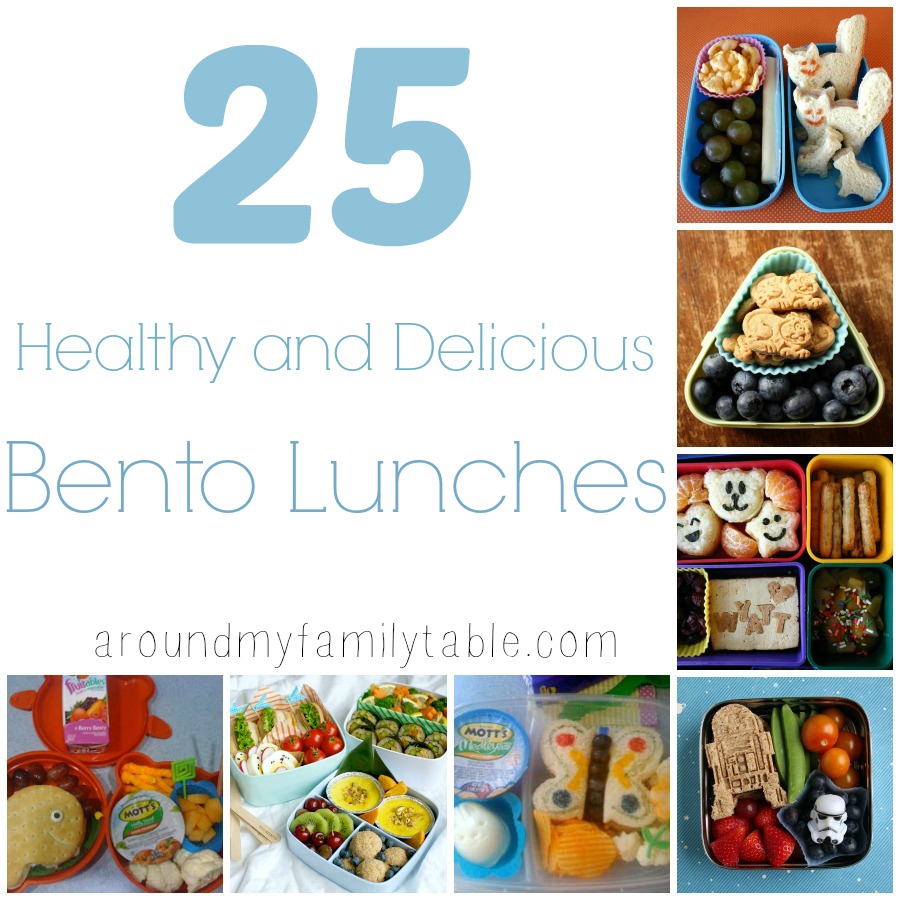 There are tons of cute bento boxes on Amazon, but this is my favorite bento box and what I use for my kids. You can go crazy with cute cutters, totally adorable egg shapers for hard boiled eggs, and even get an adult version too. Personally, I just use my favorite box for Hubbyman and myself when we need it.
If you get the bento bug then you have to check out some of the fabulous bento books for more ideas!
1. Easy Submarine Bento
2. Checkered Apple Bento
3. Mini Sandwich Bentos
4. Summer Sunshine Bento
5. Super Boyfriend Bento
6. Froggie Camp Snack Bento
7. Panda Bento
8. R2 D2 Bento Box
9. Goldfish Bento
10. Quinoa Falafel Bento
11. Avocado Mango Bento
12. Hamburger Steak Bento
13. Happy Lunch Rice Cakes
14. Spicy Tuna Bento
15. Pizza Heart Bento
16. Meatball Broccoli Soup Bento
17. Cheese Blintzes
18. Healthy Hike Bento
19. Yellow Beans Bento
20. Salmon Bento Lunch
21. Chicken and Broccoli with Beet Slaw
22. Budget Bentos
23. Mouse Bento Sandwich
24. Mama Lion Healthy Bento
25. Octopus Sausage Bento
Join the Club!
Get delicious recipes delivered straight to your inbox each week! Plus learn how to take back suppertime in your home.

And get started with my NEW Take Back Suppertime 5-Day Jump Start Guide.