This post may contain affiliate links. Please read my disclosure.
This Asparagus Carbonara is the most rich and decadent asparagus that I've ever had.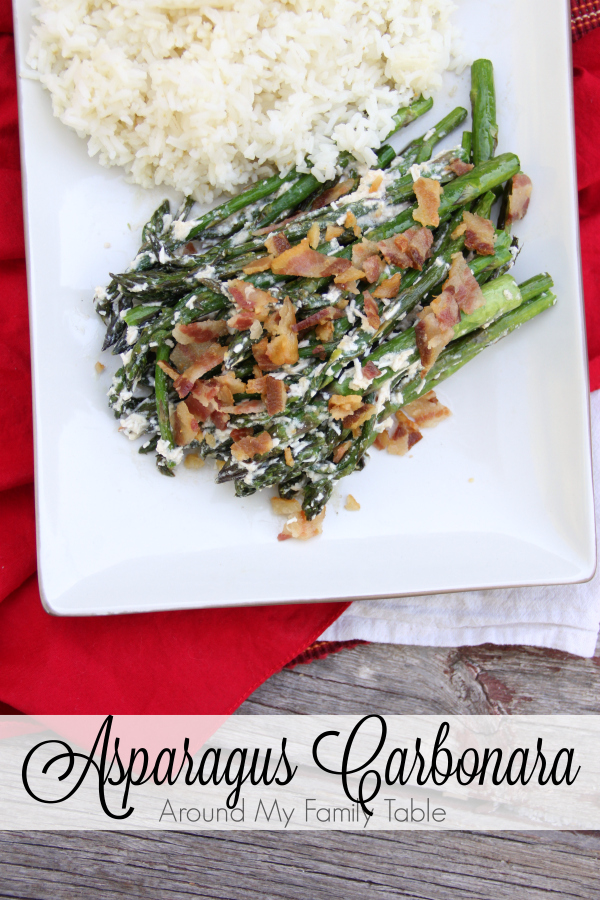 My family loves asparagus. And "love" is a serious understatement. Besides broccoli, asparagus is the only vegetable my entire family willingly eats. And by eats, I mean devours.
I had a couple bunches of asparagus sitting in my fridge begging to be used for something amazing.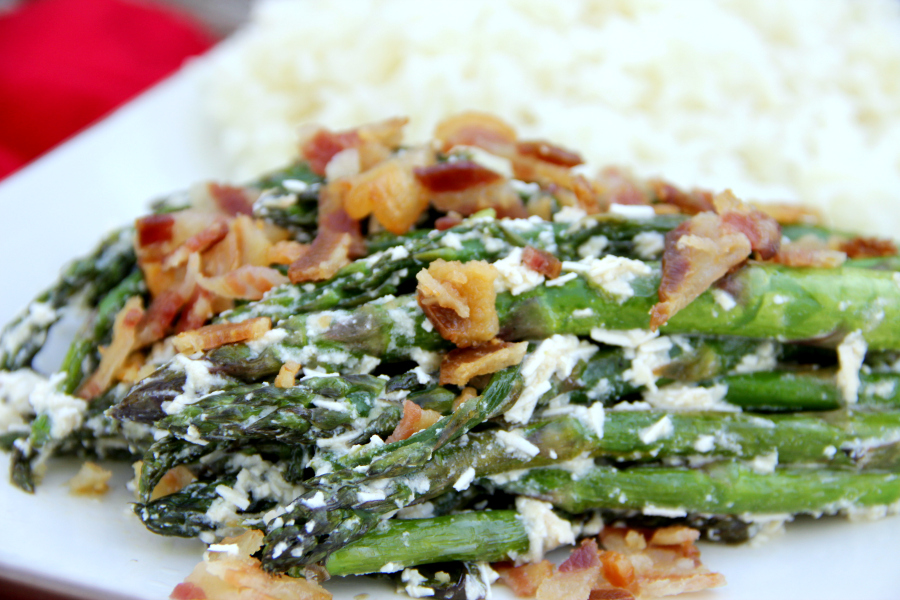 Rewind a couple days to when Hubbyman came home from his trip to France and he brought me a French cooking magazine…seriously…he knows me too well. I was flipping through the magazine and while I didn't understand a single word, I did notice a pile of green beans with what looked like carbonara sauce all over the top. THAT'S IT! I'll use the asparagus to make a noodle free version of carbonara.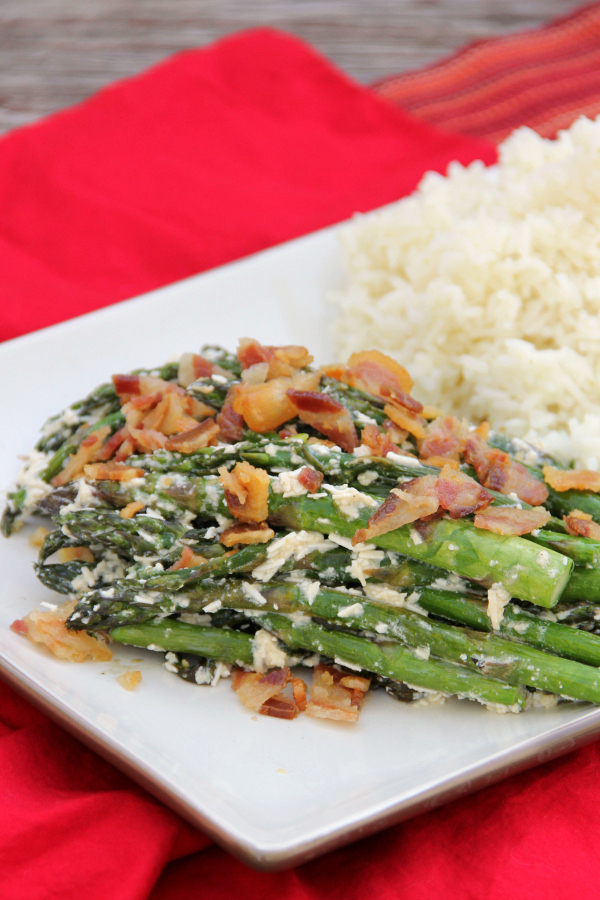 Let me tell you, it was the most rich and decadent asparagus that I've ever had. It was divine.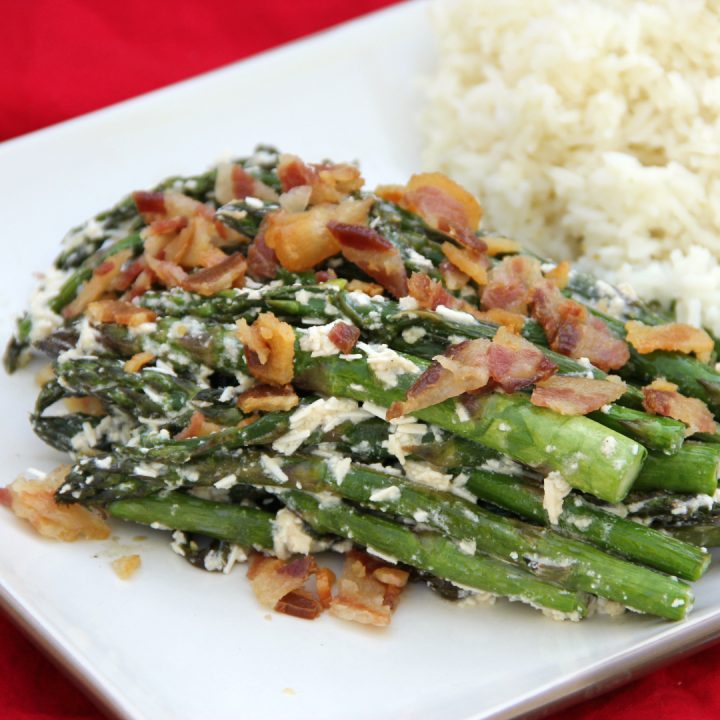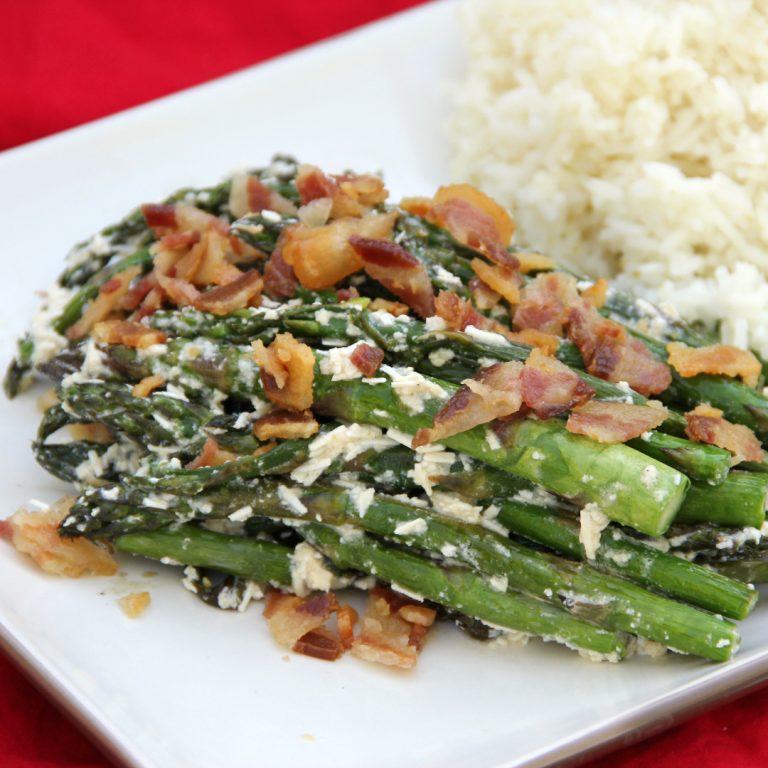 Asparagus Carbonara
This Asparagus Carbonara is the richest and most decadent asparagus that I've ever eaten. It's an elegant but easy to make, summer side dish using grilled asparagus.
Ingredients
1 pound fresh asparagus
2 tablespoons extra-virgin olive oil,
5 slices bacon, sliced into small pieces
4 garlic cloves, finely chopped
2 large eggs
1 cup freshly grated Parmesan
Freshly ground black pepper
1 handful fresh flat-leaf parsley, chopped
coarse kosher salt
Instructions
Wash asparagus and cut off bottom 1/3 of each stalk.
Preheat grill to medium high heat. Add asparagus to grill basket (or place directly on an oiled grilled...make sure to oil grill before preheating). Drizzle asparagus with olive oil and sprinkle with coarse kosher salt. Place grill basket over medium heat and cook for 5-10 minutes until asparagus is tender but still holds its shape. Rotate often and don't worry if the tips get a little dark.
Meanwhile, heat a deep skillet over medium flame and add the bacon pieces. Cook for about 10 minutes, until the bacon is crisp and the fat is rendered. Remove the bacon crumbles and toss the garlic into the fat and saute for less than 1 minute to soften.
Add the hot asparagus to the pan and toss for a minute to coat in the bacon fat.
Beat the eggs and Parmesan together in a mixing bowl. Remove the pan from the heat and pour the egg/cheese mixture over the asparagus, whisking quickly until the eggs thicken, but do not scramble. Add a little bit of freshly ground black pepper and taste for salt. Stir in half of the bacon and then transfer to a serving platter.
Top with chopped parsley and remaining bacon crumbles and serve..
Nutrition Information:
Yield:

4
Serving Size:

1
Amount Per Serving:
Calories:

214
Total Fat:

21g
Carbohydrates:

1g
Protein:

5g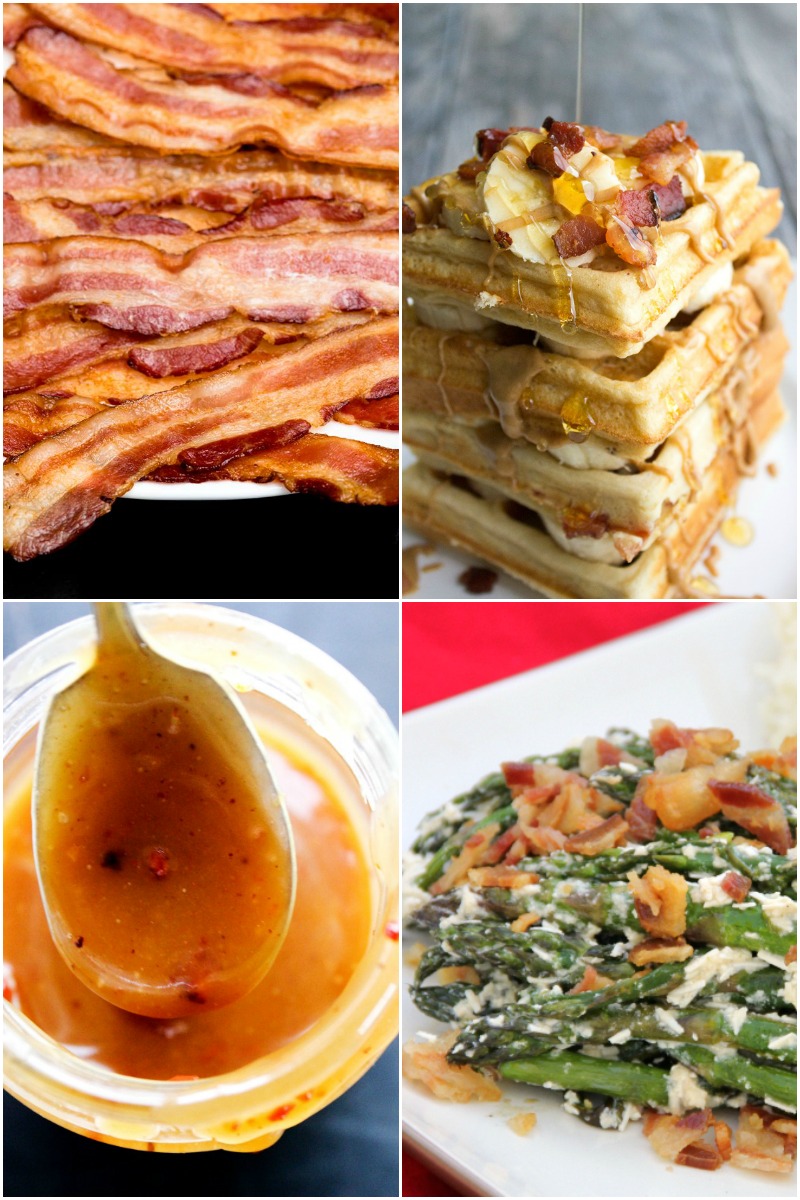 How To Make Perfect Bacon in the Oven from Nomageddon
Elvis Waffles from Bread Booze Bacon
Caramel Bacon Sauce from A Dash of Sanity
Asparagus Carbonara from Around My Family Table