This post may contain affiliate links. Please read my disclosure.
We love our local BBQ place that serves the best BBQ Chicken Pizza. They grow a lot of their own foods and everything is so fresh. Unfortunately, it is a thirty minute drive, so I decided to try to recreate it myself. This is a "white pizza" meaning there is no traditional tomato pizza sauce.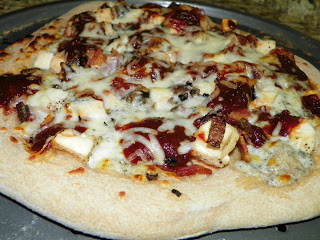 My husband gave this two thumbs up and says it is just as good as the restaurant's. My husband said the only way to make it better would be to cook it on the grill instead of in the oven. Next time we will give that a try.
BBQ Chicken Pizza
1 premade pizza dough (enough for a 12″ pie)
1 chicken breast, cooked and diced
1 red onion, diced
1 tbl oil
5 slices bacon, cooked and crumbled
1/8 – 1/4 cup blue cheese, crumbled
1/2 cup mozzarella cheese, shredded
1/4 – 3/4 cup BBQ sauce
1. Preheat oven to 450.
2. Saute diced onion in medium skillet over med. high heat until the onions are tender and caramelized. (This step is important. Caramelized onions make all the difference.)
3. Roll out pizza dough to desired thickness with a little flour to prevent sticking. Use a pizza wheel for easy transfer or a pan made for making pizzas.
4. Layer on ingredients (chicken, bacon, onions, blue cheese crumbles).
5. Spoon BBQ sauce over the top, then top with mozzarella cheese.
6. Bake for 10-15 minutes, or until crust is golden brown and cheese melted. To achieve that browned mozzarella effect from a pizza joint, after the pizza is finished baking, turn the oven to broil and let the cheese brown under the broiler for just a minute or two.
The beauty of this recipe is that you can use left over chicken, make your own dough or buy your favorite prepackaged (I get mine from Trader Joe's when I'm in a hurry), use whatever strength blue cheese you like, and can use your favorite BBQ sauce. You can really make this fit your personal tastes. Enjoy!