This post may contain affiliate links. Please read my disclosure.
Are you looking for the perfect BBQ Gift Ideas? Then this BBQ Gift Guide is just what you are looking for. Whether you are shopping for Father's Day, a birthday, or a Christmas gift you'll find my favorite BBQ items on this list that make great gifts.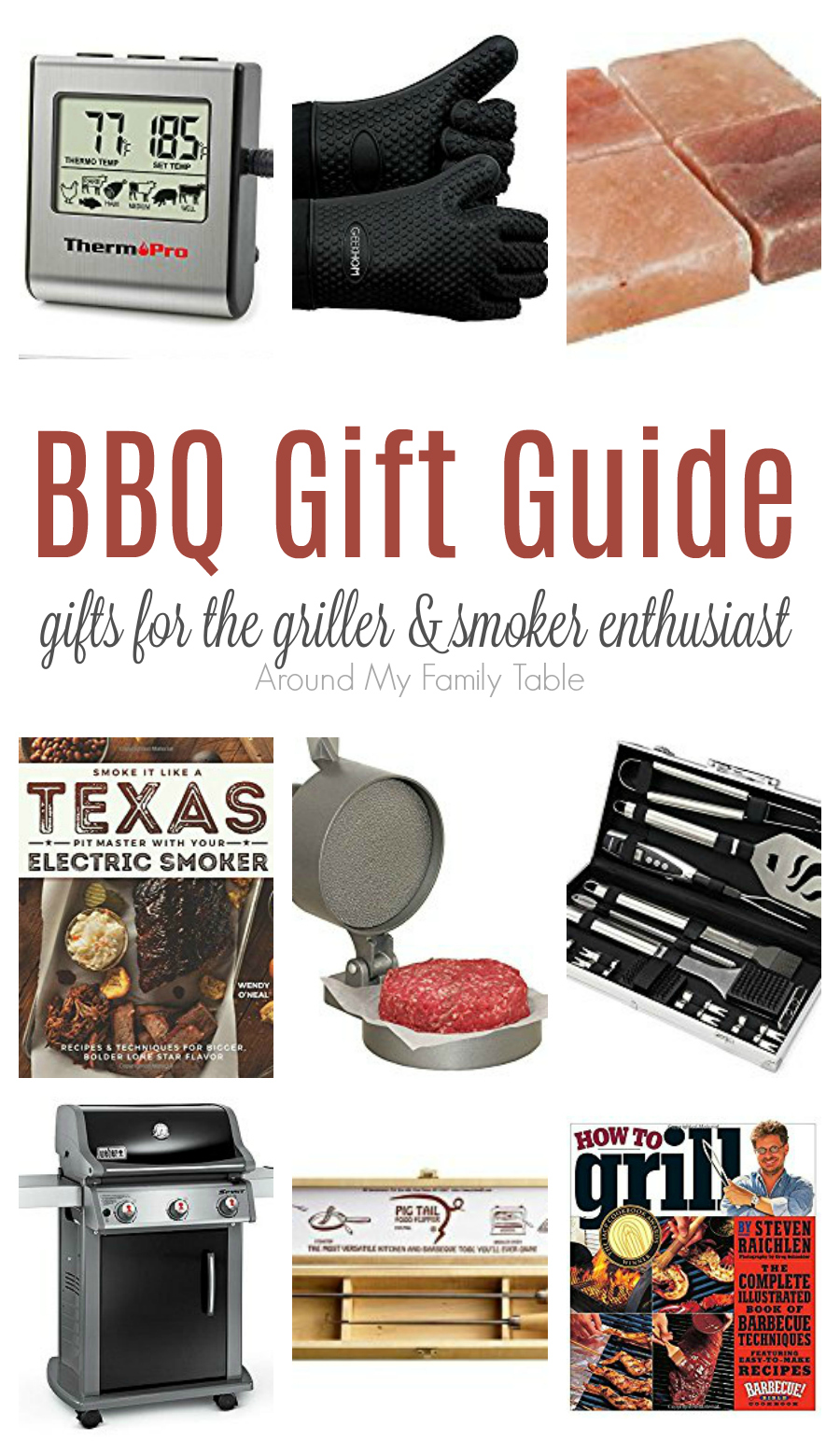 BBQ Gift Guide
My BBQ Gift Guide is the perfect resource for buying the perfect gift for anyone who loves firing up the grill or smoker. Usually it's the man that is king over his BBQ, so if you need some great BBQ gifts for dad for Father's Day or your special man's birthday then look no further because these are my favorite tools and resources that will make a great gift, there is a little something in every price range from under $20 to grills over $300.
If your grill master isn't the best at the task at hand, I have a whole how to grill series that can point them in the right direction. Print them off as a resources if you need to.
Make sure to click on the images below to see where to buy (affiliate links may be included).
Gift Ideas for the BBQ Lover Under $20
These gift ideas for the BBQ Lover are the essentials that you should have no matter what. If you don't have great grilling thermometer then be prepared for it to rock your world. No more under (or over cooked) food! WOOHOO! Of course some great cookbooks always make a great gift.
BBQ Gift Ideas from $20-$100
These BBQ gift ideas are some of my favorite gadgets. I cannot live with these fun toys, they just really kick the whole grilling and smoking hobby up a notch. Those pig tails….are amazing!!!! They look like they won't pick up a slab of meat, but we've flipped a 25lb brisket with the big one.
Great Gift Ideas for Grillers & Smokers over $100 +
You can never have enough ways to cook outside and I think you'll love these great gift ideas for grillers and smokers. We have 4 different grills/smokers and we use them all! They each impart such a different flavor that it's hard to pick just one to use. So here are 3 of my favorite smokers and grillers.