This post may contain affiliate links. Please read my disclosure.
Summer picnics aren't complete without this no-bake EASY STRAWBERRY PIE recipe.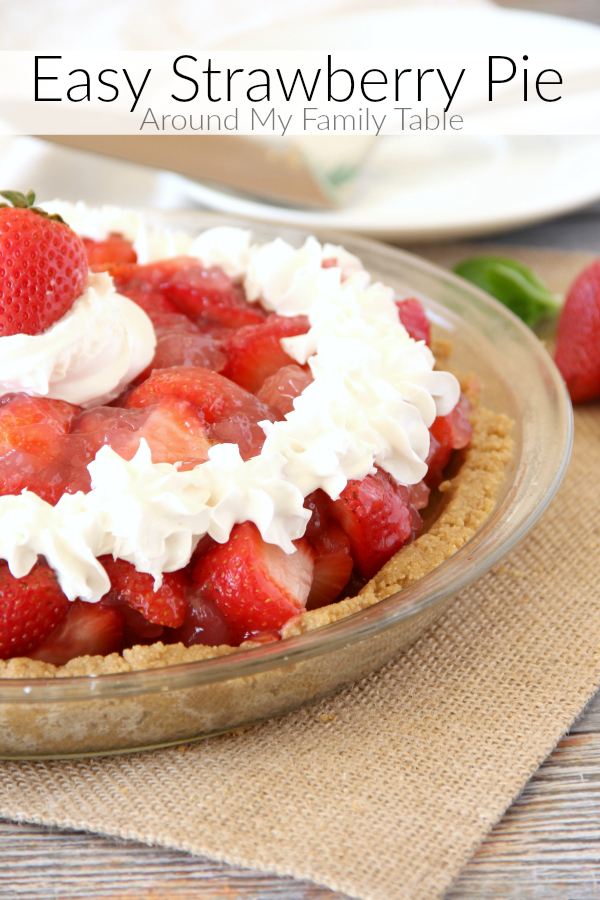 NO-BAKE EASY STRAWBERRY PIE
Since this pie isn't baked, it's best to use the best possible FRESH strawberries…frozen berries just won't do in this recipe. So it's best to reserve this no-bake pie for spring and summer when strawberries are perfectly ripe.
I like to make my own graham cracker crust, but if you're pressed for time or just really don't want to swap out a pre-made crust in a toil fin pan. Honestly, if I'm taking this pie to a picnic, potluck, or to a friend I love not having to worry about getting my expensive pie dish back. It's just easier that way.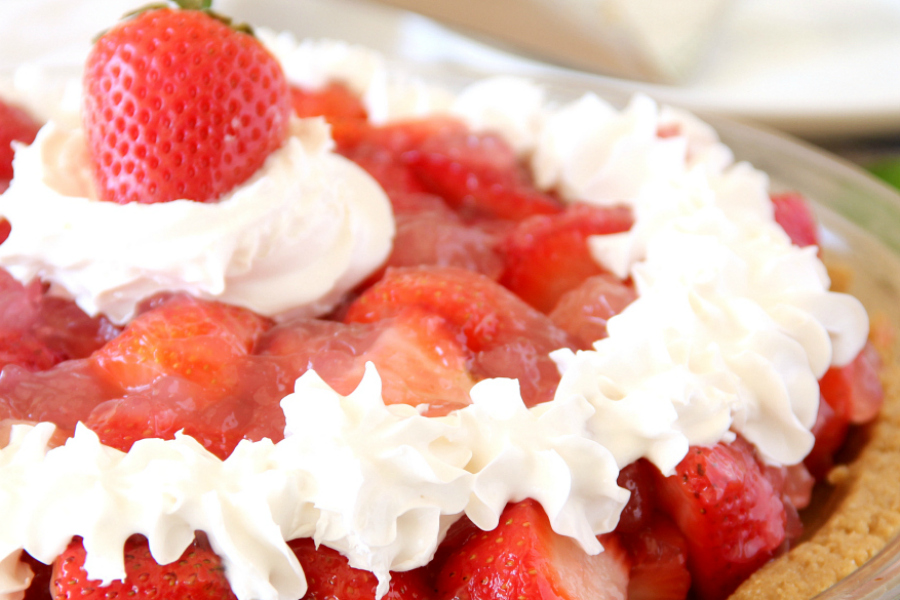 This pie can easily be made with all sorts of different berries or combination of berries for other easy pie options. There really isn't any berry that wouldn't work and it gives you so much flexibility. If someone is allergic to strawberries, then just use an equal amount of a different berry. Super easy! Of course, feel free to swap out the jello flavor as well. The recipe is very forgiving.
When I say this pie is easy, I mean easy. My 11 year old daughter jumped in the kitchen with me and made her own version of this pie all by herself and then took it to her friend's house for dessert one evening. She opted to spread whipped cream over the entire top of the pie instead of cute little star bursts of whipped cream.
Strawberry Pie
A big slice of this easy Strawberry Pie is just what you need on Memorial Day or the 4th of July. It's delicious and everyone will love it.
Check out these other delicious HOLIDAY PIE RECIPES, like my Bacon Bourbon Chocolate Pecan Pie.
Summer No-Bake Pies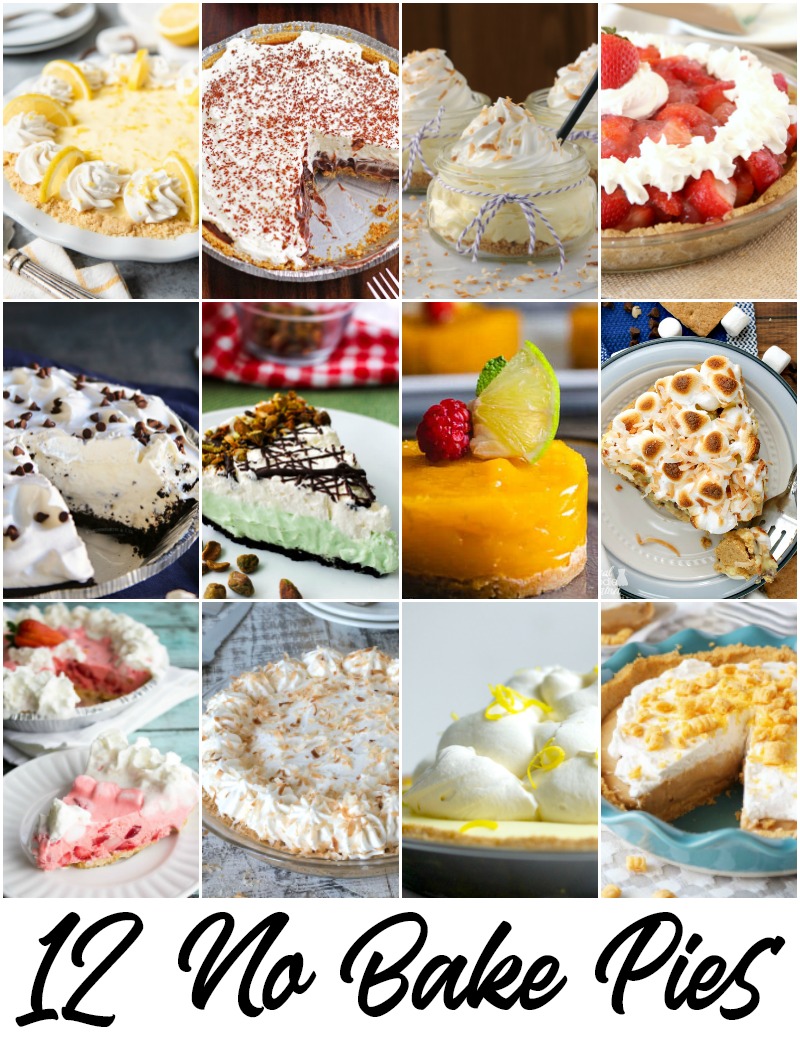 Cap'n Crunch No Bake Peanut Butter Pie
No Bake Sour Cream Lemon Pie
Coconut Cream Pie
Pistachio Pudding Pie
Easy No Bake Strawberry Pie
No Bake Mango Pie Recipe
S'mores Coconut Cream Pie
No Bake Pina Colada Pie
No Bake S'mores Pie
No Bake Oreo Cannoli Cream Pie
Strawberry Fluff Pie
No Bake Lemon Icebox Pie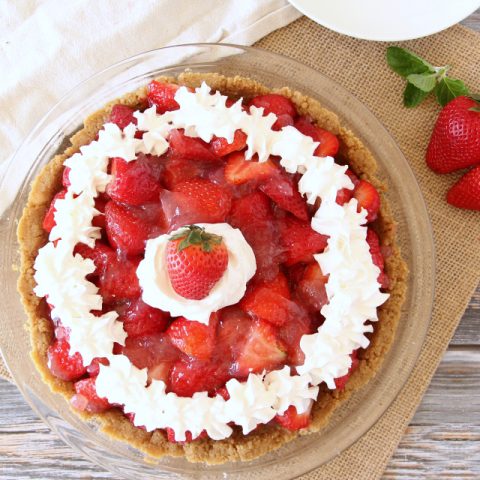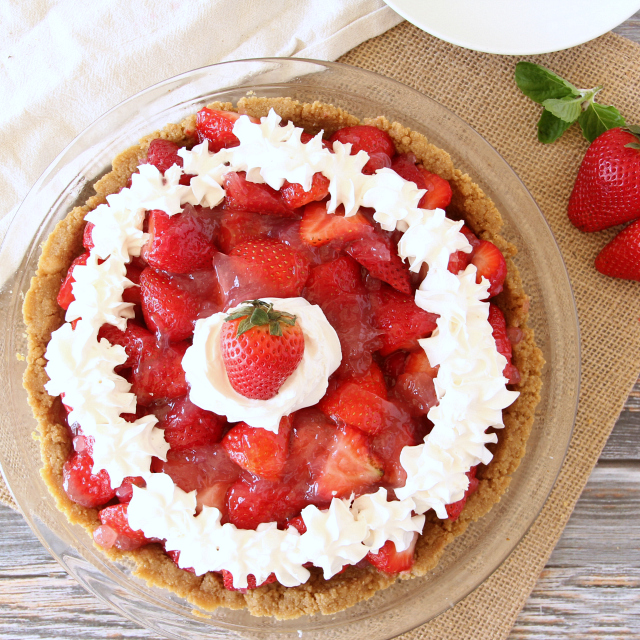 Easy No-Bake Strawberry Pie Recipe
Additional Time:
4 hours
30 minutes
Summer picnics aren't complete without this EASY NO-BAKE STRAWBERRY PIE recipe.
Ingredients
1 1/2 cups graham cracker crumbs (~10 full sheet graham crackers)
6 tbls butter, melted
1/3 cup granulated sugar
1 cup water
1/2 cup sugar
2 tbls cornstarch
1/2 package (4-serving size) strawberry-flavored gelatin (~3 tbls)
4 cups sliced strawberries
1 package (6 ounces) ready-to-use shortbread pie crust
Whipped cream, if desired
Instructions
Mix the graham cracker crumbs, melted butter, and 1/3 cup sugar together in a medium bowl until combined. The mixture will be coarse and sandy. Press the mixture into the bottom of 9 inch pie pan and slightly up the sides. Use the bottom of a flat cup to really press the crumbs into the pan. The crust should be really thick.
Chill the crust for at least 2 hours before using.
Mix water, 1/2 cup sugar, and cornstarch in medium saucepan. Bring to a boil over medium heat, stirring constantly. Boil and stir 1 minute then remove from heat. Stir in gelatin until dissolved. Refrigerate about 15-20 minutes, stirring occasionally, until mixture thickens, but isn't set.
Fold strawberries gently into gelatin mixture. Pour into crust and refrigerate at least 2 hours or until set. Serve with whipped cream. Store leftovers covered in the refrigerator.
Notes
Plan ahead! This pie needs lots of chill time.
Nutrition Information:
Serving Size:

18
Amount Per Serving:
Calories:

2876
Total Fat:

128g
Saturated Fat:

62g
Cholesterol:

183mg
Sodium:

1330mg
Carbohydrates:

417g
Fiber:

21g
Sugar:

230g
Protein:

31g
org published 7/11/16, updated 6/1/18