This post may contain affiliate links. Please read my disclosure.
Turn your favorite summertime drink into something for grown ups only! Love this Boozy Cherry Limeade Recipe.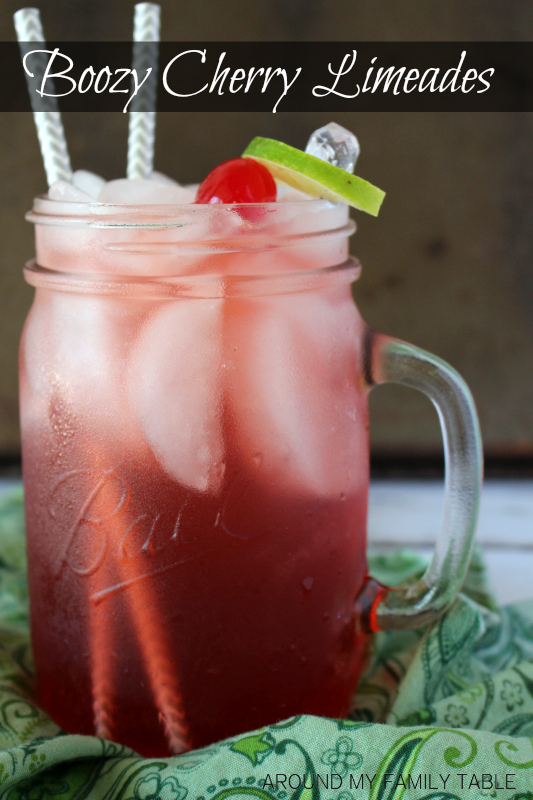 It's no surprise that I love cooking with and adding limes to just about everything. So, when I partnered with Everclear® to craft my own drink, it had to use lime….lots and lots of lime. I ended up making a homemade Limecello to use in these adult versions of my favorite drink, a Cherry Limeade.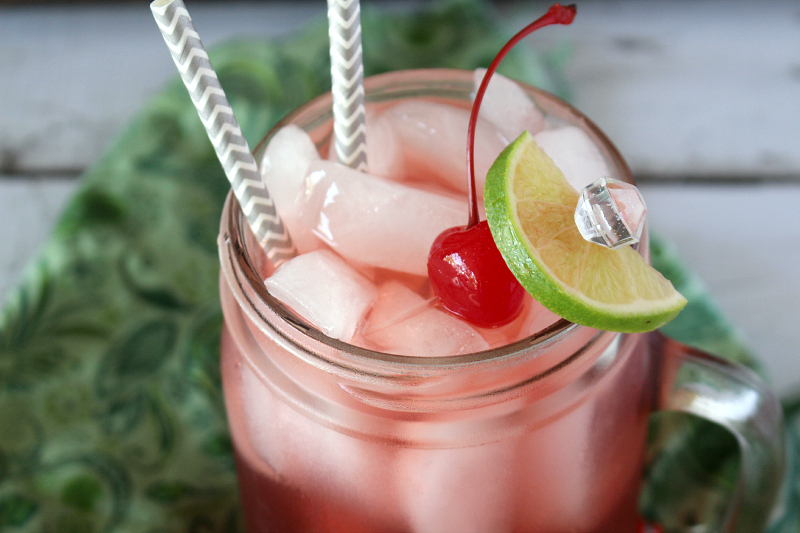 Sipping on a small glass of limecello is a perfect ending to a great meal, but I needed a drink to share at a recent summer dinner party and these cherry limeades were just thing. I hand craft each drink for the guests so they were mixed perfectly. The icy cold drinks sure hit the spot on the hot summer night last week.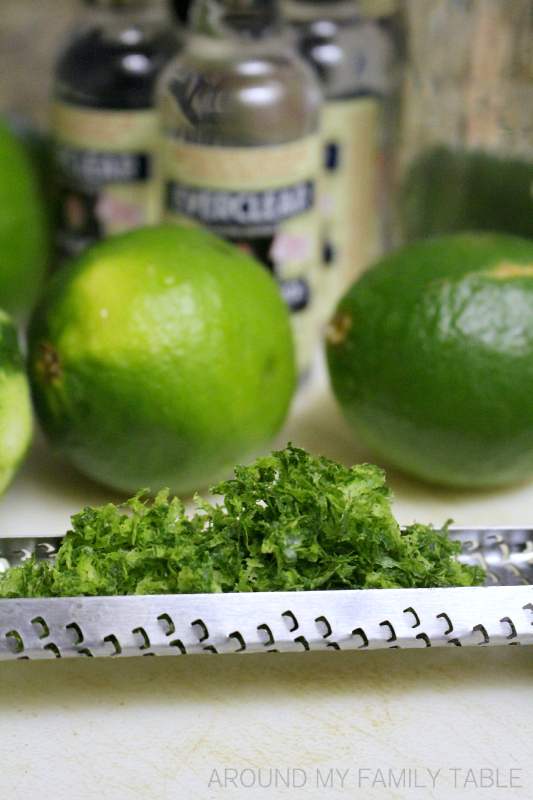 Don't freak out y'all! Making your own Limecello is super easy. I promise!!! Pour half a bottle of Everclear® into a large mason jar, zest 5-6 large limes (greens only…no whites) and add to the jar. Tightly screw on the lid and give it a little shake. Store in a dark place for at least week (but I've found 2 months make the most delicious Limecello). Give it a shake every couple days. After 2 months, strain the lime zest out of using a fine mesh strainer. Then make a simple syrup of 1 1/2 cups water and 1 1/2 cups sugar. Put them in a pot on the stove over medium heat until the sugar is dissolved. Cool completely. Add cooled syrup to the mason jar (you are going for equal parts lime alcohol and simple syrup). Then, if you can, put it back in that cool dark place for another 2 months. Trust me! It's worth the wait. But you can totally use it at this point if you don't want to wait. Waiting lets the flavors really combine and become smooth.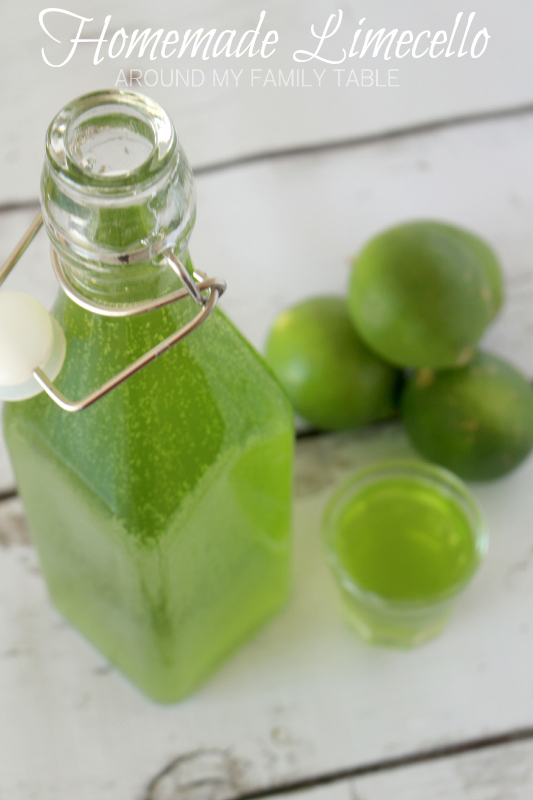 Everclear® works better than high proof vodkas in this recipe and many more because it is pure and clean tasting, which makes it the perfect solution for home mixology. Looking for more ways to use Everclear® in your home…check out the Make It Your Own site by Everclear®.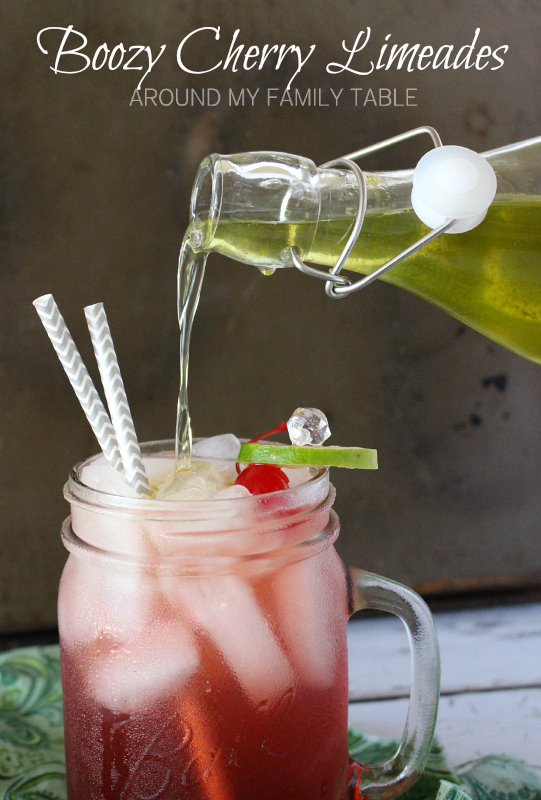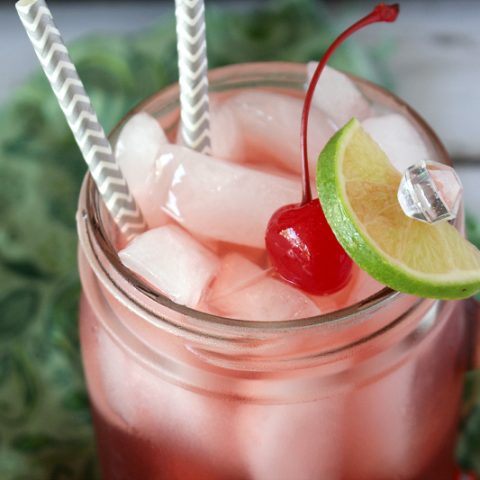 Boozy Cherry Limeade Recipe
This Boozy Cherry Limeade Recipe is the perfect drink for sippin' on a hot summer day or for sharing at a summer party! Made with homemade limoncello.
Ingredients
2 oz homemade limecello (made with Everclear®)
2 oz cherry syrup
1 can lemon lime soda
ice
Instructions
In a pitcher, combine limoncello, cherry syrup, and lemon-lime soda. Stir gently to mix.
Fill 2 mason jar mugs with ice and pour in drinks. Share one with a friend.
Everclear® is the perfect ingredient for craft cocktails and home mixology, allowing you to put your own spin on new and old favorites. With its neutral grain composition, Everclear® extracts the optimal flavor to infuse your cocktails — whether you're making bitters, liqueurs, tinctures or extracts. Visit makeityourown.com for recipe ideas, tips and more!
"This post was brought to you by Everclear®, the "original" grain alcohol, and Luxco. I received compensation to write this post. The opinions and text are all mine.