This post may contain affiliate links. Please read my disclosure.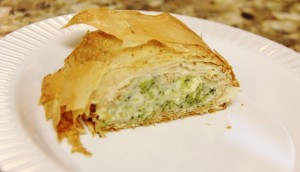 For many years, my family has had Christmas breakfast with friends. This is always served, along with bacon, eggs, and fresh OJ. I've been begging my friend for years for the recipe, but she always "forgot" (I think she didn't want to share her secret recipe). So, for my Girls Night last week, I begged her to bring this, knowing full well that I was also requiring recipes so I could share with everyone…guess what?!?!?! She agreed.
I just love this savory breakfast. It is creamy and crunchy and not too much broccoli, so the kids actually eat it too! It is really easy to make and perfect for brunch or Girls Night! LOL!
Broccoli Cheese Strudel
8 tbls butter, divided
1/4 c AP flour
1/2 tsp salt
1/8 tsp cayenne pepper
1 1/4 c milk
4 oz Swiss cheese; shredded
10 oz frozen chopped broccoli, thawed & drained
1/2 lb Phyllo strudel leaves
1/4 c dried bread crumbs
Start at least 1 1/2 hours before serving or day ahead.
In 2-quart saucepan over low heat, melt 4 tablespoons butter; stir in flour, salt, and cayenne pepper until blended. Gradually stir milk into mixture; cook, stirring until thickened and smooth. Stir in cheese and broccoli; cook until cheese is melted, stirring constantly. Remove from heat.
In small saucepan, melt 4 tablespoons butter. On waxed paper, overlap a few sheets of phyllo to make a 20 by 12 rectangle, brushing each sheet of phyllo with some melted butter. Sprinkle with 1 tablespoon bread crumbs. Continue layering, brushing each sheet of phyllo with some butter and sprinkling every other layer with 1 tablespoon bread crumbs.
Preheat oven to 375°F. Starting along a long side of phyllo, evenly spoon broccoli mixture to cover about half of rectangle. From broccoli-mixture side, roll phyllo, jelly-roll fashion. Place roll, seam side down, diagonally on large cookie sheet; brush with remaining melted butter. Bake 30 minutes or until golden.
For easier slicing, cool strudel about 30 minutes on cookie sheets on wire rack. To serve, cut strudel into 1-inch thick slices. Serve warm. (Or, to serve later, cool strudel completely on wire rack; wrap in foil; refrigerate. Just before serving, unwrap strudel and place on cookie sheet; reheat in 375° oven 15 minutes or until warm. Makes 10 first-course servings Recipe by: Good Housekeeping)
Note: Try puting the melted butter in a spray bottle. Much faster! Just watch the over-spray.