This post may contain affiliate links. Please read my disclosure.
This Brown Sugar Fudge Recipe requires only 4 ingredients, 10 minutes, and a little patience until the first sweet, heavenly bite. It's a gourmet fudge recipe, but also one of my favorite simple fudge recipes!
Be sure to sign up for my email list….seasonal recipes in your inbox every week!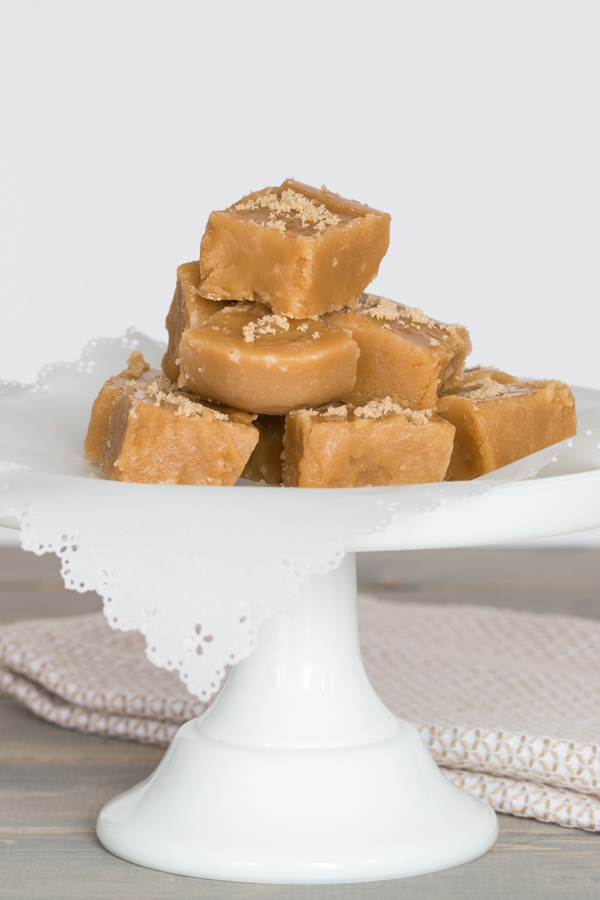 Hi friends, I'm Katrina from Kitchen Trials and I'm so happy to be sharing one of my favorite fudge recipes with you. I love to BBQ, just like Wendy does…so come on over and say hi, but first…let's talk about this fudge!
I had no idea that brown sugar fudge was such a thing until the husband and I started frequenting a little breakfast place years ago (read: years before kids came into the picture). We would gorge on crepes and French toast, piles of bacon, sausages, and hash browns, and giant bowls of fresh fruit. At the end of the meal, when you couldn't possibly think of eating another bite, they would bring out a little plate of brown sugar fudge. Just two tiny bites for each of us. I mean, you wouldn't think that fudge was what one needed at 11am in the morning, but it was ABSOLUTELY what I needed.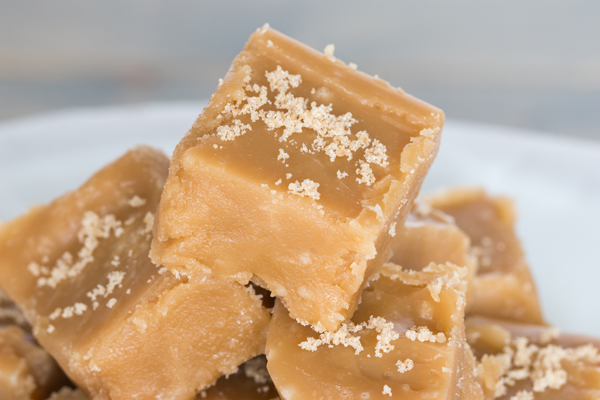 I never forgot how great that fudge was. Two little bites of sweetness turned out to be the perfect, decadent way to end a morning brunch. Their brown sugar fudge was a bit of a different texture than your typical fudge. This kind just sort of melted in your mouth.
It also brought back some really great memories I had of my grade seven French and history teacher, Mrs Pollitt. We were learning about Canadian history and she brought in a homemade brown sugar pie. If you were from Quebec, I'm sure this was normal to you, but to me it was such a crazy good combination, it's stuck with me for the last 23 years. This fudge brought that flavour rushing back into my mind. I had to make it myself. Ever since then, it's been a staple in my Christmas baking, or just whenever I want to make a really special brunch for the family.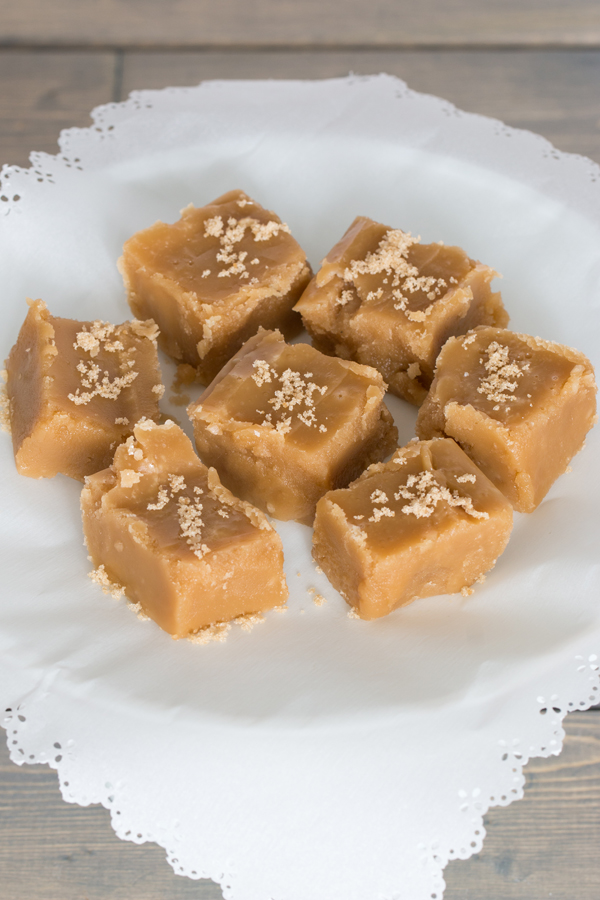 Simple Fudge Making Tips for Brown Sugar Fudge
The brown sugar fudge recipe is incredibly easy to make, too. Seriously. Just four ingredients and ten minutes is all you need to whip it up – and then the patience to let it chill and firm up before digging into it. I mean, you could just leave a couple bites worth in the pan or on the spatula, because that will firm up real quick. Not that I do that. Every single time I make this.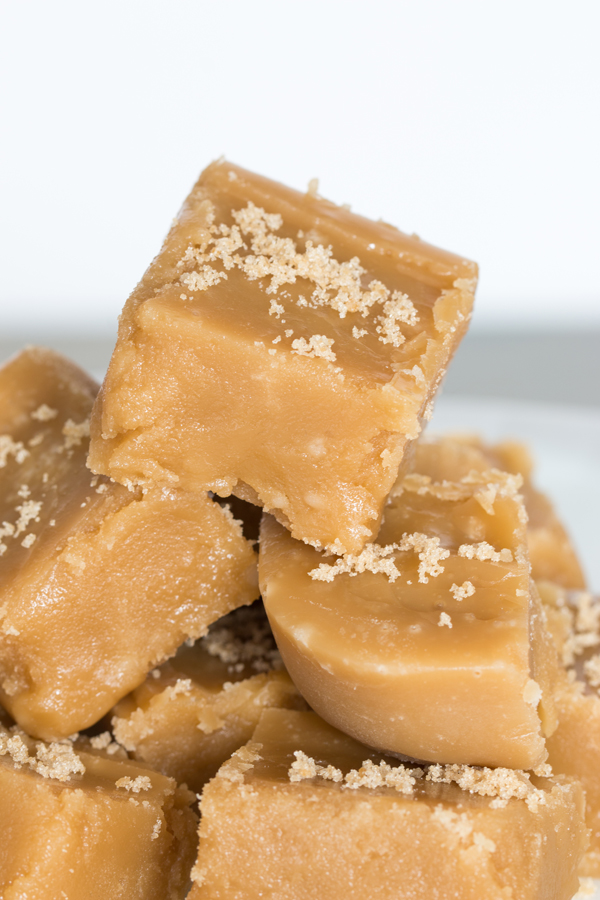 All you do is butter a glass baking dish (6"x10" is your best bet if you have it for nice thick squares). Then, add some butter, brown sugar, and heavy cream to a medium pot. Whisk is all together while the butter melts. When it just starts to boil around the edges set a timer for 5 minutes and keep whisking off and on. Once the five minutes is up you move it off the heat, beat in the icing sugar, then pour it into the buttered dish. That's it!
Make sure to check out all of Wendy's simple gourmet fudge recipes too! She might just be a bigger fan of fudge than I am.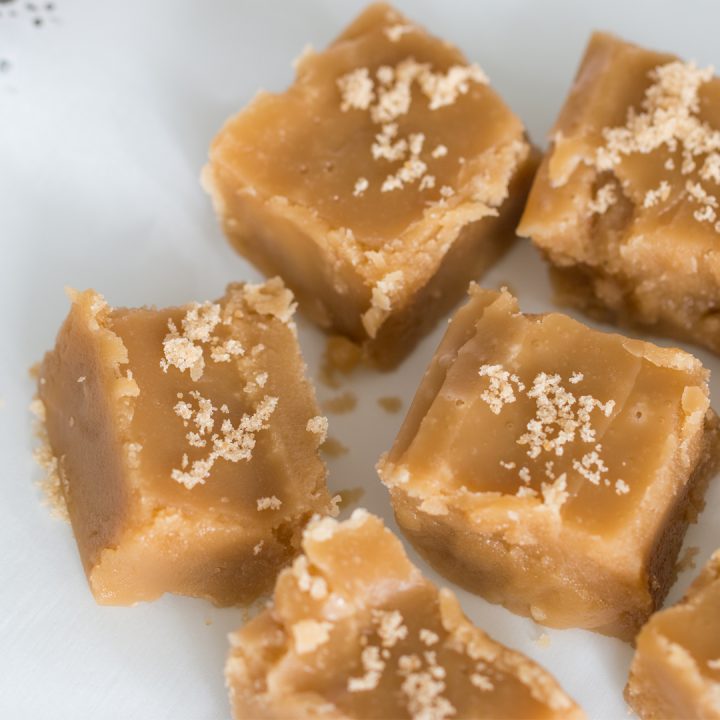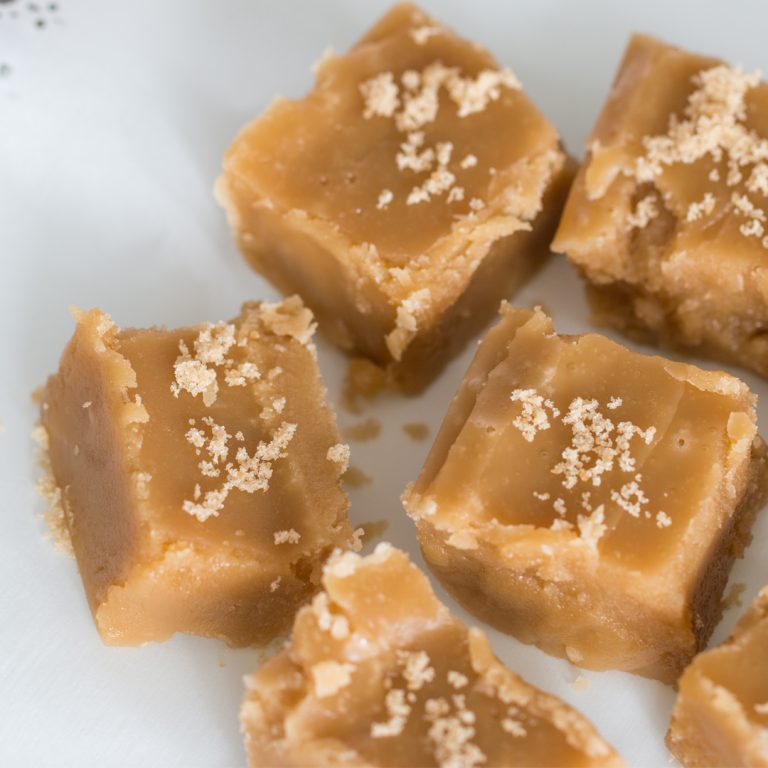 Brown Sugar Fudge Recipe
This brown sugar fudge recipe is easy to make and homemade fudge makes the perfect addition to a holiday desserts table.
Ingredients
2/3 cup butter (+ 1 tablespoon for greasing the dish)
2/3 cup heavy cream
3 cups light brown sugar, packed
1 cup powdered sugar (icing sugar)
Instructions
Butter a 8" x 8" glass baking dish and set aside.*
Put 2/3 cup butter, heavy cream, and brown sugar into a medium pot set over medium heat. Whisk continuously until the butter has melted. As soon as the edges start to bubble and boil, set a timer for 5 minutes. Whisk occasionally, and turn to medium-low when it comes to a rolling boil.
Immediately remove the pot from the heat when the five minutes are up, and add the icing sugar. Whip with an electric mixer until smooth and creamy.
Pour into the prepared dish and chill for 1 hour before cutting and serving.
Notes
*Instead of buttering the pan, you can line the pan with foil with some hanging over the edges so the fudge can be lifted out easily and cut.
Recommended Products
As an Amazon Associate and member of other affiliate programs, I earn from qualifying purchases.
Nutrition Information:
Yield:

64
Serving Size:

1
Amount Per Serving:
Calories:

65
Total Fat:

3g
Saturated Fat:

2g
Trans Fat:

0g
Unsaturated Fat:

1g
Cholesterol:

8mg
Sodium:

18mg
Carbohydrates:

10g
Fiber:

0g
Sugar:

10g
Protein:

0g
See all of my simple gourmet fudge recipes here