This post may contain affiliate links. Please read my disclosure.
Cherry Divinity is a fun, delicious vintage candy recipe that is perfect for enjoying and gifting during the holidays!
Be sure to sign up for my email list….seasonal recipes in your inbox every week!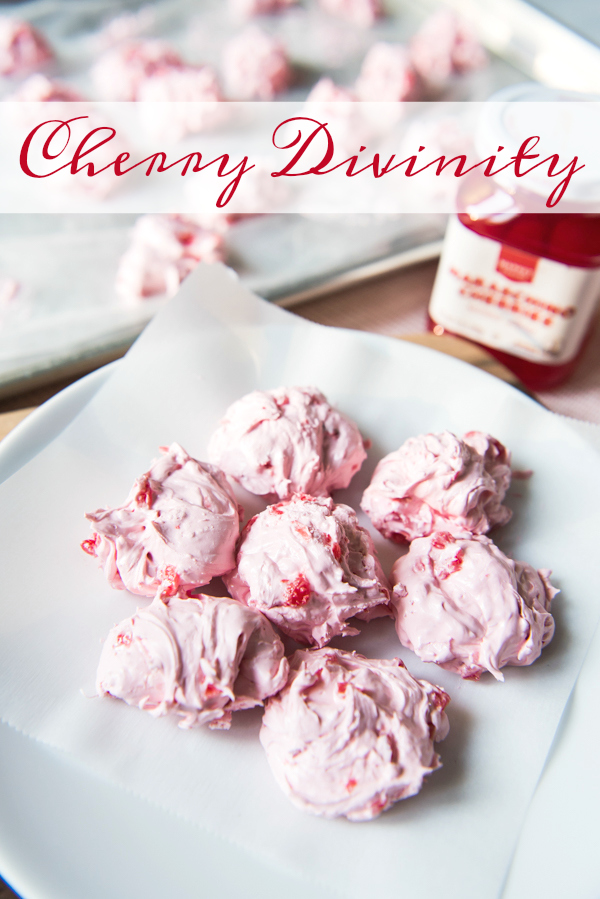 I'm Amy from House of Nash Eats, where I share favorite recipes from our house to yours! I was so glad when Wendy asked if I would like to share one of my favorite holiday candy recipes on her blog because one of my favorite Christmas traditions is making candy to deliver to friends and neighbors along with holiday cards each year! Every year I make multiple batches of Grandma Nash's Butter Almond English Toffee to put on plates with other yummy candy and baked goods and we enjoy taking them around as a family and dropping them off.
Divinity is an old-fashioned candy recipe that is well-known and beloved in many Southern homes. The two most popular variations are pecan divinity or this maraschino cherry divinity that I'm sharing with you here today!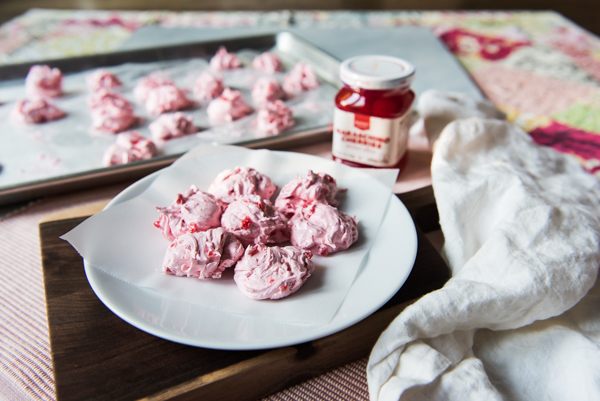 Somewhere between nougat and fudge (even though there is no chocolate in divinity), this candy is made with just sugar, corn syrup, water, egg whites, and a little vanilla and salt for flavor. Then chopped maraschino cherries are folded in just before scooping teaspoonfuls of warm candy onto wax paper to set up.
Each bite is sweet and chewy, with bursts of distinctive maraschino cherry flavor!
I just love how fun and festive cherry divinity looks with the pale pink candy and pops of vibrant red bits of chopped cherries. While I typically think of it as a Christmas treat, it would also be perfect around Valentine's Day too!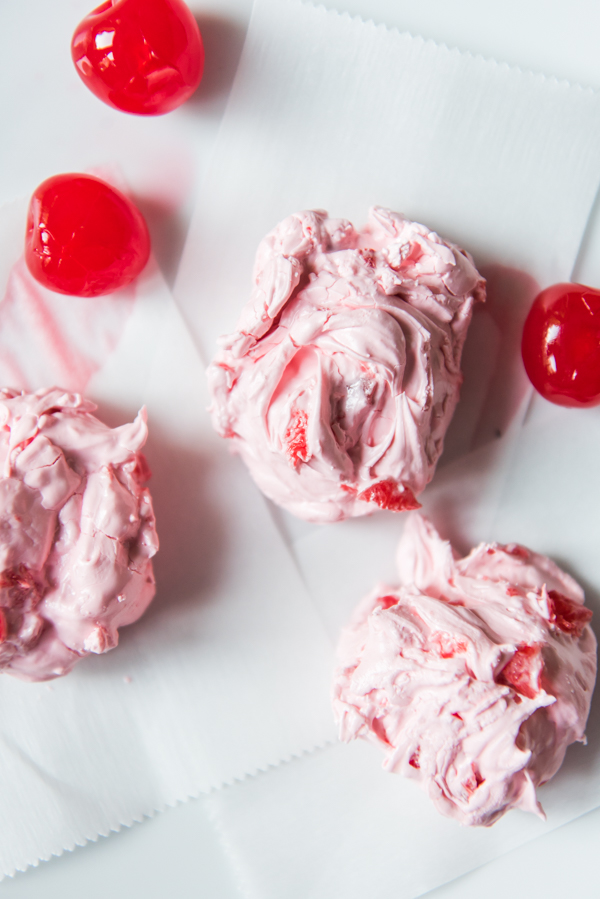 To make cherry divinity, you first boil the sugar, corn syrup, water, and salt together until it reaches hard ball stage (260 degrees F on a candy thermometer).
While that is boiling, you will beat two room temperature egg whites in a stand mixer with the whisk attachment until stiff peaks form. Then switch to the beater attachment and very slowly pour the hot liquid syrup into the egg whites in a thin, steady stream while beating on high speed. It should take at least two minutes to add all the hot syrup. Right after the syrup is added is the time to drop in a little food coloring, if desired, and the vanilla.
Then you continue to beat at high speed for 5 to 8 minutes until the divinity loses some of it's glossiness and gets thick enough that if you scoop a small spoonful and drop it onto a baking sheet lined with waxed paper it holds it shape. If it melts into itself in a puddle, then continue beating the divinity for 30 seconds more before testing it again. If you go too far, the divinity will start to seize and clump, but you can add a few drops of hot water and continue beating and usually save the batch.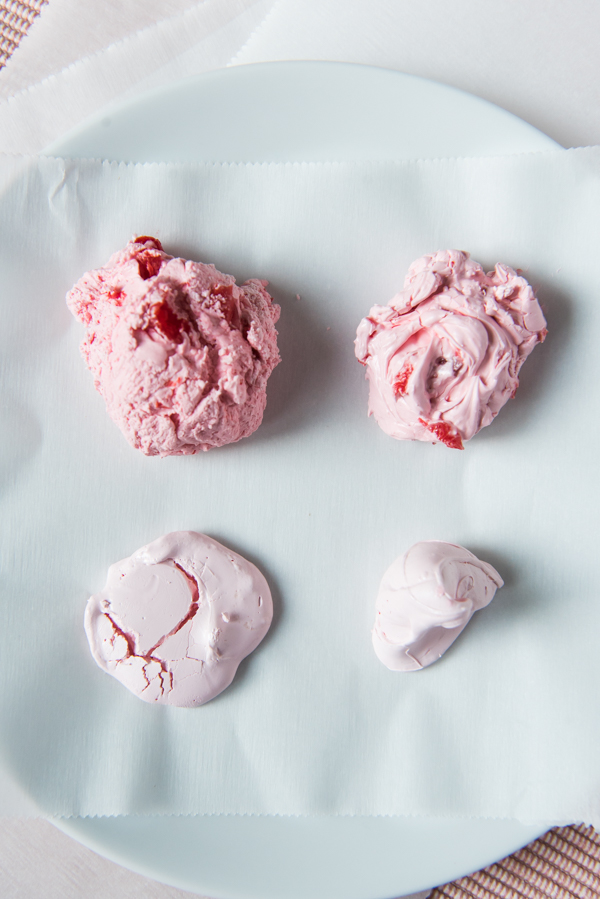 Here is a picture of 4 different stages of the divinity as it is being beaten for reference. The bottom left wasn't ready when I tested it and the candy just puddled. The bottom right mounded nicely with a swirl on top, so I knew the divinity was ready for me to fold in the cherries. The top right is what your divinity will hopefully look like with smooth fudge-like swirls. And the top left is an example of a batch where I went too far and didn't try to save it by adding a little hot water back into the candy mixture.
Divinity can be finicky, so when you are getting close you don't want to be distracted because it can go from runny to overly stiff in a matter of 30-45 seconds. I've also heard that it doesn't always set up as well on rainy days, although I've never had that problem myself. If so, you could always pop the divinity in a slightly warm oven to help dry it out and set all the way.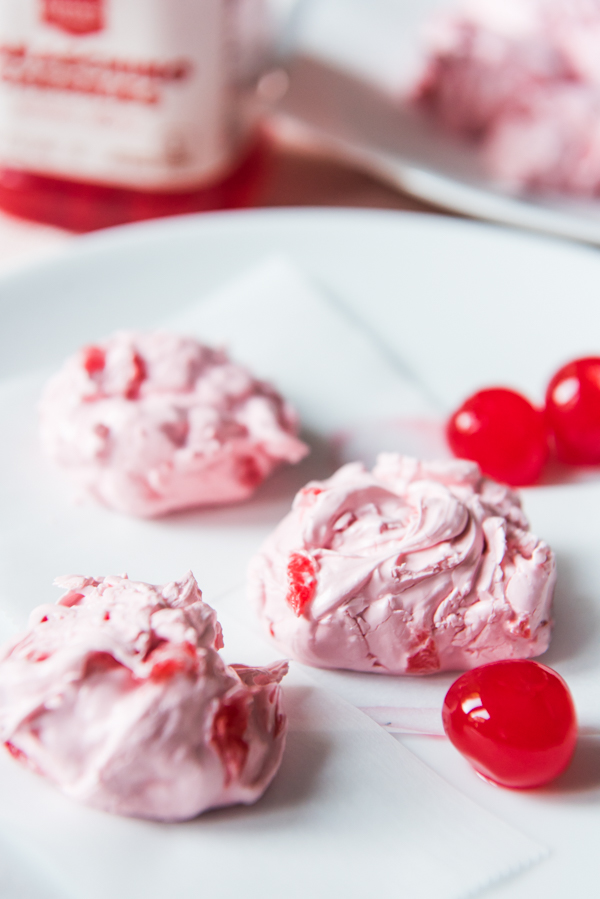 The cherries should be drained well, chopped, and squeezed in paper towel and ready to go before you begin beating the divinity so that you can fold it in immediately once the divinity reaches the stage where it is holding it's shape in little mounds. Then just dollop onto wax paper with two spoons sprayed with cooking spray to prevent the divinity from sticking and wait a couple of hours for it to set up.
I hope you enjoy making and sharing this cherry divinity as much as my family does!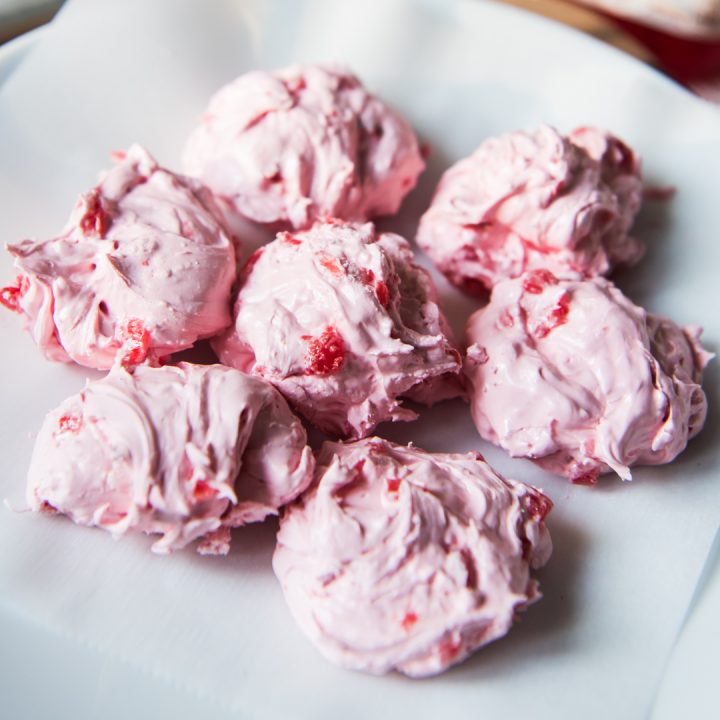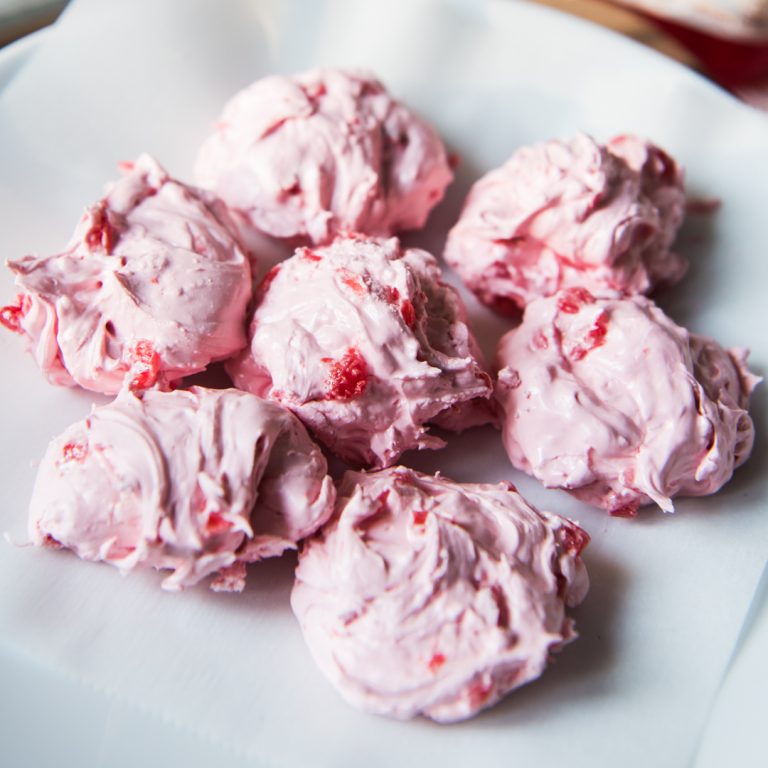 Cherry Divinity
Cherry Divinity is a fun, delicious vintage candy recipe that is perfect for enjoying and gifting during the holidays!
Ingredients
2 ½ cups granulated sugar
½ cup water
½ cup light corn syrup
⅛ teaspoon salt
2 egg whites, room temperature
1 teaspoon vanilla
Red food coloring, if desired
1 (12 oz.) jar of maraschino cherries, drained and chopped (about ½ to ¾ cup)
Instructions
Prepare all ingredients before beginning, including draining and chopping cherries. Squeeze the chopped cherries between a couple layers of paper towels to remove any excess juice. Line a baking sheet with parchment paper and set aside.
Combine the sugar, water, corn syrup and salt in a large saucepan over medium heat and stir until it starts to boil. Attach a candy thermometer to the side of the pan and allow the liquid to continue to cook without stirring until it reaches 260 degrees F (hard ball stage), about 10 minutes.
While the liquid cooks, beat the egg whites on high speed with the whisk attachment of a stand mixer until stiff peaks form. Switch to the paddle attachment before the liquid is all the way to hard ball stage.
Once the liquid is at 260 degrees, very slowly pour it over the egg whites in a thin, steady stream over the course of 2 minutes while beating on high speed with the paddle attachment. Go slow and don't rush!
Add the vanilla and any food coloring at this point and continue beating on high speed for 5 to 8 minutes, just until the divinity starts to lose some of its glossiness and holds its shape when dropped by a small teaspoonful onto the prepared parchment-lined baking sheet. If it melts down into itself, continue beating and testing every 30 seconds or so until it drops into a nice mound with swirls on top when tested. If the divinity gets too thick, try adding a few drops of hot water then beating again to save it.
When the divinity is ready, work quickly and fold in the chopped maraschino cherries using a rubber spatula, then drop small spoonfuls of divinity onto the parchment paper. It helps to use two spoons sprayed with nonstick cooking spray so the divinity doesn't stick as much.
Let the divinity set for 2-3 hours, then store for up to 5 days in an airtight container.
Nutrition Information:
Yield:

12
Serving Size:

1
Amount Per Serving:
Calories:

225
Total Fat:

0g
Saturated Fat:

0g
Cholesterol:

0mg
Sodium:

41.6mg
Fiber:

0g
Sugar:

57.4g
Protein:

.5g