This post may contain affiliate links. Please read my disclosure.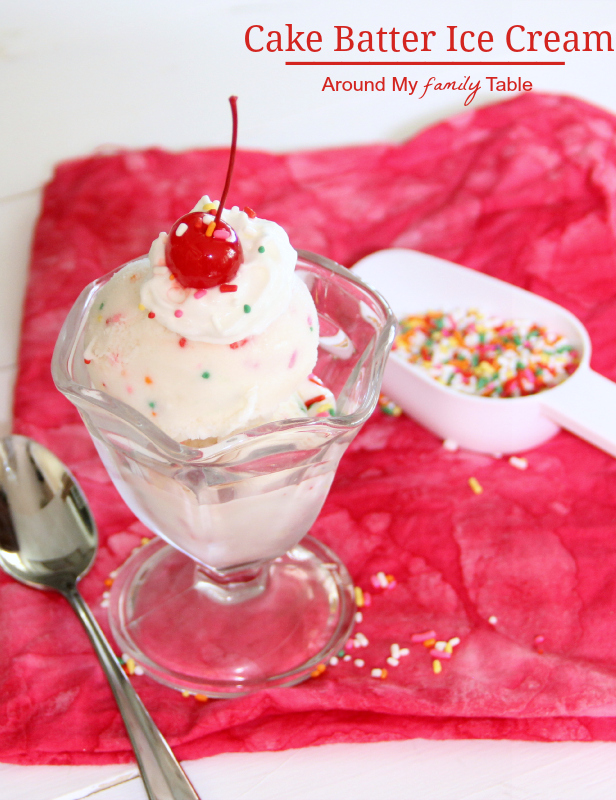 There is something about ice cream that brings my family together. My Father-in-Law is seriously addicted to this stuff and my kids have inherited his affinity for the it. Needless to say, we spend way to much time (and money) visiting ice cream shops. One of the kids' favorite is the Cake Batter Ice Cream from Cold Stone Creamery. So I figured, why not give it a shot and make my own copycat version.
Gone are the days of raw egg in the mix. Gone are the days of trying to cook the egg in the mix without scrambling the eggs. This recipe is only 6 ingredients and requires ZERO cooking time. Just mix it up, add it to the frozen ice cream maker container, and you've got ice cream!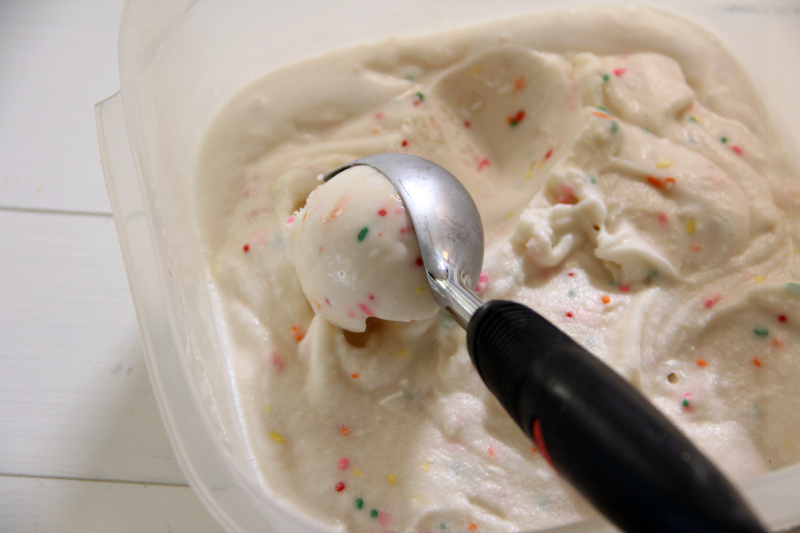 Have I mentioned before how much I love my ice cream maker? Seriously….I use this baby so much and recommend it to everyone. I love my Cuisinart Ice Cream Maker. I don't have the top of the line, just an old version that is a total work horse. I've had it for a lot of years and she's still going strong! There is nothing quite like homemade ice cream.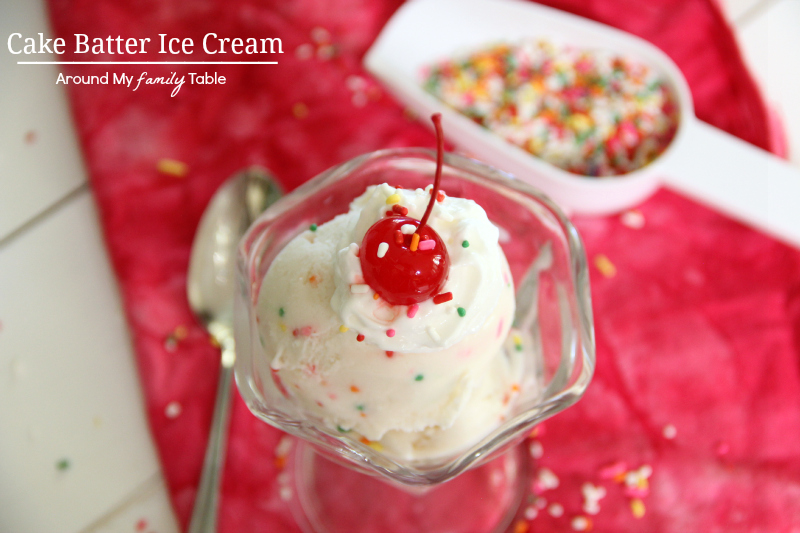 I can't think of a better way to fit in my family's daily dairy needs than with Cake Batter Ice Cream. My kids don't usually just drink milk and since they are still growing I like to make sure they get enough in other forms….and ice cream totally fits the bill! Hey, I'm trying to be a cool mom! Don't judge me!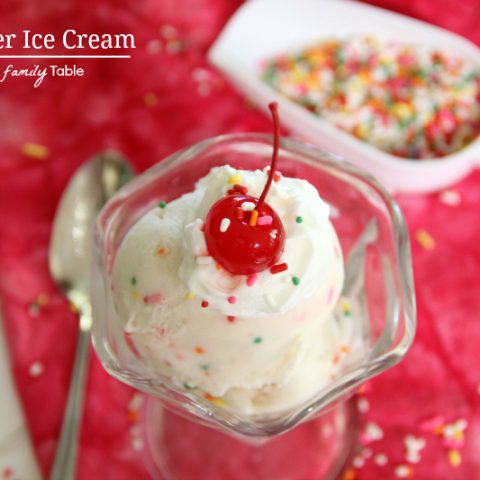 Cake Batter Ice Cream
Tons of cake flavor in this super easy Cake Batter Ice Cream. You won't believe that it's only 6 ingredients!
Ingredients
1 cup whole milk, well chilled
1/2 cup granulated sugar
2 cups half and half, well chilled
2 tsps pure vanilla extract
3/4 cup cake mix
1/4 cup rainbow sprinkles
Instructions
Place freezer bowl of ice cream maker into the freezer. Freezer for 12-24 hours.
In a medium bowl, whisk the milk, sugar, half & half, and vanilla until the sugar is dissolved. Stir in cake mix, making sure there are no lumps.
Pour mixture into the freezer bowl and let mix until it has thickened (about 25-30 minutes). During the last 5 minutes, pour in rainbow sprinkles.
Remove ice cream from freezer bowl and place into a separate container. Place ice cream into the freezer to further harden for several hours or overnight.
Nutrition Information:
Yield:

3
Serving Size:

1 cup
Amount Per Serving:
Calories:

575
Total Fat:

25g
Saturated Fat:

14g
Trans Fat:

1g
Unsaturated Fat:

11g
Cholesterol:

65mg
Sodium:

354mg
Carbohydrates:

80g
Fiber:

0g
Sugar:

65g
Protein:

9g
Disclaimer: This post was made in partnership with AZ Milk Producers. All opinions and thoughts are my own.