This post may contain affiliate links. Please read my disclosure.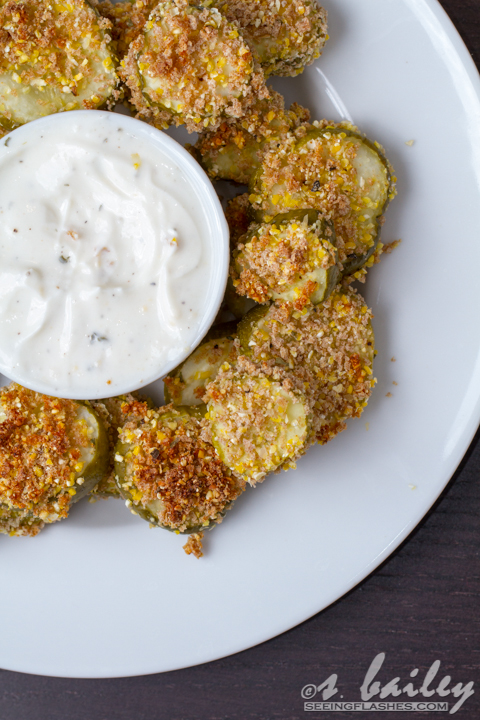 Please welcome, Ari from Ari's Menu as a contributor to AMFT! I'm so excited to have her and can't wait to make these amazing Baked Pickle Chips!
The first time I ever heard of pickle chips, I thought it sounded so weird. Not even good weird like "Hmmmm, maybe that could be good?" like bacon and chocolate, but bad weird like "Yeah…no" like the way I feel about pineapple. Gross. Don't even get me started.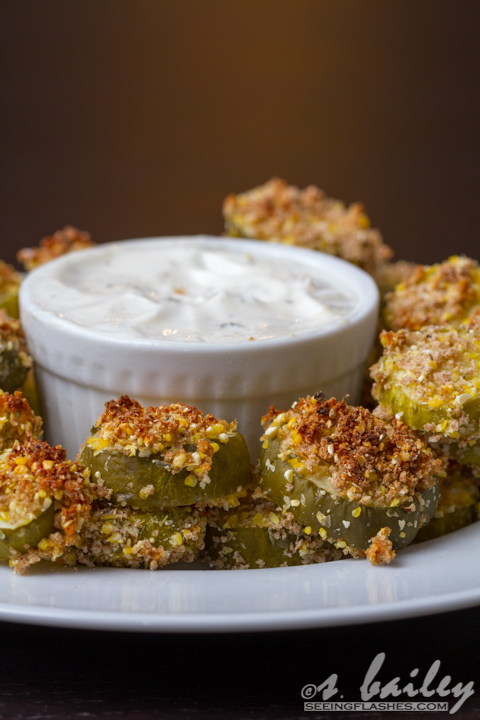 Then one day I went to dinner after a long training run, and the waiter raved about their fried pickles. He loved them enough to at least change my mind about trying them. I was pretty sure I would regret my decision to get those instead of my beloved sweet potato fries, but I'll try almost anything once.
I took one bite dipped in creamy ranch dressing, and legit used the words "life changing". Yes, I used the words life changing to describe my deep fried food. You can judge me if you want.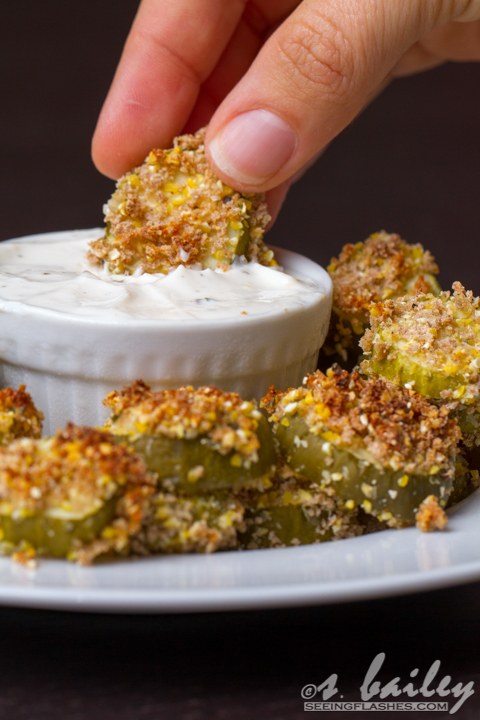 I lasted maybe a week before trying these out in my own home. I loved them so much, I just couldn't leave them to be a very rare indulgence—I needed pickle chips as a thing I could eat every day for the rest of my life.
Have I mentioned I have no sense of moderation? Like, ever. If I love something, I want it always. Like fro yo—it's a problem…I don't really want to talk about it.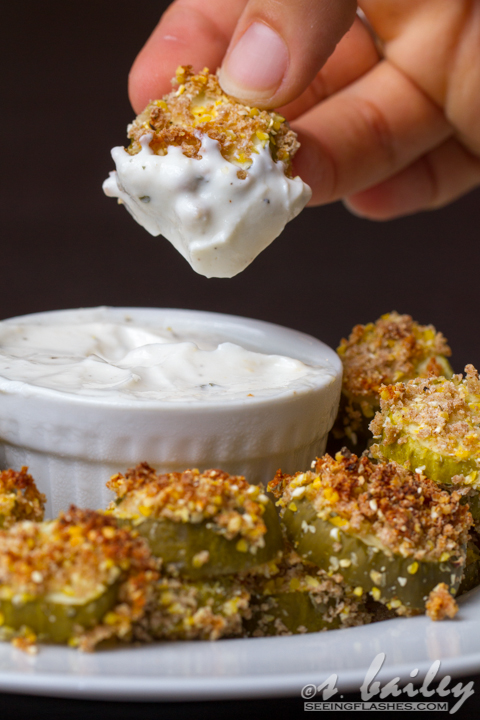 Anyway, this lightened up version totally hit the spot! Crunchy + salty, and dipped in a Greek yogurt ranch dressing. So flavorful, and wayyyy less indulgent. That's how I like my food, people.
You can find Ari here as well: Ari's Menu, Pinterest, Facebook, Twitter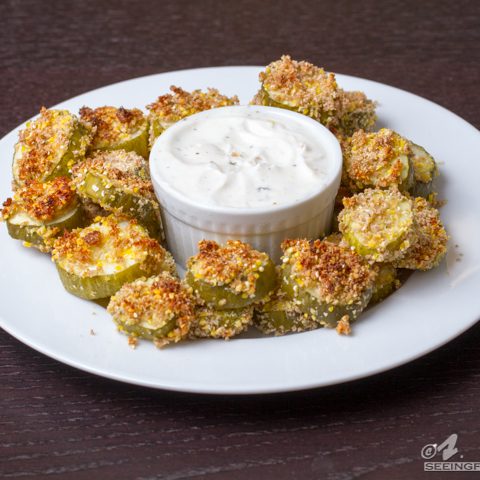 Baked Pickle Chips
Baked pickle chips make a delicious gluten free appetizer or game day snack. They're just a delicious as deep fried pickles, but with less calories and fat.
Ingredients
8 large pickles, sliced (I used Claussen, and I would highly suggest you do too!)
½ cup Panko bread crumbs (gluten free or whole wheat)
¼ cup corn meal
¼ tsp paprika
¼ tsp lemon pepper
3 tbsp dried parsley
dash cayenne pepper
¼ cup gluten free flour or whole wheat flour
2 large egg whites, beaten
Instructions
Preheat oven to 450. Spray a large cookie sheet with nonstick spray. Set aside. Pat pickle slices on paper towels to get off excess liquid.
In a large, shallow bowl, combine bread crumbs, corn meal and seasonings. Place flour and beaten egg whites in 2 separate shallow bowls.
Coat each pickle slice in flour, then dip in egg whites, then completely cover in bread crumb mixture.
Bake for 10 minutes, flip and bake until browned and crispy, about an additional 5 minutes.
Nutrition Information:
Yield:

8
Serving Size:

5 chips
Amount Per Serving:
Calories:

128
Total Fat:

1g
Saturated Fat:

0g
Trans Fat:

0g
Unsaturated Fat:

1g
Cholesterol:

0mg
Sodium:

1188mg
Carbohydrates:

25g
Fiber:

4g
Sugar:

2g
Protein:

5g
Adapted from Skinny Taste