This post may contain affiliate links. Please read my disclosure.
These delicious Cherry Cheesecake Cookies are a simple cookie twist on a classic Christmas dessert.
Be sure to sign up for my email list….seasonal recipes in your inbox every week!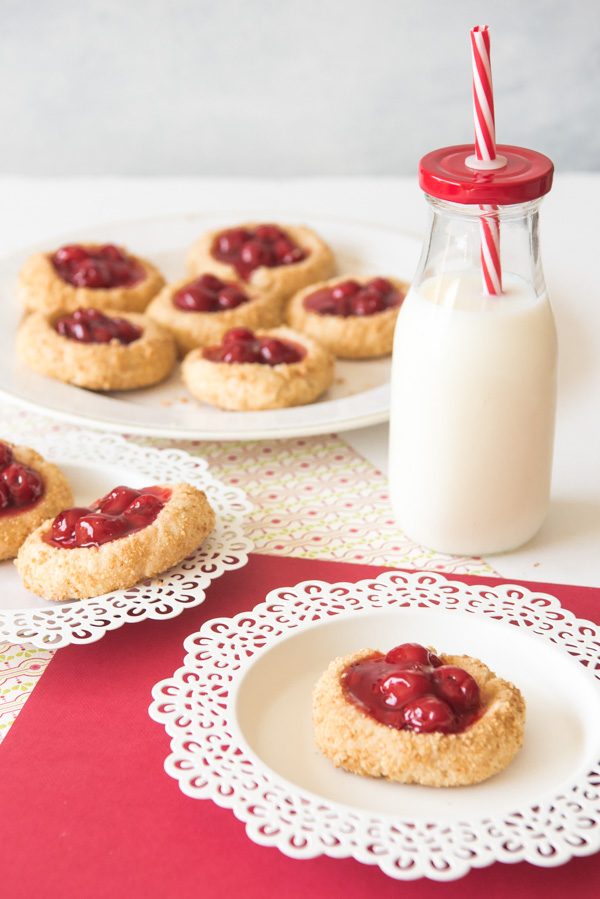 Last year I was invited to my first ever Christmas cookie exchange party. Apparently I'm either way out of the loop or super unpopular (or both) but I didn't even know such a glorious social function even existed!
Have you done one? I LOVED it and had so much fun seeing the gorgeous and delicious cookies that everybody brought to exchange with each other. And since I'm campaigning with all my friends to get invited to another Christmas cookie exchange this year, I started thinking early about just what cookie I could bring that would both look super Christmasy without taxing my severely limited decorating skills. Plus, it had to taste scrumptious! And it had to be something my girls (ages 5 & almost 3) could help me with because baking together is one of my favorite Christmas traditions that I remember with my mom and sisters. These Cherry Cheesecake Cookies check all the boxes for me!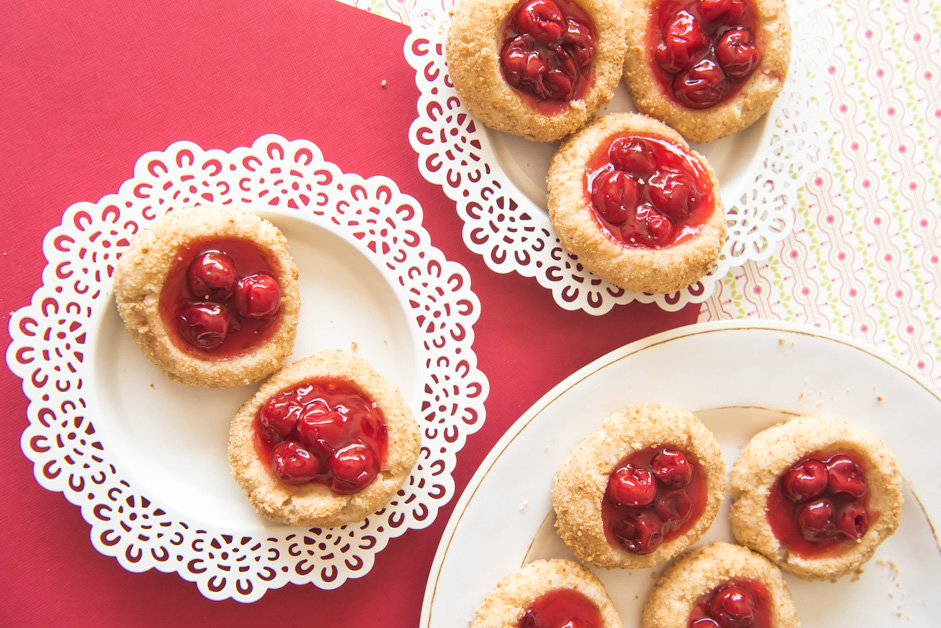 Growing up, my favorite dessert that I looked forward to each Christmas were mini cherry cheesecake tarts. I loved helping by separating out cupcake liners for the pan or spooning cherry pie filling onto each little cheesecake and seeing the beautiful red and white colors that are just so perfectly Christmasy. But taking a cheesecake tart to a Christmas cookie exchange doesn't fit the bill, so I just decided to do a cookie version!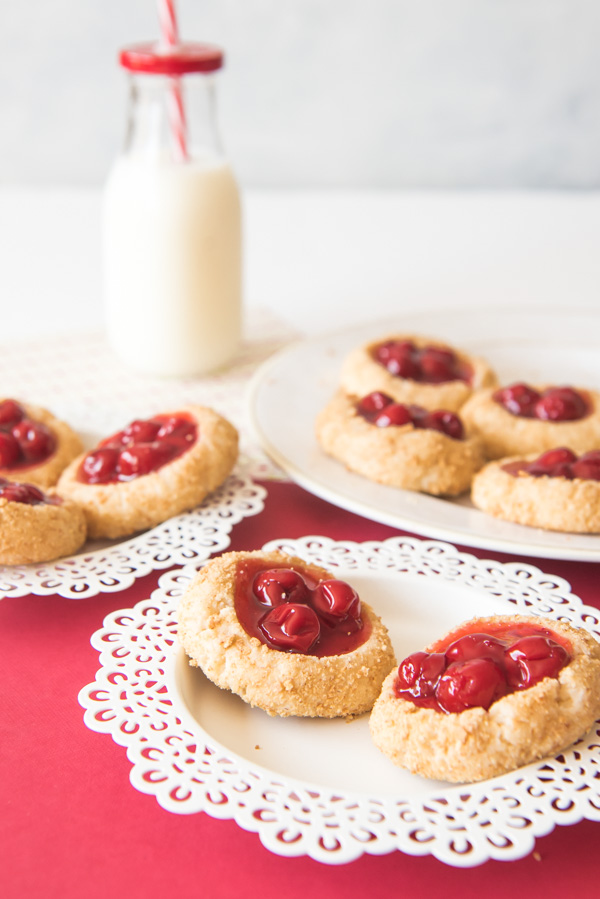 The dough is super soft thanks to the cream cheese, and I love the tangy, sweet flavor of it. My girls love helping roll the dough into balls and then rolling them around in crushed graham cracker crumbs. They even get into crushing the graham crackers for me using their little toy rolling pins and hammering the poor cracker sheets in zip-tight bags to create the crumbs. They can also use a spoon or their thumb to create the impression for the cherries in the center of each cookie before baking, and it's always fun spooning the cherries into cookie center afterwards.
I hope that these holiday cookies are as big of a hit in your house as they are in ours!
Amy Nash blogs over at House of Nash Eats. You'll love her family friends recipes, gorgeous photos, and her pie recipes. While you're at it, check out her White Chocolate Macadamia Cookies…drool worthy!!!
Be sure to follow on Instagram and tag #amftrecipes when you share one of my recipes….so I can see all the wonderful recipes YOU make!
Connect with Around My Family Table!
Make sure to follow on social media, so you never miss a post!
Facebook | Twitter | Pinterest | Instagram | Bloglovin' | Google+
Sign up to receive seasonal recipes once a week or
receive an email in your inbox for each new recipe: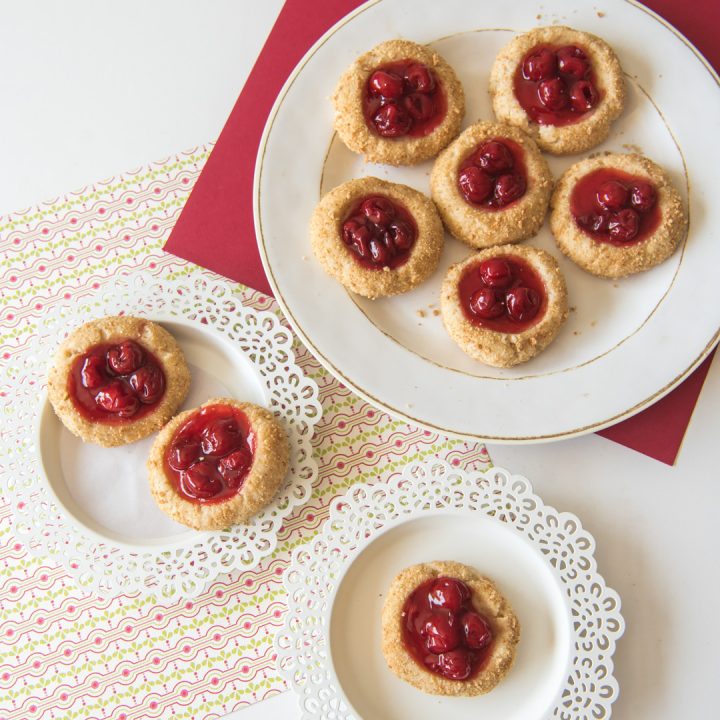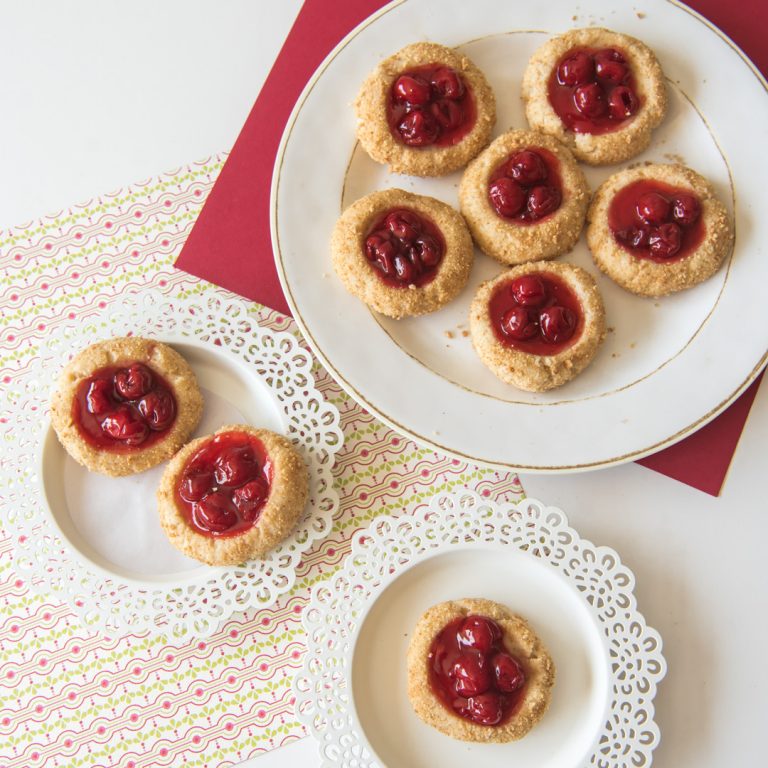 Cherry Cheesecake Cookies
Additional Time:
45 minutes
Total Time:
1 hour
22 minutes
Cherry Cheesecake Cookies are tiny bites of cheesecake filling covered in graham cracker crumbs, baked, then filled with cherry pie filling. They make great holiday cookies, but they do not keep well. Best eaten within 1-2 days.
Ingredients
2 (8-ounce) packages cream cheese, softened
1 cup butter, softened
1 ½ cups sugar
2 large eggs
2 teaspoons vanilla extract
1 teaspoon lemon zest
3 ½ cups all-purpose flour
2 teaspoons baking powder
1 teaspoon salt
1 cup graham cracker crumbs (about 5 graham cracker sheets)
2 (20-ounce) cans cherry pie filling
Instructions
In a large bowl, combine cream cheese, butter, and sugar and beat well with an electric mixer until smooth, about 2 minutes. Add eggs, vanilla and lemon zest and mix again to combine.
Add the flour, baking powder, and salt, and mix on low-speed just until combined. Do not over mix. Cover dough with plastic wrap and refrigerate for 30-60 minutes, until firm.
Preheat oven to 350 degrees. Prepare 2 baking sheets by lining them with parchment paper. Place graham cracker crumbs in a shallow bowl or dish.
Scoop the dough using a small ice cream scoop and roll into 1 ½ inch balls between your hands, then place in the bowl with the graham cracker crumbs and roll to coat the dough in the crumbs. Place the balls of cookie dough on the baking sheet, 2-inches apart so they don't spread into each other while baking. Using your thumb or the back of a round tablespoon, make an indentation in the center of each cookie.
Bake cookies for 10-14 minutes, until they are just set and beginning to brown on the bottoms. Remove the cookies from the oven and transfer to wire racks to cool completely. Fill the depression in the center of each cookie with cherry pie filling.
Notes
Recipe adapted from Cook's Country.
Nutrition Information:
Serving Size:

1 cookie
Amount Per Serving:
Calories:

71
Carbohydrates:

18g