Santa is getting these Red Velvet Cookies this year instead of our traditional Chocolate Chip Cookies.
Be sure to sign up for my email list….seasonal recipes in your inbox every week!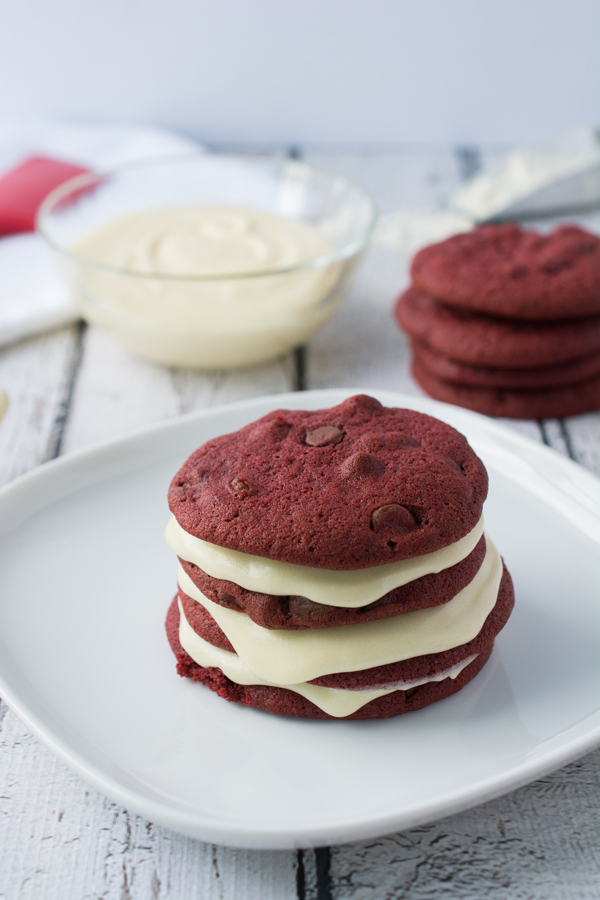 Whenever I set up my KitchenAid stand mixer on the countertop, both my kids scurry into the kitchen. Their little eyes light up as they know that they are going to get to enjoy some yummy baked goodies really soon. My little one grabs his step-stool and plops it down on the floor right in front of the mixer. They love helping me toss ingredients into the mixer bowl and watch the mixer spin round and round.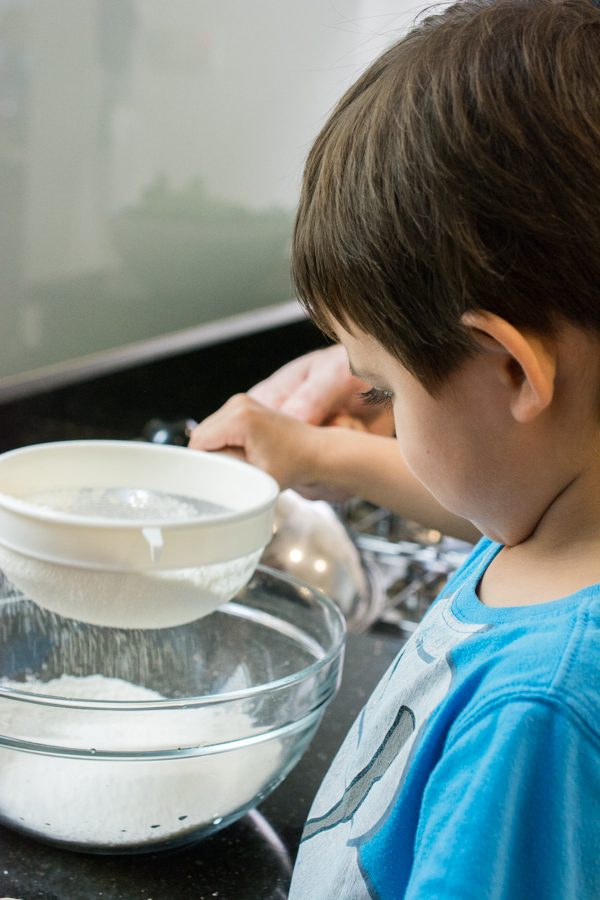 There's something magical about spending time in the kitchen with them during the holiday season; especially when baking cookies for Santa. It has become a tradition that I look forward to every year. They supervise my every move to make sure that I'm doing a really good job baking those cookies for Santa. It's a very important task!
This year, Santa is getting Red Velvet Chocolate Chip Cookies With Cream Cheese Frosting. We thought that we should switch things up a bit from our traditional peanut butter chocolate chip cookies that we've made every year for the past 9 years now.  Since Santa wears red and white, we thought that these red and white cookies would be a good match 🙂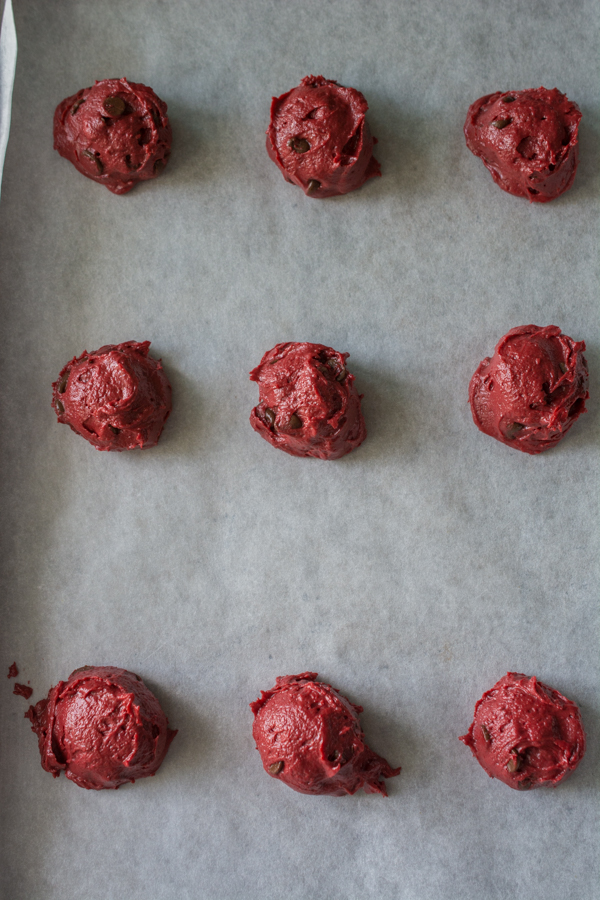 These Red Velvet Chocolate Chip Cookies are awesome enough on their own, but add the Cream Cheese Frosting and it takes the cookie to a whole new level of YUM! You can frost the cookies individually, or you can make cookie sandwiches by smearing frosting on the bottom of two cookies then combining them into one.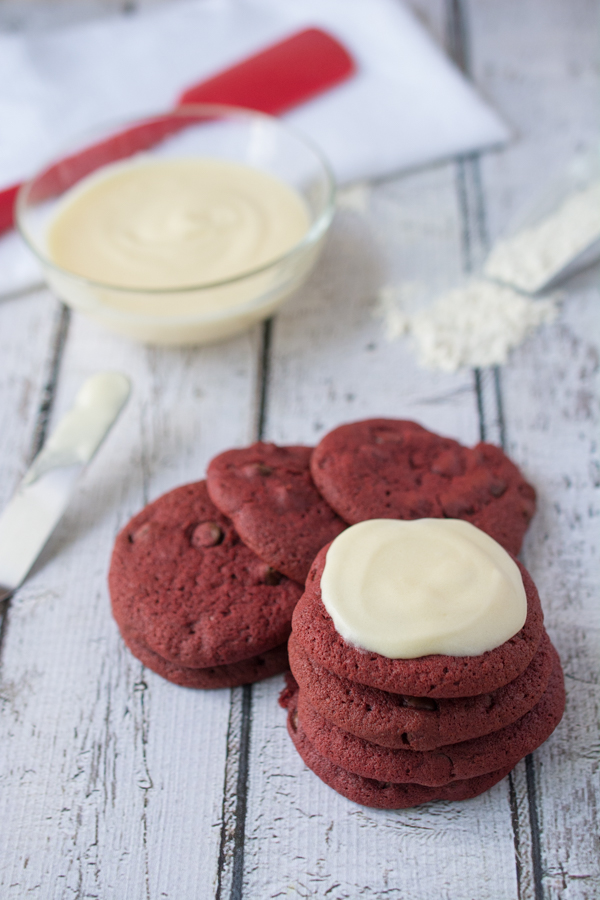 I don't think Santa will be disappointed this year; especially with all of these wonderful cookie recipes from Around My Family Table this December. I know I am excited to try them ALL!
Wishing you and your family a Merry Christmas and a Happy New Year!
Charmaine Ferrara blogs over at Wok and Skillet. Her mouthing watering recipes and stunning photos will encourage everyone to get into the kitchen.
Be sure to follow on Instagram and tag #amftrecipes when you share one of my recipes….so I can see all the wonderful recipes YOU make!
Connect with Around My Family Table!
Make sure to follow on social media, so you never miss a post!
Facebook | Twitter |  Pinterest | Instagram | Bloglovin' | Google+ 
Sign up to receive seasonal recipes once a week or
receive an email in your inbox for each new recipe:
Red Velvet Cookie With Cream Cheese Frosting
Ingredients
Red Velvet Choc Chip Cookies
1 1/2 cups all purpose flour
2 1/2 tablespoons cocoa powder
1/2 teaspoon baking soda
1/4 teaspoon salt
1/2 cup of butter at room temperature (one stick)
1/2 cup brown sugar
1/4 cup granulated sugar
1 egg
2 teaspoons vanilla extract
2 tablespoons red food coloring liquid
1 cup semi sweet chocolate chip cookies
Cream Cheese Frosting
4 oz cream cheese, softened
1/4 cup butter, softened ( 1/2 stick)
1 teaspoon vanilla extract
2 cups powdered sugar
Directions
1. Preheat oven to 350 degrees F.
2. Whisk flour, cocoa powder, baking soda and salt in a large bowl. Stir with a spoon to combine these ingredients.
3. Use a stand mixer or handheld mixer to beat the butter over high speed until creamy. This should take about 30 seconds to a minute.
4. Pour in brown sugar and granulated sugar. Continue beating for another minute until light and creamy, occasionally stopping to scrape the sides of the mixer bowl.
5. Add the egg, vanilla extract and red food coloring liquid. Beat on medium-low speed until all the ingredients are well combined.
6. Turn off the mixer and pour in half of the flour mixture. Turn the mixer back on low speed and mix until a soft dough is formed. Pour in the other half of the flour mixture and continue mixing until all of the ingredients are well incorporated.
7. Add the chocolate chips. Stir till the chocolate chips are well distributed in the dough.
8. Line two baking sheets with parchment paper.
9. Scoop heaping tablespoons of the cookie dough onto the baking sheets, leaving about 2 inches of space in between each cookie.
10. Bake for 10 - 12 minutes (the longer, the crunchier). Allow to cool completely before adding the frosting.
11. Frosting: Whip cream cheese and butter in a stand mixer or using a hand mixer until it becomes fluffy. Fold in vanilla extract.
12. Slowly add in powdered sugar ¼ cup at a time and blend until all ingredients are well combined and the frosting is fluffy.
13. Use a spatula to spread the frosting on to the cooled cookies. Enjoy!
Loading nutrition data...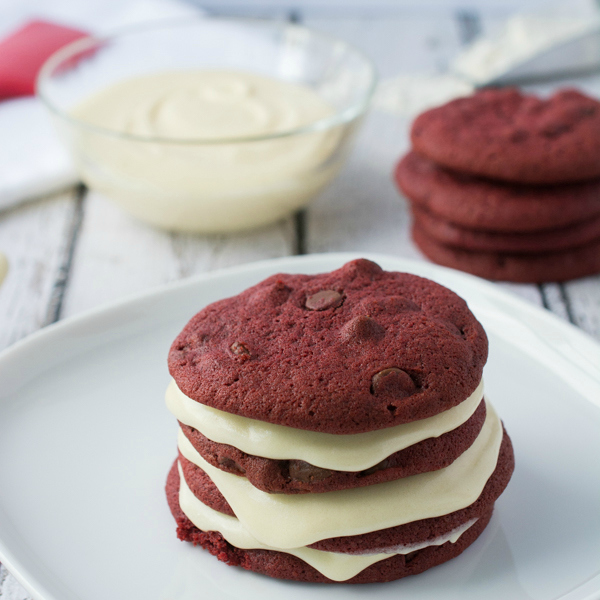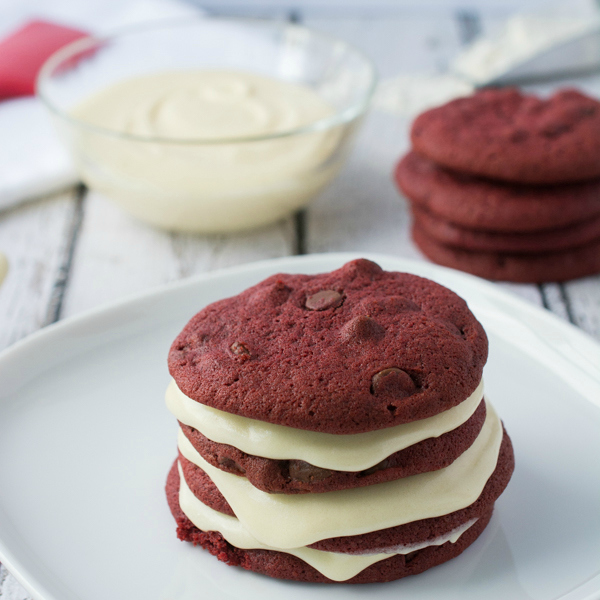 Did you make this recipe?
Leave review!
Join the Club!
Get delicious recipes delivered straight to your inbox each week! Plus learn how to take back suppertime in your home.

And get started with my NEW Take Back Suppertime 5-Day Jump Start Guide.