This post may contain affiliate links. Please read my disclosure.
Warning! You won't be able to eat just one of these Chocolate Donuts with Cherry Glaze. They taste like a chocolate covered cherry…but as a donut.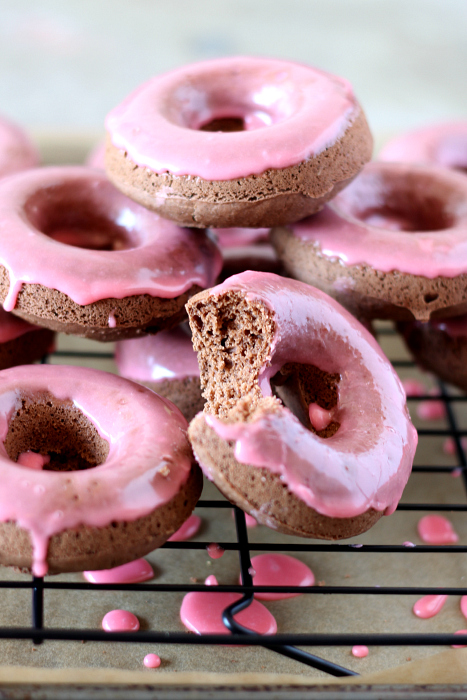 My favorite candy (when I could eat it) was a chocolate covered cherry! The dark chocolate ones….not the milk chocolate ones! Yes, I was that picky, but they were my favorites. I've dying to find a way to have those same flavors recently and thought making a donut that was reminiscent of those candies would be super delicious!
I was right! These were gobbled up in no time! And since they are baked and not fried, I'm calling them healthy! Ha!
I bought two of these donut pans so that I could bake everything all at once! My recipe fills both pans perfectly!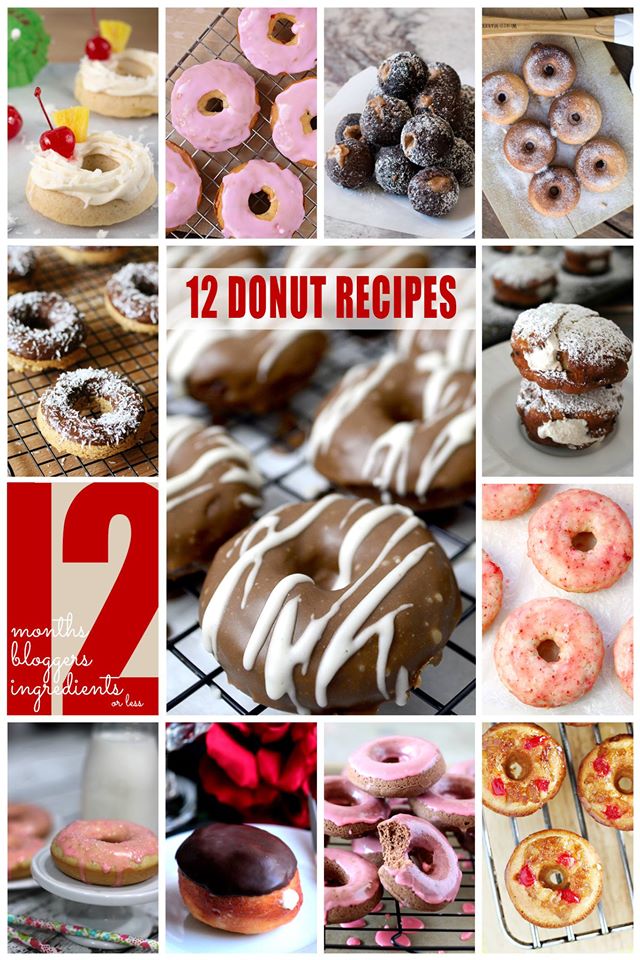 I love the 12th of each month! It's when some of my favorite ladies challenge each other to come up with a recipe that has 12 ingredients or less! This month we thought donuts would be a fun challenge! Don't they all look totally scrumptious!?!?!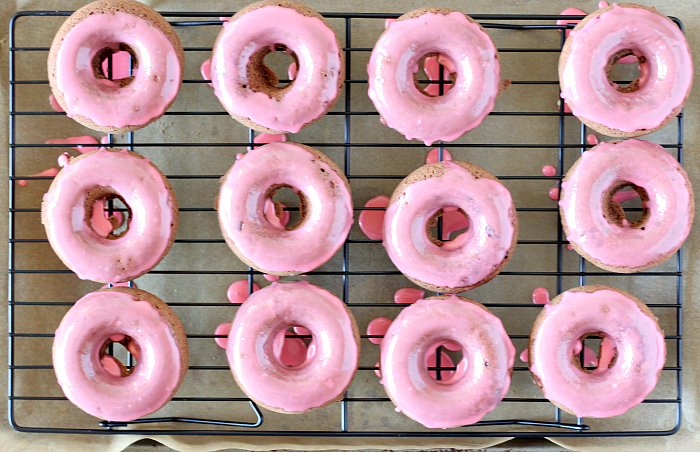 Keep scrolling for my Chocolate Donuts with Cherry Glaze, but here are all the links for the other 11 delicious recipes:
Chocolate Dipped Cream Filled Doughnuts From Big Bears Wife
Dark chocolate cookie butter donuts from Betsy Life
Mini Pineapple Upside Down Cake Doughnuts from Home Cooking Memories
Pina Colada Donut from Cooking on the Front Burner
Vanilla Cake Donuts with Strawberry Glaze from Love Bakes Good Cakes
Easy Funfetti Donuts from A Million Moments
Bacon Donuts with Maple Cinnamon Cream from Bread Booze Bacon
Baked Cake Donuts from A Night Owl Blog
Mini Chocolate Cake Donuts with Zebra Glaze from Pink Cake Plate
Princess Cake Donuts from I Love My Disorganized Life
Paleo Coconut Donuts with Chocolate Glaze from See Vanessa Craft
Chocolate Donuts with Cherry Glaze from Around My Family Table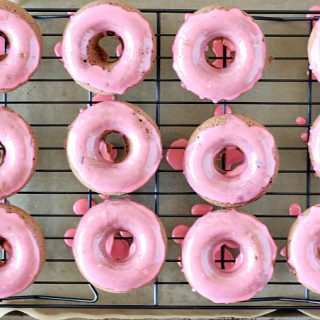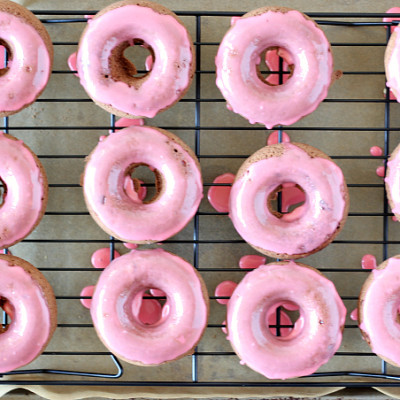 Gluten-Free Chocolate Donuts with Cherry Glaze
Warning! You won't be able to eat just one of these Chocolate Donuts with Cherry Glaze. They taste like a chocolate covered cherry...but in donut form. Dairy-free and gluten-free chocolate donuts.
Ingredients
2 cups all-purpose Gluten Free Flour (with xanthum gum)
1 cup sugar
2 tsps baking powder
1 tsp salt
2 eggs or egg substitute equivalent (I used Ener-G)
2 tbls butter, melted (I used Earth Balance)
1 tbls lemon juice
1 cups Vanilla Almond Milk
1/3 cup cocoa powder
Glaze
2 cups powdered sugar
1 tbls butter, melted
1 tbls cherry juice (from a marishino cherry jar)
dash cherry extract
Splash of almond milk
Instructions
Preheat oven to 425F. Lightly spray two donut pans with non-stick cooking spray and set aside.
In a small bowl combine lemon juice with almond milk to equal 1 cup and let sit for 5 minutes. This creates a "buttermilk" type milk or sour milk.
Meanwhile in a large bowl, combine flour, sugar, baking powder, and salt. Mix in the butter, eggs (or egg substitute), and prepared soured milk. Mix well, just until combined. Fill each donut cup about 2/3 full.
Bake 7-9 minutes or until a toothpick inserted into donut comes out clean. Let cool 10 minutes before dipping into glaze. If donuts are too hot, the glaze will just slide right off!
For the glaze: Combine powdered sugar, butter, cherry juice & extract in a small bowl. Mix well. Add milk by the teaspoon full until the glaze is just barely thin enough to dip your donuts (probably 2-3 tsps at the most)
Note: If you use too much Cherry Extract it will taste like cherry cough drops...at least I think it does.