This post may contain affiliate links. Please read my disclosure.
I've always wanted to try my hand at Curing Corned Beef for our St. Patrick's Day supper. Well, I finally got around to making it this year and there is no going back….it was the best thing EVER. I will tell you, it takes about a week to cure, but it is so worth it. If you don't have seven days at least try for 4-5 days of curing, but it's best to just let it sit for 7 days if you can.
Curing meat does require a little pre-planning. Ideally, it takes 7 days to cure and you can't cure it without the addition of pink curing salt. This is totally different from table salt of any kind and you don't want to eat it (that's why it's colored pink…so you don't accidentally use it while cooking). When the curing process is done, you rinse the meat well under cool water and then boil it either on the stove or my favorite way is my Slow Cooker Corned Beef recipe (recipe coming 3/14/16). Make sure to pop over there to find out how to cook it once you are done with the curing process.
I've got you covered, if you're looking for more corned beef dishes!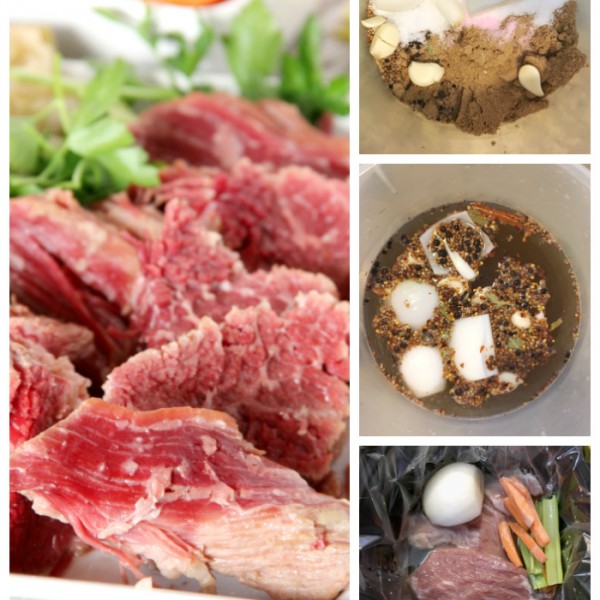 Curing Corned Beef
Total Time:
7 days
30 minutes
Corned beef takes about a week to cure, but it is so worth it. If you don't have seven days, at least try for 4-5 days of curing, but it's best to just let it sit for 7 days if you can.
Ingredients
For the Beef
4 lbs trimmed brisket
5 tablespoons pickling seasoning (recipe follows)
1 cup brown sugar
1 cup kosher salt
6 cloves garlic, smashed
1 onion, quartered
2 tablespoons ground black pepper
2 tablespoons paprika
1/4 cup ground coriander
Pickling Seasoning
6 bay leaves, roughly crumbled
2 tablespoons mustard seed
2 tablespoons whole allspice
2 tablespoons whole coriander
2 tablespoons whole black peppercorns
1 tablespoons whole cloves
1 tablespoons red pepper flakes
1 cinnamon stick, broken in several pieces
Instructions
For the Pickling Seasoning
Combine and store in an airtight container for 6 months.
To Cure the Beef
In a large 3-4 gallon container with a lid, combine pickling seasoning, 1 cup of brown sugar, kosher salt, garlic, onion, pink salt, black pepper, and coriander with 1 gallon of water. Stir well to combine and to dissolve salt and sugar. Add brisket and place a heavy bowl on top of meat to keep it submerged while brining. Add lid to the container and place in the refrigerator for 5-7 days.
Remove brisket from brine and rinse under cool water well for several minutes. The meat will feel denser and have a different texture and color from when it went into the brine.
Cook corned beef and enjoy!
Find the Instructions for cooking the corned beef here .
Notes
Plan ahead! It takes 7 days to cure.
Nutrition Information:
Yield:

16
Serving Size:

4 oz corned beef
Amount Per Serving:
Calories:

369
Total Fat:

25.6g
Saturated Fat:

10.25g
Cholesterol:

106.6mg
Sodium:

318.3mg
Fiber:

1.3g
Sugar:

9.8g
Protein:

335g
This nutritional information is an estimate may vary, depending on brand and type of ingredients used. It is not intended to replace the advice of a licensed dietician or physician.
Join the Club!
Get delicious recipes delivered straight to your inbox each week! Plus learn how to take back suppertime in your home.

And get started with my NEW Take Back Suppertime 5-Day Jump Start Guide.