This post may contain affiliate links. Please read my disclosure.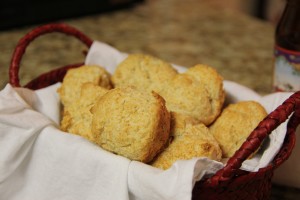 Yep, I said it, "Beer Biscuits!" I found this recipe in a really, really old flyer for Bisquick (think 1970's). Anyway, since I recently figured out how to make Bisquick I thought I would give this a try. It gives the biscuits a nice yeasty flavor with very little effort. The result was a nice dinner biscuit that was super easy to make.
Hubbyman really liked these biscuits…I think he liked the fact that I "forced" him to finish the half beer that I used.
Easy Beer Biscuits
2 cups Homemade Biscuit Mix
1 tbl sugar
6 oz (~1/2 bottle) beer (we used an Amber Ale, but use whatever you have on hand)
Preheat oven to 400F. Spray 12 muffin cups with nonstick cooking spray and put in oven while it's preheating. Combine all ingredients in a medium bowl and beat for about 30 seconds until well combined.
Fill the muffin cups about 2/3 full. Bake about 15 minutes or until golden. Serve warm with butter.
Note: You can easily double this recipe to use the whole bottle/can of beer OR you could just drink the rest of the beer.