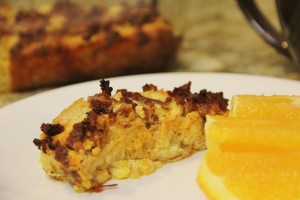 I've mentioned before that I love egg and sausage casseroles, but have trouble finding a good recipe.  I made this one to practice for my Ladies Brunch  and Eggland's Plate Date (I had 21 moms and kids over here for a get together).  It turned out so good that I had to share.  I didn't end up making for the brunch, I made a couple other recipes.  I think this was my favorite egg dish that I've made recently.
As my daughter is heading back to school, I've been trying to make healthy breakfasts for her.  Did you know that kids who eat breakfast get more fiber, calcium, vitamin A, vitamin C, riboflavin, zinc, and iron compared to those who skip breakfast.   Also, studies show children do better in school when they eat breakfast, most likely because they can concentrate better. However, an estimated 12 to 34 percent of children and adolescents skip breakfast on a regular basis.
You could easily substitute regular breakfast sausage for this quick and easy breakfast to make it kid friendly.  I actually did half with chorizo and half with breakfast sausage and it worked nicely.  We all were happy.
I still have more egg recipes to share, but wanted to give another shout out to Eggland's and their wonderful eggs and to say Thank You for co-hosting the party with me.  Check out their site for more recipes and to see their Taste of Home Cooking School Dates.  They are traveling to 120 communities around the country this fall to teach a 2-hr cooking class.  I'm bummed that there isn't one near me.
Egg and Chorizo Casserole
1/2 lb. chorizo (uncased or buy in bulk)
4 tbls butter
2 cups white or sourdough bread, cubed
1 cup sharp cheddar cheese, shredded
4 eggs
1 c up milk
1/2 tsp oregano
1/2 tsp chili powder
1/4 tsp salt
Preheat oven to 425 degrees.  Cook chorizo over med-high heat in a large pan  (remove casings if you have links).  Break up with the back of a spoon and cook until no long pink.  Drain on paper towels.  Meanwhile, melt butter in 1 qt. casserole pan (or loaf pan) by placing in the preheating oven.   Add bread cubes and cheese. Toss well to combine.
In a small bowl, beat eggs with milk and seasonings.  Pour eggs gently over cheese and bread, sprinkle chorizo on top.  Bake 20-25 minutes. Let stand 5 minutes before serving.
Serves 4
Join the Club!
Get delicious recipes delivered straight to your inbox each week! Plus learn how to take back suppertime in your home.

And get started with my NEW Take Back Suppertime 5-Day Jump Start Guide.