Don't forget about my wonderful giveaways going on….here is a link to the whole list.
I love making my own version of packet seasonings because I can control the quality of the ingredients and the amount of salt.  I decided I would make chicken fajitas while we were camping.  I knew this would be super easy and tasty too.
When preparing for a camping trip, prepare little meal packets.  Keep everything for the meal packaged in separate ziptop baggies and then put all the little baggies into one large bag.  Make sure to write your cooking instructions on one of the inside baggies.  This way, it's easy to grab what you need and you won't forget to bring an important part of your  meal….not that I would know anything about that.  LOL!
Looking for camping inspiration? Check out my whole Camping Planning section for recipes, tips, and ideas for great family camping vacations.
Chicken Fajita Seasoning
2 tbls chili powder
1 tbl salt
1 tbl paprika
1 tbl sugar
1/4 tsp poultry seasoning
1 1/2 tsp onion powder
1/2 tsp dried minced garlic
1/2 tsp cayenne pepper
1/4 tsp crushed red pepper flakes
1/2 tsp cumin
Combine all the spices in a small bowl.  Store in an airtight container.  Use approximately 2 tablespoons per pound of meat.
To use: Rub directly on sliced fajita meat.  Cook meat and serve with tortillas, cheese, sour cream, salsa, and sauteed onions/peppers.  A squeeze of fresh lime would have been really nice!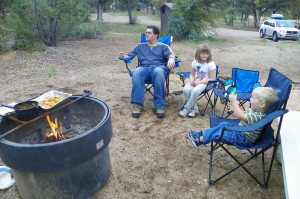 Hanging out while I cook!
Join the newsletter
Get Delicious & Seasonal Recipes in your INBOX every week.