This post may contain affiliate links. Please read my disclosure.
Nothing starts off our day better than a nice breakfast and a cup of coffee. This is a very hearty meal and will give you plenty of energy for hiking and playing. This egg scramble was so tasty, hubbyman and I almost finished off the pan by ourselves, even though it should be enough for four.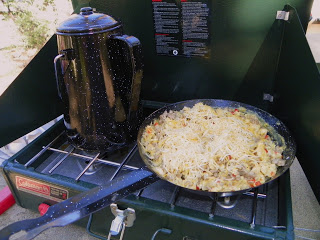 Egg and Sausage Scramble for Camping
6 eggs
1 cup shredded cheese
1/2 lb ground sausage (I used a breakfast sausage, if you use links make sure to remove the casing.)
2 cloves garlic
1/2 onion
1/2 red bell pepper
1 tsp cajun seasoning
1 tsp chili powder
salt and pepper
opt: flour tortillas or foiled potatoes
Pre-Camping Prep
1. Finely dice onion and pepper. Put into zip top baggie.
2. Finely dice garlic. Place in a separate zip top baggie.
3. Put each in their own baggies: sausage, cheese, spice blend.
4. Put all the little baggies into one large baggie and label. *Note: I kept the eggs separate in their egg container for safe keeping. *
Meal Time
1. Brown up sausage. Once fully cooked, remove from pan. Leave about 1 tbl of grease in the pan to saute the onion and peppers.
2. Add onion and pepper to pan. Cook until soft and starting to caramelize. Add garlic. Cook until fragrant, about 30 seconds to 1 minute.
3. In a disposable bowl/cup, beat eggs. Add to veggie mixture and scramble to desired doneness.
4. Add sausage and seasonings to pan. Season with additional salt and pepper, if desired.
5. Top with cheese.
We served this with left over pineapple rings from the night before and a cup of coffee. Would be great in a flour tortilla or with some foiled potatoes cooked over the fire.
Serves 4 hungry campers