This post may contain affiliate links. Please read my disclosure.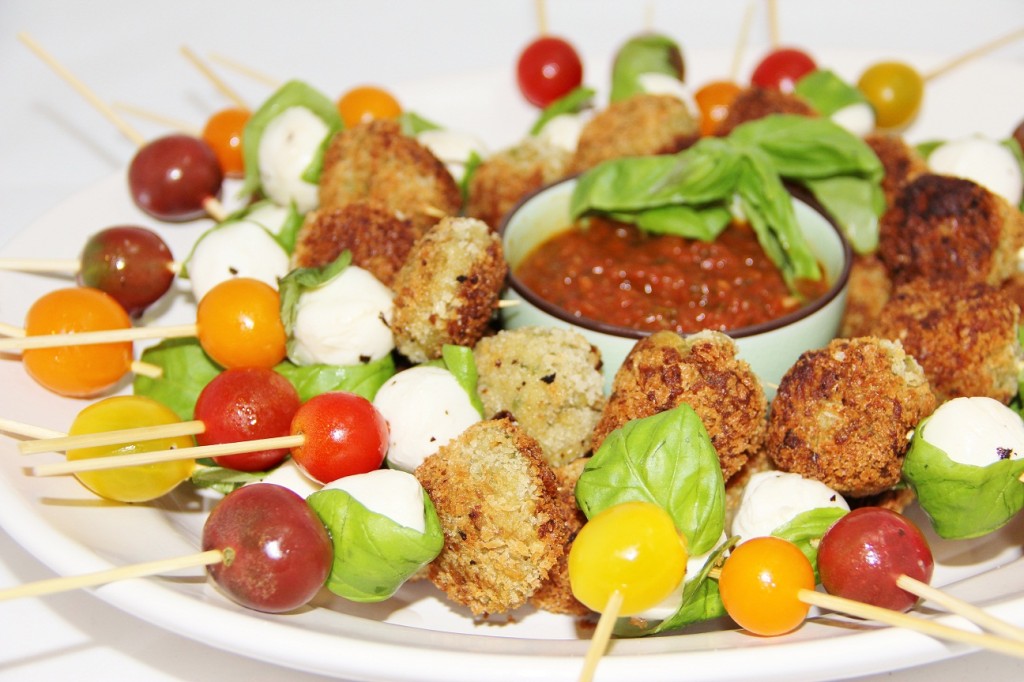 These little eggplant meatballs were the hit of the Girls Night In a couple weeks ago. I wish I could take credit for them, but my friend brought and everyone just loved them. We just could not stop eating them….even with all the desserts, these were the first to go.
The eggplant "meatballs" are vegetarian and would be perfect in spaghetti, as an appetizer, or maybe even a sandwich. They were light and fluffy and wonderful dipped in a little marinara sauce. I usually have a hard time figuring out to do with the eggplant that comes in my co-op basket or that friends have grown….not anymore….this is now going to be my go-to eggplant recipe.
Eggplant "Meatballs"
3 tbls extra virgin olive oil
3 cloves garlic, minced
1 eggplant peeled and diced
1 to 2 tbls water
1 1/4 cup Panko bread crumbs
1/2 cup minced parsley leaves
1/2 tsp fine sea salt
1/4 cup minced oregano leaves
2 large eggs slightly beaten
1/2 cup freshly grated Pecorino (Romano) cheese
1/4 cup vegetable oil
Heat oil in a saucepan and slowly cook the garlic over medium heat until golden. Add the eggplant and 1 tbl of water. Cover and steam the eggplant over low heat until very soft, about 10 minutes. Add the remaining water only if the eggplant begins to stick to the skillet. Stir the eggplant occasionally while it cooks. Set the eggplant aside to let it cool.
Combine the bread crumbs, parsley, salt, oregano, eggs and cheese in a large bowl. (I do this step in the food processor on pulse.) Stir in the eggplant, and let it stand for 20 minutes. Scoop small amounts of the mixture into your hands and form meatballs. Heat the vegetable oil in a large sauté pan over medium high heat. Fry the balls, turning them occasionally so they brown evenly or bake them in casserole dish in a preheated oven until browned, 20 to 25 minutes.
For the appetizers shown: Add a grape tomato, marinated mozzarella ball, basil leaf, and eggplant ball to a skewer. Serve with marinara sauce.