This post may contain affiliate links. Please read my disclosure.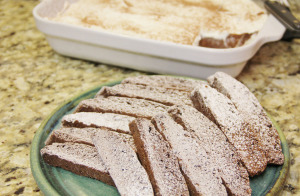 This was another wonderful dish that was shared at my Girls Night In last week. It was sooooo good! It was crunchy like biscotti, but had a wonderful chocolate-y brownie flavor. Kids will love dunking it in milk and I enjoyed it in my coffee!
I'm not sure where the recipe originated from, but I'm glad that I have it now! I can't wait to make my own batch and keep kicking myself for not swipping a couple for myself before my friend left the party.
Brownie Biscotti
1/2 c butter, melted
3 eggs
2 tsp vanilla extract
2 1/2 c AP flour
1 1/3 c sugar
3/4 c baking cocoa
2 tsps baking powder
1/2 tsp baking soda
1 c unblanched almonds, toasted and coarsely chopped
1/2 c miniature semisweet chocolate chips
Drizzle:
1/2 c vanilla or white chips
1 1/2 tsps shortening
In a large mixing bowl, combine the butter, eggs and vanilla until well blended. In a separate bowl, combine the flour, sugar, cocoa, baking powder and baking soda. Gradually add the dry mix to butter mixture, stir until justl combined (dough will be crumbly).
Turn dough onto a lightly floured surface; knead in almonds and chocolate chips. Divide dough in half. On an ungreased baking sheet, shape each portion into a 12-in. x 3-in. log, leaving 3 in. between the logs.
Bake at 325F for 30-35 minutes or until set and tops are cracked. Cool for 15 minutes. Carefully transfer to a cutting board; cut diagonally with a serrated knife into 1/2-in. slices. Place cut side down on ungreased baking sheets. Bake for 20-25 minutes or until firm and dry. Remove to wire racks to cool.
For drizzle, in a microwave-safe bowl, melt vanilla chips and shortening; stir until smooth. Drizzle over biscotti.
Yield 3 dozen