This post may contain affiliate links. Please read my disclosure.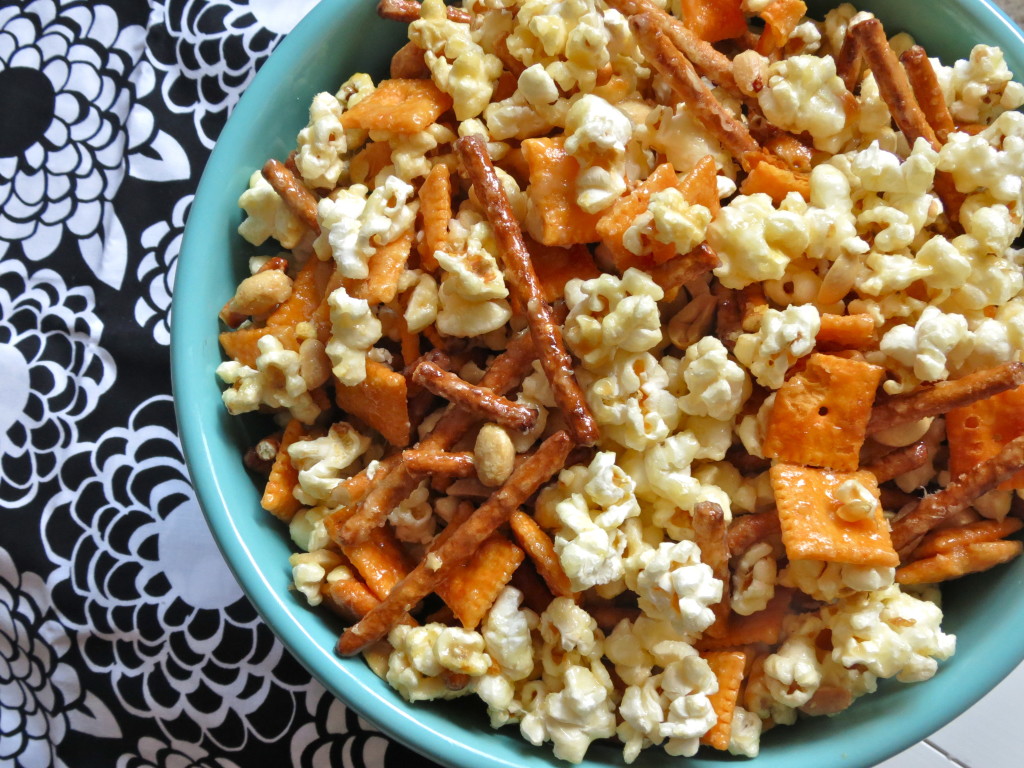 I hope you have been following along with all the popcorn posts. I think they have been wonderful and so creative. Today, I have the pleasure of introducing you to Stephie from Eat Your Heart Out. I just found this wonderful blog a few months ago and love it. She is so creative, has a passion for good food, and her photography is beautiful! Take it away Stephie….
Popcorn has always been one of my family's favorite snacks. On Sunday evenings, we would pop a big batch of popcorn and curl up to watch a movie or whatever happened to be on TV. Even now that I'm out of the house, my parents still often turn to popcorn as their Sunday evening snack.
One of our favorite things to do every now and again was turn our regular popcorn into caramel corn. While a lot of caramel corn recipes require quite a bit of time and even more patience (I just want some of that sweet-salty goodness, and I want it now!), this family recipe is incredibly quick and easy. By making use of a paper grocery bag and a microwave, you can have some of the best caramel corn you have ever eaten in just a few minutes.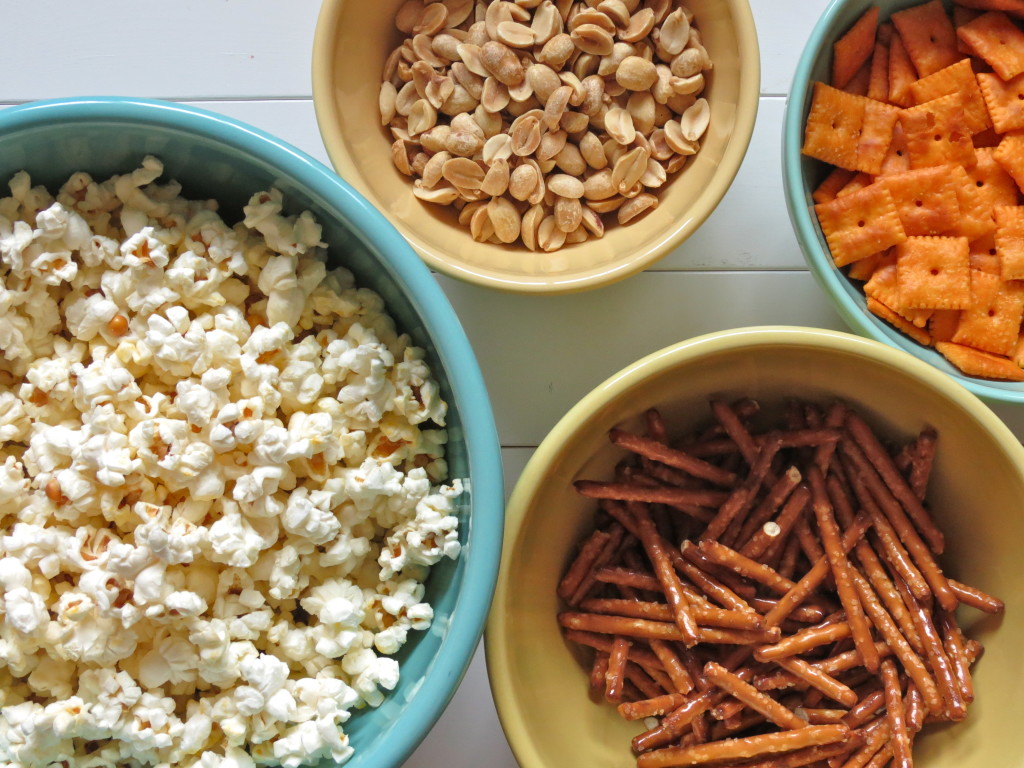 The original family recipe calls for two bags or pans of popped popcorn. This time, though, I decided to change things up a bit: I used 1 bag of popcorn, and mixed it with a variety of things from the pantry. In this case, some pretzels, cheese crackers, and peanuts. Feel free to use just about anything you want in here; add in some mini peanut-butter crackers, use cashews or almonds instead of peanuts, perhaps throw in some dried fruit. Just make sure your extra ingredients approximately equal 5 cups and stay away from chocolate – it will melt and become a big, huge mess.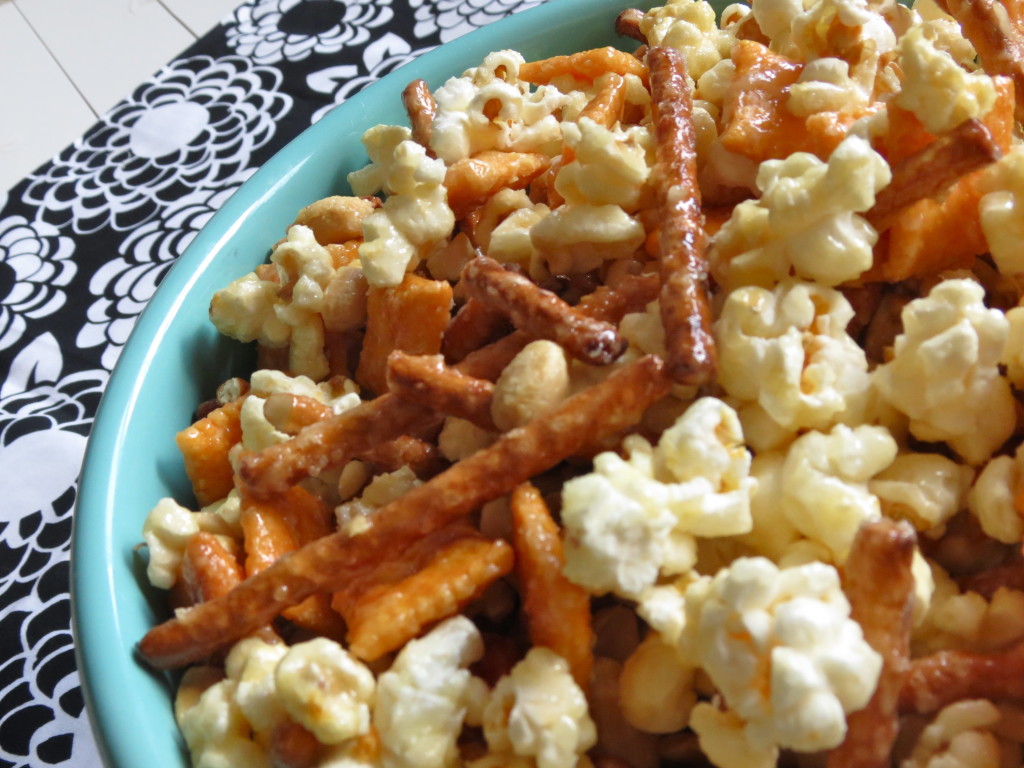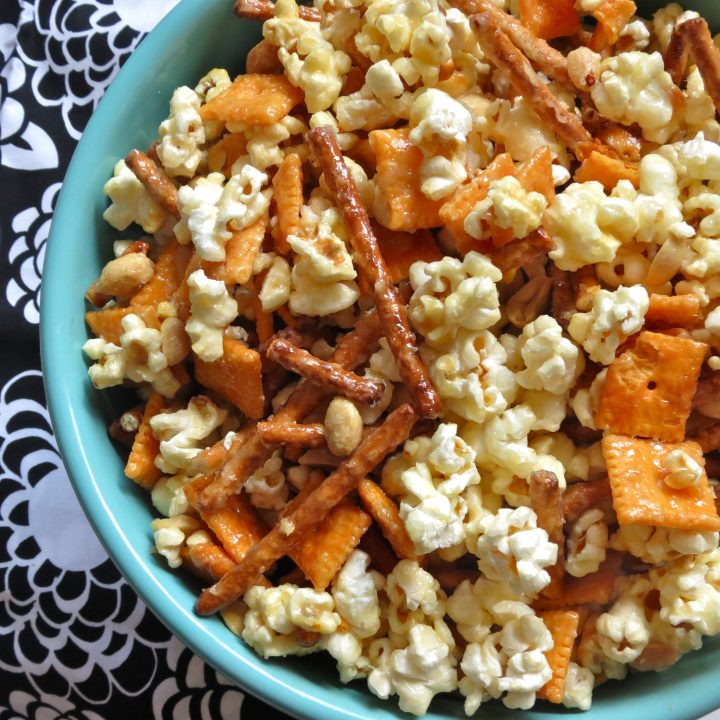 Everything but the Kitchen Sink Caramel Corn Snack Mix
This tasty popcorn snack is perfect for game day snacking. The perfect combination of pretzels, peanuts, cheddar crackers, and homemade caramel corn. It's salty, sweet, and delicious!
Ingredients
3 cups popped popcorn
1 cup peanuts
2 cups cheese crackers
2 ½ cups pretzels
1 stick butter or vegan margarine
1 cup sugar
1/4 cup light corn syrup
1/4 teaspoon salt
1/2 teaspoon baking soda
Instructions
Spray a brown paper bag with cooking spray. Add popped popcorn, pretzels, cheese crackers and peanuts.
Measure out baking soda; set aside.
Combine butter or margarine, sugar, corn syrup and salt in a saucepan; bring to a hard boil, stirring constantly. Boil for 2 minutes (still stirring), then remove from heat and immediately stir in baking soda.
Pour mixture over popcorn and stir to combine. Once everything is fairly evenly coated with caramel mixture, fold the top of the bag down and shake. Put bag in the microwave and cook on high for 1 minute*. Take the bag out and shake again (bag will be hot!). Return to the microwave and cook for 1 minute more. Take out, put in a bowl and EAT!
Caramel corn will harden and start to stick together as it cools, so you may want to stir it to break it apart periodically. This is easiest to do with the handle of a wooden spoon.
Notes
*If you have a high-powered microwave, you may want to lower it one or two levels, or slightly adjust the microwave time, to keep the sugar in the caramel from burning.
Nutrition Information:
Yield:

8
Serving Size:

1 cup
Amount Per Serving:
Calories:

506
Total Fat:

27g
Saturated Fat:

10g
Trans Fat:

1g
Unsaturated Fat:

15g
Cholesterol:

31mg
Sodium:

697mg
Carbohydrates:

61g
Fiber:

3g
Sugar:

35g
Protein:

8g